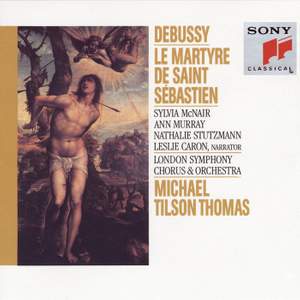 Debussy: Le Martyre de Saint Sébastien
Sylvia McNair (soprano), Ann Murray (mezzo-soprano), Nathalie Stutzmann (mezzo-soprano), Leslie Caron (narrator)
London Symphony Orchestra, London Symphony Chorus, Michael Tilson Thomas
Contents
Debussy: Le Martyre de Saint Sébastien - Musique de scène sur le mystère en cinq actes de Gabriele D'Annunzio
Ann Murray (mezzo-soprano), Nathalie Stutzmann (mezzo-soprano), Sylvia McNair (soprano), Leslie Caron, Stephen Westrop (chorus master)
London Symphony Chorus, London Symphony Orchestra
Michael Tilson Thomas
I. La Cour des lys / The Court of Lillies: No. 1: Prélude. Lent - "Frere, que sera-t-il le monde"
No. 3: Danse extatique de Sébastien sur le charbons embrases. Assez animé - "Hymnes, toute l'ombre s'efface"
II. La Chambre magique / The Magic Chamber: No. 1: Prélude. Très modéré
No. 2: "Je fauchais l'epi de froment"
No. 3: "Qui pleure mon enfant si doux"
III. Le Concile des faux dieux / The Council of the False Gods: No. 1: Prélude. Modéré
No. 2: "Pàián, Lyre d'or, Arc d'argent!"
No. 4: "Avez-vous vu celui que j'aime?"
No. 5: "Ne pleurez plus!"
No. 6: "Io! Io! Adoniastes!"
No. 7: "Il est mort, la bel Adonis"
IV. Le Laurier blesse / The Wounded Laurel: No. 1: Prélude. Sombre et lent
No. 2: "Il est la, le Pasteur. Regardez"
V. Le Paradis / Paradise: No. 1: Interlude. Modéré