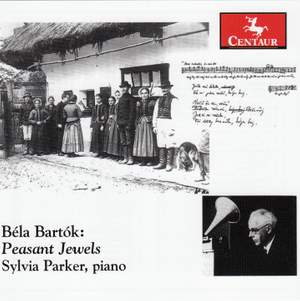 Bartók: Peasant Jewels
Sylvia Parker (piano), Field Musician (flute), Field Musician (violin), Field Musician (bagpipe)
Field Musicians
Contents
Bartók: For Children, Vol. 1, Sz. 42
Sylvia Parker (piano)
Recorded: January 2014
Recording Venue: University of Vermont Music Recital Hall, United State
No. 1. Let's Bake Something
No. 3. I Lost My Young Couple
No. 4. I Lost My Handkerchief
No. 7. Look for the Needle
No. 11. I Lost My Young Couple
No. 14. The Poor Lads of Csanad
No. 15. The Street of Istvand
No. 16. I Never Stole in My Whole Life
No. 17. My Little Graceful Girl
No. 18. In the Harbor of Nagyvarad
No. 21. Parsley and Celery
Bartók: For Children, Vol. 2, Sz. 42
Sylvia Parker (piano)
Recorded: January 2014
Recording Venue: University of Vermont Music Recital Hall, United States
No. 23. Walk This Way, That Way
No. 24. Water, Water, Water
No. 25. Three Apples Plus a Half
No. 26. Go Round, Sweetheart, Go Round
No. 27. My Sheep Are Lost
No. 28. Lazlo Feher Stole a Horse
No. 29. Oh! Hey! What Do You Say?
No. 30. They Brought Up the Rooster
No. 31. Mother, Dear Mother
No. 32. The Sun Shines Into the Church
No. 33. Stars, Stars, Brightly Shine
No. 34. White Lady's Eardrop
No. 35. I Picked Flowers In the Garden
No. 36. Margitta Is Not Far Away
No. 37. When I Go Up Buda's Big Mountain
No. 38. Ten Liters Are Inside Me
No. 39. The Cricket Marries
No. 40. May the Lord Give
No. 41. Do You Go, Darling?
Bartók: For Children, Vol. 3, Sz. 42
Sylvia Parker (piano)
Recorded: January 2014
Recording Venue: University of Vermont Music Recital Hall, United States
No. 43. If There Were Cherries
No. 44. Kite Settled on the Branch
No. 45. Above the Tree, Under the Tree
No. 46. Wedding Song (Hey, Lado! Lado!)
No. 53. On the Field of Bystrov
No. 54. Mother of My Lover
No. 56. Plowing Are Six Oxen
No. 59. The Girl Was the Priest's Maidservant
Bartók: For Children, Vol. 4, Sz. 42
Sylvia Parker (piano)
Recorded: January 2014
Recording Venue: University of Vermont Music Recital Hall, United States
No. 65. I am Already an Old Shepherd
No. 66. I Passed Through the Forest
No. 67. Bird on the Branch
No. 77. Highwayman's Tune
No. 78. If I Knew Where My Darling
No. 79. The Danube's Bank Is Green at Bratislava
No. 82. Rhapsody 1 - No. 83. Rhapsody 2
Bartók: 3 Hungarian Folksongs from Csik, BB 45b, Sz. 35a
Sylvia Parker (piano)
Recorded: January 2014
Recording Venue: University of Vermont Music Recital Hall, United States
 Excerpt,  Bartók: 14 Bagatelles, BB 50, Sz. 38
Sylvia Parker (piano)
Recorded: January 2014
Recording Venue: University of Vermont Music Recital Hall, United States
 Excerpt,  Bartók: Ten Easy Piano Pieces, Sz. 39, BB 51
Sylvia Parker (piano)
Recorded: January 2014
Recording Venue: University of Vermont Music Recital Hall, United States
No. 6. Hungarian Folksong
No. 8. Hungarian Folksong
 Excerpt,  Bartók: 7 Sketches, BB 54, Sz. 44
7 Sketches, Op. 9b, BB 54: No. 5. Romanian Folksong: Andante
Bartók: First Term at the Piano, Sz. 53
Sylvia Parker (piano)
Recorded: January 2014
Recording Venue: University of Vermont Music Recital Hall, United States
No. 7. Nepdal (Folksong): Moderato
No. 10. Nepdal (Folksong): Allegro
No. 13. Hol jartal, baranykam? - nepdal (Where have you been, my lambkin? - folksong): Andante
No. 15. Lakodalmas (Wedding dance): Moderato
No. 16. Paraszttanc (Peasant's dance): Allegro moderato
Bartók: Mikrokosmos, Vol. 3, Sz. 107
Sylvia Parker (piano)
Recorded: January 2014
Recording Venue: University of Vermont Music Recital Hall, United States
No. 74a. Hungarian Matchmaking Song
Mikrokosmos, BB 105, Vol. 4: No. 112. Variations on a Folk Tune
Bartók: Romanian Christmas Carols, Series 1, Sz. 57
Sylvia Parker (piano)
Recorded: January 2014
Recording Venue: University of Vermont Music Recital Hall, United States
Series I: No. 5. Allegro moderato
Series I: No. 8. Allegretto
Series I: No. 10. Piu allegro
Romanian Christmas Carols, Series 2, Sz. 57
Recorded: January 2014
Recording Venue: University of Vermont Music Recital Hall, United States
Series II: No. 1. Molto moderato
Series II: No. 2. Moderato
Series II: No. 3. Andante
Series II: No. 4. Andante
Series II: No. 5. Moderato
Series II: No. 6. Andante
Series II: No. 7. Variante della precedente
Series II: No. 6. Andante (Reprise)
Series II: No. 8. Allegro
Series II: No. 9. Allegretto
Series II: No. 10. Allegro
Bartók: Romanian Folk Dances, Sz. 56, BB 68
Sylvia Parker (piano)
Recorded: January 2014
Recording Venue: University of Vermont Music Recital Hall, United States
No. 4. Song of the Mountain Horn
No. 5. A Garden Gate in Romania
Bartók: Sonatina, BB 69, Sz. 55
Sylvia Parker (piano)
Recorded: January 2014
Recording Venue: University of Vermont Music Recital Hall, United States
I. Dudasok (Bagpipers): Allegretto
II. Medvetanc (Bear Dance): Moderato
III. Finale: Allegro vivace
Bartók: 15 Hungarian Peasant Songs, Sz. 71, Four Old Tunes
Sylvia Parker (piano)
Recorded: January 2014
Recording Venue: University of Vermont Music Recital Hall, United States
No. 1. 4 Old Tunes: Rubato
No. 2. 4 Old Tunes: Andante
No. 3. 4 Old Tunes: Poco rubato
No. 4. 4 Old Tunes: Andante
15 Hungarian Peasant Songs, Sz. 71
Recorded: January 2014
Recording Venue: University of Vermont Music Recital Hall, United States
No. 6. Ballade - Theme and Variations
15 Hungarian Peasant Songs, Sz. 71, Old Dance Tunes
Recorded: January 2014
Recording Venue: University of Vermont Music Recital Hall, United States
No. 7. Old Dance Tunes: Allegro
No. 8. Old Dance Tunes: Allegretto
No. 9. Old Dance Tunes: Allegretto
No. 10. Old Dance Tunes: L'istesso tempo
No. 11. Old Dance Tunes: Assai moderato
No. 12. Old Dance Tunes: Allegretto
No. 13. Old Dance Tunes: Poco piu vivo
No. 14. Old Dance Tunes: Allegro
No. 15. Old Dance Tunes: Allegro
Bartók: Three Hungarian Folktunes, Sz. 66
Sylvia Parker (piano)
Recorded: January 2014
Recording Venue: University of Vermont Music Recital Hall, United States
No. 1. Leszallott a pava (The Peacock): Andante tranquillo rubato
No. 2. Janoshidi vasarban (At the Janoshida Fairground): Allegro non troppo, un poco rubato
No. 3. Feher liliomszal (White Lily): Maestoso
Bartók: Petite Suite, BB 113, Sz. 105
Sylvia Parker (piano)
Recorded: January 2014
Recording Venue: University of Vermont Music Recital Hall, United States