UPDATE: Royal Mail have now resumed shipments on ALL International services but delays should be expected, please choose FEDEX if your order is urgent.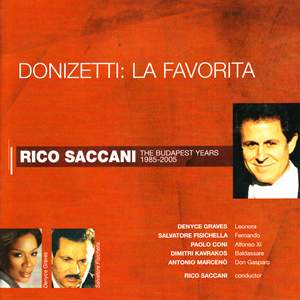 Donizetti: La Favorita
Denyce Graves (Carmen), Salvatore Fisichella (Fernando), Paolo Coni (Alfonso), Dimitri Kavrakos (Baldassare), Antonio Marcenò (Don Gasparo), Piera Puglisi (Ines)
Orchestre de la Suisse Romande, Grand Théâtre de Genève, Rico Saccani
Contents
Denyce Graves, Salvatore Fisichella, Paolo Coni, Dimitri Kavrakos, Antonio Marcenò
Rico Saccani
Act I, "Bell' alba foriera"
Act I, "Una vergine, un angel di Dio"
Act I, "Bei raggi lucenti"
Act I, "Dolce zeffiro, il seconda"
Act I, "Messagera gentile"
Act I, "Ah! Mio bene, un Dio t'invia"
Act II, "Ma, de' malvagi invan" - "Vien Leonora, a piedi tuoi"
Act II, "Per la festa previeni" - "Quando le soglie paterne varcai"
Act II, "Ah! Paventa il furor!"
Act III, "A Lei son presso alfine"
Act III, "Leonora!" - "Oh ciel!"
Act III, "Oh mio Fernando"
Act III, "Ines! Fia ver?"
Act III, "Dio, ci difendi!" - "Di già nella cappella"
Act III, "Ah, che da tanta gioia"
Act III, "Oh viltade!" - "Questo è troppo in mia fè"
Act III, "Per me del ciel"
Act IV, "Compagni andiam" - "Splendon piu belle in ciel le stelle"
Act IV, "Figlio diletto" - "Spirto gentil"
Act IV, "Figlio, deh! Vien!" - "Che fino al ciel la nostra prece ascenda"
Act IV, "Ah! Va, t'invola" - "Pietoso al par del Nume"