UPDATE: Royal Mail have now resumed shipments on their TRACKED & SIGNED and SIGNED services but delays should be expected, please choose these services if available to you or FEDEX if your order is urgent.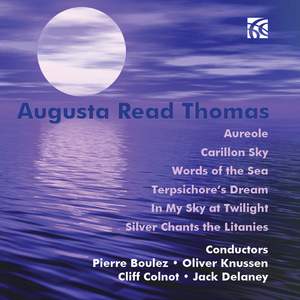 Augusta Read Thomas: Selected Works for Orchestra
Christine Brandes (soprano), Baird Dodge (violin)
DePaul University Symphony, Chicago Symphony Orchestra, Chicago Symphony Orchestra MusicNOW Ensemble, Chamber Orchestra, Southern Methodist University Wind Ensemble, Cliff Colnot, Pierre Boulez, Oliver Knussen, Jack Delaney
The performances are as persuasive as expected given the involvement of such as Pierre Boulez and Oliver Knussen...One can only await Vol. 2 of this series with impatience.

— More…
Gramophone Magazine

April 2014

Editor's Choice
Contents
DePaul University Symphony
Cliff Colnot
Thomas, Augusta: Words of the SeaI: I. …words of the sea...
Chicago Symphony Orchestra
Pierre Boulez
Thomas, Augusta: Words of the Sea
Chicago Symphony Orchestra, Chicago Symphony Orchestra Music NOW Ensemble
Pierre Boulez
II. …the ever-hooded, tragic-gestured sea…
III. …beyond the genius of the sea…
IV. …mountainous atmospheres of sky and sea - homage to Debussy
Thomas, Augusta: In My Sky at Twilight
Chicago Symphony Orchestra Music NOW Ensemble
Pierre Boulez
Thomas, Augusta: Carillon Sky
Chamber Orchestra
Oliver Knussen
Thomas, Augusta: Terpsichore's Dream
Chamber Orchestra
Cliff Colnot
Thomas, Augusta: Silver Chants the Litanies
Southern Methodist University Wind Ensemble
Jack Delaney