UPDATE: Royal Mail have now resumed shipments on their TRACKED & SIGNED and SIGNED services but delays should be expected, please choose these services if available to you or FEDEX if your order is urgent.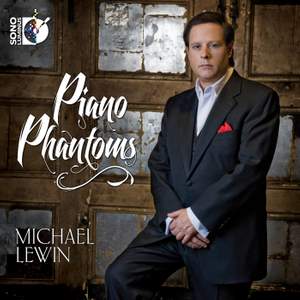 Michael Lewin: Piano Phantoms
Lewin's eclectic recital is a delight from start to finish...you marvel at the archaeological skills which must have been required to exhume the obscurities on this disc...Lewin plays [the Tausig]...

— More…
Contents
Walter Rudolph Niemann: Ghosts
Lyapunov: Round of Phantoms
Slatter (Norwegian Dances), Op. 72: No. 14. The Bridal Procession of the Goblins at Voss
Tausig: The Ghost Ship, Op. 1
Medtner: Skazki (Fairy Tales), Op. 34
4 Fairy Tales, Op. 34: No. 2 in E minor, "Leshchiy (Wood Goblin)"
Dvořák: Poetic Tone Pictures, Op. 85
Poeticke nalady (Poetic Tone Pictures), Op. 85, B. 161: No. 8. Goblins' Dance (Allegretto)
Goossens: Kaleidoscope, Op. 18
Kaleidoscope, Op. 18: VII. A Ghost Story (version for piano)
Troyer: Ghost Dance of the Zunis
Kaski: Night Music of the Mountain Goblin
Vallier: Ghosts of Restormel
 Excerpt,  Bolcom: Ghost Rags (3)
3 Ghost Rags: No. 1. The Graceful Ghost
Eleanor Farjeon: Some Goblins and Gnomes and Things
Price, F: Goblin and the Mosquito
Hiller, W: Dance of the Phantoms
Rivé-King: March of the Goblins
Schubert: Der Geistertanz D15 (Matthisson)
Schumann: Theme with Variations in E flat major WoO 24 ('Geistervariationen')
Variation 3: Etwas belebter