UPDATE: Royal Mail have now resumed shipments on their TRACKED & SIGNED and SIGNED services but delays should be expected, please choose these services if available to you or FEDEX if your order is urgent.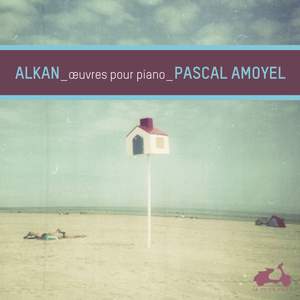 Amoyel celebrates Alkan's bicentenary in style with the remarkable Grande Sonate and some fascinating and sublime miniatures

— More…
Contents
Alkan: Nocturne in B, Op.22
Alkan: Recueil de Chants, Op.65: Barcarolle, No. 6
Alkan: 25 Preludes, Op.31: Chanson de la folle au bord de la mer, No. 8
Alkan: Grande Sonate, Op. 33 "Les 4 âges"
II. 30 ans – Quasi Faust - Assez vite
III. 40 ans – Un heureux ménage - Lentement
IV. 50 ans – Prométhée enchaîné - Extrêmement lent
Alkan: Esquisses, Op. 63, Book I
I. Op. 63 No. 4 "Les Cloches"
II. Op. 63 No. 1 "La Vision"
III. Op. 63 No.11 "Les Soupirs"