Latest update: COVID-19 Shipping Delays. Presto is committed to the health and well-being of our staff. Our warehouse team are currently working hard to ensure your order is despatched as quickly as possible. Unfortunately you may experience slight delays as some deliveries are taking longer than usual. Thank you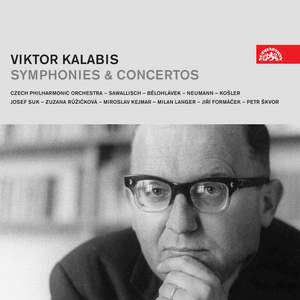 Offer

,

 Viktor Kalabis: Symphonies and Concertos
Petr Škvor (violin), Miroslav Kejmar (trumpet), Zuzana Růžičková (harpsichord), Josef Suk (violin), Milan Langer (piano), Jiří Formáček (bassoon)
Czech Philharmonic Orchestra, Prague Symphony Orchestra, Prague Radio Symphony Orchestra, Prague Chamber Orchestra, Czech Philharmonic Wind Ensemble,...
this excellent collection, despite the variable age and quality of some recordings, will do very nicely in bringing [Kalabis's] name before a wider audience

— More…
Gramophone Magazine

July 2013

Re-issue of the Month
Contents
Kalabis: Symphony No. 2, Op. 18 "Sinfonia pacis"
27:54
Czech Philharmonic Orchestra
Zdenek Kosler
II. Allegro molto e drammatico
7:30
III. Andante, molto quieto
6:39
IV. Allegro comodo e giocoso
5:38
Kalabis: Concerto No. 1, Op. 17
21:42
Petr Škvor
Prague Symphony Orchestra
Viktor Kalabis
II. Andante angoscioso - Quasi adagio
6:45
Kalabis: Symphonic Variations, Op. 24
12:59
Czech Philharmonic Orchestra
Václav Neumann
Kalabis: Concerto for Large Orchestra, Op.25
28:30
Czech Philharmonic Orchestra
Ladislav Slovák
Kalabis: Symphony No. 3, Op. 33
26:14
Czech Philharmonic Orchestra
Jiří Bělohlávek
II. Allegro molto drammatico
10:44
III. Adagio molto e quieto
7:23
Kalabis: Concerto, Op. 36 "Le tambour de villevieille"
18:00
Miroslav Kejmar
Czech Radio Symphony Orchestra
Miloš Konvalinka
II. Andante - Vivo - Andante - Allegro vivo
11:45
Kalabis: Concerto for Harpsichord and Strings, Op. 42
27:32
Zuzana Růžičková
Prague Chamber Orchestra
Viktor Kalabis
Kalabis: Concerto for Violin and Orchestra No. 2, Op. 49
15:23
Josef Suk
Czech Philharmonic Orchestra
Wolfgang Sawallisch
Kalabis: Concerto for Piano and Wind Instruments, Op.64: I. Allegro vivo - Andante - Poco vivo
22:19
Milan Langer
Prague Radio Symphony Orchestra
Tomáš Koutník
Kalabis: Concertino for Basson and Wind Instruments, Op. 61
12:38
Jiří Formáček
Czech Philharmonic Wind Ensemble
Miloš Formáček