Business update: Our website remains open for orders. However, delays in postal and courier services mean that deliveries are currently taking longer than usual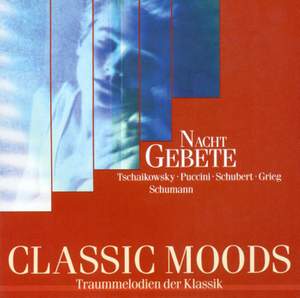 CLASSIC MOODS - HUMPERDINCK, E. / FAURE, G. / BRAHMS, J. / SCHUMANN, R. / PUCCINI, G. / GRIEG, E. / SCHUBERT, F. / PUCCINI, G. / RHEINBERGER, J.G.
Axel Kohler (counter-tenor), Janos Balint (flute), Deborah Sipkai (harp), Dezso Ranki (piano), Laszlo Szilvasy (cello), Evelyn Dubourg (piano), Erno Sebestyen (violin), Andreas Juffinger (organ), Jeno Jando (piano), Michael Erxleben (violin), David Lorenz (guitar), Tabea Zimmermann (viola), Hartmut...
Contents
 Excerpt,  Humperdinck: Hänsel und Gretel
2:09
Axel Kohler (counter-tenor)
Wiener Sängerknaben, WDR Sinfonieorchester Köln
Helmut Froschauer
Hansel und Gretel, Act II: Abends, will ich schlafen gehn (Evening Prayers)
2:09
anon.: 3 Songs, Op. 7 (arr. for flute and harp)
3:10
Janos Balint (flute), Deborah Sipkai (harp)
3 Songs, Op. 7: No. 1. Apres un reve (arr. for flute and harp)
3:10
anon.: 5 Lieder, Op. 49: No. 4. Wiegenlied (arr. for strings)
1:45
Budapest Strings
Bela Banfalvi
 Excerpt,  Schumann: Waldszenen, Op. 82
2:11
Waldszenen, Op. 82: No. 3. Einsame Blumen (Solitary Flowers)
2:11
anon.: Tosca (arr. for orchestra)
3:04
Sofia Philharmonic Orchestra
Emil Tabakov
Tosca, Act III: E lucevan le stelle (arr. for orchestra)
3:04
anon.: Lyric Pieces, Book 2, Op. 38 (arr. for flute and harp)
3:29
Janos Balint (flute), Deborah Sipkai (harp)
Lyric Pieces, Book 2, Op. 38: No. 6. Elegie (Elegy) (arr. for flute and harp)
3:29
 Excerpt,  Schubert: String Quintet in C major, D956
3:27
Laszlo Szilvasy (cello)
Tatrai Quartet
String Quintet in C major, Op. 163, D. 956: II. Adagio
3:27
 Excerpt,  Schumann: Romances (3), Op. 28
3:27
3 Romanzen, Op. 28: No. 2 in F sharp major
3:27
 Excerpt,  Puccini: Suor Angelica
5:28
Sofia Philharmonic Orchestra
Emil Tabakov
Suor Angelica: Senza mamma
5:28
anon.: 3 Sacred Songs, Op. 69 (arr. for violin and organ)
3:59
Erno Sebestyen (violin), Andreas Juffinger (organ)
3 Sacred Songs, Op. 69: No. 3. Abendlied, "Bleib bei uns, es will Abend werden" (arr. for violin and organ)
3:59
 Excerpt,  Grieg: Lyric Pieces V (6), Op. 54
3:18
Lyric Pieces, Book 5, Op. 54: No. 4. Nocturne
3:18
Saint-Saëns: Romance for violin, harp and organ, Op. 27
4:08
Michael Erxleben (violin)
New Berlin Chamber Orchestra
Tárrega: Recuerdos de la Alhambra
4:26
Tabea Zimmermann: Winterreise, Op. 89, D. 911 (arr. for viola and piano)
3:59
Tabea Zimmermann (viola), Hartmut Holl (piano)
Winterreise, Op. 89, D. 911: No. 24. Der Leiermann (arr. for viola and piano)
3:59
 Excerpt,  Tchaikovsky: Symphony No. 1 in G minor, Op. 13 'Winter Daydreams'
10:27
Prague Festival Orchestra
Pavel Urbanek
Symphony No. 1 in G minor, Op. 13, "Winter Daydreams": II. Adagio cantabile ma non tanto (Land of Desolation, Land of mists)
10:27