UPDATE: Royal Mail have now resumed shipments on ALL International services but delays should be expected, please choose FEDEX if your order is urgent.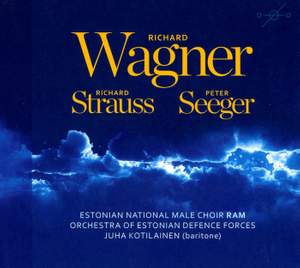 Wagner: Opera Choruses
Juha Kotilainen (baritone)
Estonian Natonal Male Choir RAM & Orchestra of Estonian Defence Forces, Peeter Saan & Ants Soots
Contents
Wagner: Der fliegende Hollander (The Flying Dutchman) (arr. P. Saan)
Juha Kotilainen (baritone)
Estonian National Male Choir, Estonian Defence Forces Orchestra
Peeter Saan
Act I: Mit Gewitter und Sturm aus fernem Meer
Act III: Steuermann, lass die Wacht!
Act III: Juchhe! Da gibt's die Fulle!
Act III: Johohohe, Johohohe! Hoe! Hoe!
Wagner: Tannhauser (arr. P. Saan)
Juha Kotilainen (baritone)
Estonian Defence Forces Orchestra, Estonian National Male Choir
Peeter Saan
Act I: Zu dir wall ich, mein Jesus Christ
Act III: Wie Todesahnung Dammerung deckt die Lande
Act III: O du mein holder Abendstern
Act III: Von Rom zuruck erwartet sie die Pilger
Act II: Begluckt darf nun dich, o Heimat, ich schauen
Wagner: Lohengrin (arr. P. Saan)
Juha Kotilainen (baritone)
Estonian National Male Choir, Estonian Defence Forces Orchestra
Peeter Saan
Act II: In Fruh'n versammelt uns der Ruf
Act II: Des Konigs Wort und Will tu ich euch kund
Strauss, R: Männerchore (3), Op. 45
Estonian National Male Choir
Ants Soots
3 Mannerchore, TrV 270: No. 2. Traumlicht
Seeger, P: Pfälzische Liedkantate
Estonian Defence Forces Orchestra, Estonian National Male Choir
Ants Soots