US Airmail Charges: As a knock-on effect of COVID-19 airfreight prices around the world have soared. Reluctantly, we have had to pass on some of this increase in our standard airmail prices. We'll bring them down again as soon as we can!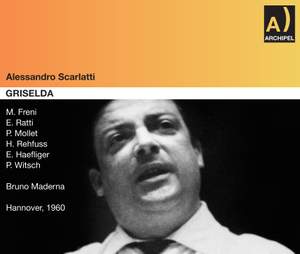 Offer

,

 Scarlatti, A: La Griselda
Mirella Freni (Griselda), Eugenia Ratti (Costanza), Pierre Mollet (Gualtiero), Heinz Rehfuss (Ottone), Peter Witsch (Corrado), Ernst Haefliger (Roberto), Walter Gerwig (lute), Michael Schäffer (lute), Matthias Siedel (harpsichord), Horst Beckedorf (harpsichord) & Rudolf Schlegel (double bass)
Hannoversche...
Contents
Scarlatti, A: La Griselda
2:58:28
Walter Gerwig (lute), Michael Schäffer (lute), Mathias Siedel (harpsichord), Horst Beckedorf (cello), Rudolf Schlegel (contrabass), Pierre Mollet (baritone), Mirella Freni (soprano), Heinz Rehfuss (bass), Ernst Haefliger (tenor), Peter Witsch (tenor), Eugenia Ratti (soprano)
Sinfonieorchester Hannover des NDR, Hannoversche Solistenvereinigung
Bruno Maderna
Recorded: 27.9.1960
Recording Venue: Hannover, Lower Saxony, Germany
Act I: Sinfonia avanti l'opera
3:02
Act I: Questo o popoli, e il giorno (Gualtiero, Coro, Griselda)
5:02
Act I: In voler cio che tu bramii (Griselda)
3:41
Act I: Resta, e saprai (Ottone, Griselda)
1:44
Act I: No, non sospirar l'amor (Gualtiero)
2:29
Act I: Regina, pensa quanto ti costa (Ottone)
1:09
Act I: Nell'aspro mio dolor (Griselda)
5:02
Act I: Troppo avezza e Griselda (Ottone)
0:46
Act I: Chi Regina mi disprezza (Ottone)
2:14
Act I: Sinfonia per lo sbarco
1:45
Act I: Come presto nel porto crudele (Roberto)
3:41
Act I: Germani, e ad entrambi, (Corrado, Roberto, Costanza)
1:46
Act I: No, non eclissate le vostre stelle (Corrado, Roberto)
1:36
Act I: Bel labbro, ancor non sai… (Costanza)
4:33
Act I: L'arcano in te racchiudi. (Gualtiero, Corrado)
1:50
Act I: Vago sei, volto amoroso (Gualtiero)
2:52
Act I: Non vi vorrei conoscere (Roberto)
3:36
Act I: E comando Gualtiero (Griselda, Ottone)
2:53
Act I: Di, che sogno o che deliro (Griselda)
1:27
Act I: Con belta si proterva, (Ottone)
0:37
Act I: Quella tirannia che il cor m'impiaga (Ottone)
2:52
Act I: Son le regie tue stanze (Corrado, Constanza, Roberto)
3:12
Act I: Voi sospirate bellezze amate, (Costanza)
5:10
Act I: Chi vide mai destino eguale (Roberto)
0:50
Act I: Amanti che piangete, (Roberto)
5:18
Act II: Mi rivedi o selva ombrosaa (Griselda)
4:11
Act II: Griselda, anima mia. (Ottone)
0:43
Act II: Colomba innamorata dal caro… (Ottone)
3:15
Act II: Ho in petto una sol alma (Griselda, Corrado)
1:21
Act II: Agitata da fiera procella (Corrado)
2:18
Act II: Figlio, figlio, dove t'ascondo (Griselda, Ottone)
2:27
Act II: Figlio! Tiranno! O Dio! (Griselda)
3:01
Act II: Non giovano lusinghe (Ottone)
0:22
Act II: Bellezze spietate (Ottone)
2:29
Act II: Se d'altri io ti desio (Roberto)
3:40
Act II: Si, con amor mi sdegno (Costanza)
0:32
Act II: Credi amor che indegno sei (Constanza)
2:16
Act II: E deliquio di core (Griselda)
1:06
Act II: Finira, barbara sorte il piacer (Griselda)
3:48
Act II: In questi ermi ritiri (Roberto, Costanza)
1:47
Act II: Pace pupille vaghe, (Roberto)
2:34
Act II: Sola se ben tu parti (Costanza, Griselda)
4:21
Act II: Non sei quella (Griselda, Costanza)
3:31
Act II: De tuoi begli occhi (Gualtiero, Costanza, Griselda, Corrado)
2:35
Act II: Vorresti col tuo pianto (Gualtiero)
3:37
Act II: Ecco Otton. Sola, inerme, (Griselda, Ottone, Gualtiero, Corrado, Costanza)
2:54
Act II: Ti voglio sempre odiar (Gualtiero, Costanza, Griselda)
3:10
Act III: V'intendo, bei labbri (Ottone)
2:55
Act III: Godo, o bella, (Griselda, Costanza)
1:18
Act III: Prenditi il mio se ti bisogna (Griselda)
2:13
Act III: Un Principe infelice potrebbe… (Roberto, Costanza)
0:37
Act III: Occhi belli, astri d'amore (Roberto)
2:53
Act III: Tu di rapir Griselda poc'anzi osasti? (Gualtiero, Ottone)
1:53
Act III: Mi dimostra il tuo bel dono (Ottone)
2:15
Act III: Peno, ma per te peno, (Gualtiero)
0:59
Act III: Ho in seno due fiamelle (Gualtiero)
3:25
Act III: Coma va l'ape di fiore in fiore (Roberto)
3:03
Act III: Dunque sei risoluto? (Corrado, Roberto)
1:23
Act III: Prendi, se n'hai desio (Corrado)
2:20
Act III: Tu partire, O Roberto, (Costanza)
1:38
Act III: Bella mano, io non credea (Roberto, Costanza)
4:33
Act III: Con si pudico affetto (Griselda, Gualtiero, Costanza, Roberto, Corrado)
3:31
Act III: Non fu mai colpa amor (Gualtiero, Costanza, Roberto, Griselda)
4:12
Act III: Terminate, o ministri, l'alta pompa (Griselda, Gualtiero, Costanza, Roberto, Ottone)
4:01
Act III: Mio Re, mio Nume, mio sposo (Griselda, Gualtiero, Ottone, Coro)
4:02
Act III: Popoli che rei siete (Gualtiero, Ottone, Corrado, Costanza, Roberto, Griselda)
3:54
Act III: Coronatevi di fiori casti amori (Tutti)
1:23