UPDATE: Royal Mail have now resumed shipments on ALL International services but delays should be expected, please choose FEDEX if your order is urgent.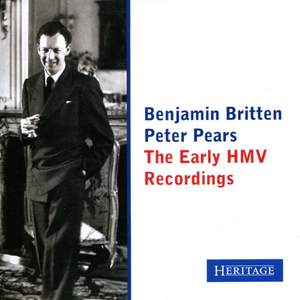 Benjamin Britten and Peter Pears: The Early HMV Recordings
Benjamin Britten (piano) & Peter Pears (tenor)
Contents
Britten: Seven Sonnets of Michelangelo, Op. 22
Peter Pears, Benjamin Britten
Veggio co 'bei Vostri Occhi
Britten: The Holy Sonnets of John Donne, Op. 35
Peter Pears, Benjamin Britten
"O Might Those Sighes and Teares"
"At the Round Earth's Imagined Corners"
Benjamin Britten, Peter Pears
trad.: Come you not from Newcastle
Benjamin Britten, Peter Pears
trad.: O Waly, Waly ('The Water is Wide')
Benjamin Britten, Peter Pears
trad.: The Foggy, Foggy Dew
Benjamin Britten, Peter Pears
trad.: Six Dukes Went a-Fishin
Benjamin Britten, Peter Pears
 Excerpt,  Copland: Old American Songs, Sets 1 & 2
Peter Pears, Benjamin Britten
The Boatmen's Dance (Minstrel Song 1843)
The Dodger (Campaign Song)
Simple Gifts (Shaker Song)
Schubert: Im Frühling, D882
Peter Pears, Benjamin Britten
Schubert: Auf der Bruck, D853
Peter Pears, Benjamin Britten