US Airmail Charges: As a knock-on effect of COVID-19 airfreight prices around the world have soared. Reluctantly, we have had to pass on some of this increase in our standard airmail prices. We'll bring them down again as soon as we can!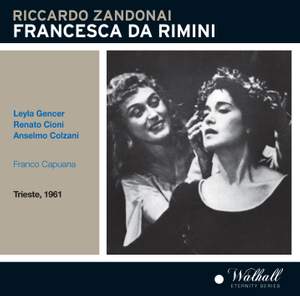 Offer

,

 Zandonai: Francesca da Rimini
Leyla Gencer (Francesca), Anna Gasparini (Samaritana), Enzo Viaro (Ostasio), Anselmo Colzani (Giovanni), Renato Cioni (Paolo), Mario Ferrara (Malatestino), Silvana Alessio Martinelli (Biancofiore), Liliana Hussu (Garsenda), Rita Comin (Altichiara), Bruna Ronchini (Smaragdi) & Raimondo Botteghelli...
Contents
Zandonai: Francesca da Rimini
2:15:52
Silvana Alessio Martinelli (mezzo-soprano), Claudio Giombi (bass), Enzo Viaro (bass), Raimondo Botteghelli (tenor), Leyla Gencer (soprano), Anna Gasparini (mezzo-soprano), Eno Mucchiutti (baritone), Renato Cioni (tenor), Mario Ferrara (tenor), Rosa Laghezza (vocals)
Orchestra del Teatro Lirico Giuseppe Verdi di Trieste, Coro del Teatro Lirico Giuseppe Verdi di Trieste
Franco Capuana
Recorded: 16 March 1961
Recording Venue: Teatro Giuseppe Verdi, Trieste, Italy
Act I: Adonnella, Adonella, c'e il giullare (Le Donne, Il Giullare, Ostasio)
3:41
Act I: So le storie di tutti i cavalieri (Il Giullare, Ser Toldo)
4:41
Act I: Questi giullari et uomini di corte (Ostasio, Il Giullare, Ser Toldo)
3:31
Act I: Oime che adesso io provo (Chorus, Francesca)
3:28
Act I: Francesca, dove andrai? (Samaritana, Francesca)
2:46
Act I: Pace! Anima cara, piccola colomba! (Francesca, Samaritana)
3:06
Act I: Madonna Francesca! (Le Donne, Francesca, Chorus)
2:40
Act I: O Francesca, anima mia (Samaritana, Francesca)
2:35
Act I: Viene! Viene! Madonna (Le Donne, Francesca, Chorus)
5:44
Act II: E' ancora sgombro il campo del comune? (Il Torrigiano, Il Balestiere, Francesca)
1:35
Act II: Paolo! Francesca! (Paolo, Francesca, Il Torrigiano, Il Balestriere, Chorus)
11:04
Act II: Per Dio, gente poltrona, (Gianciotto, Paolo) - Francesca! … Salute a voi, Signore (Gianciotto, Francesca)
1:44
Act II: E dolce cosa rivedere la vostra faccia (Gianciotto, Paolo, Francesca)
5:08
Act II: O sciagura, sciagura! (Francesca, Gianciotto, Malatestino, Chorus)
5:00
Act III: E Galeotto dice: Dama, abbiatene pieta (Francesca, Le Donne)
4:32
Act III: O Smaragdi, non torna? (Francesca, Smaragdi)
6:18
Act III: Abbiamo i suonatori (Le Donne, Chorus)
4:01
Act III: Deh … creatura allegra (Le Donne)
2:25
Act III: Andate in allegrezza per la corte (Francesca)
3:40
Act III: Benvenuto, signore mio cognato (Francesca, Paolo)
3:03
Act III: Paolo, datemi pace! (Francesca, Paolo)
3:22
Act III: Perche volete voi ch'io rinnovi (Paolo, Francesca)
4:18
Act III: E Galeotto dice: "Dama, abbiatene (Paolo, Francesca, Chorus)
6:14
Act IV: Perche tanto sei strano? (Francesca, Malatestino)
7:32
Act IV: Mia cara donna, voi m'attendevate? (Gianciotto, Francesca)
4:03
Act IV: Torna Malatestino (Francesca, Malatestino, Gianciotto)
6:07
Act IV: Parla! … Non ti stupisti quando taluno (Malatestino, Gianciotto)
3:27
Act IV: L'ha colto il sonno, Dorme (Le Donne)
3:42
Act IV: Oh! No, no! Non sono io! (Francesca, Le Donne)
3:45
Act IV: O Biancofiore, piccola tu sei! (Francesca, Biancofiore)
5:11
Act IV: E cosi vada s'e pur mio destino! (Francesca, Paolo, Gianciotto)
7:29