Latest update: COVID-19 Shipping Delays. Presto is committed to the health and well-being of our staff. Our warehouse team are currently working hard to ensure your order is despatched as quickly as possible. Unfortunately you may experience slight delays as some deliveries are taking longer than usual. Thank you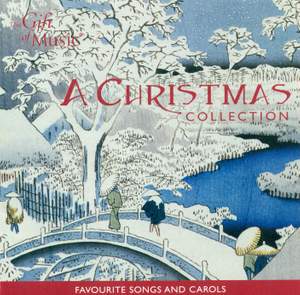 A Christmas Collection
Favourite songs and carols
Martin Souter (piano), Ian Giles (voice), John Spiers (melodeon), Jon Boden (fiddle & voice), Giles Lewin (fiddle, pipes, flute & voice), Krisztina Laki (soprano), Hildegard Laurich (contralto), Aldo Baldin (tenor), Richard Anlauf (bass), Christof Roos (organ), Martin Souter (organ)
The...
Contents
Kirkpatrick: Away in a Manger
2:52
Choir of Worcester College Oxford
Christopher Sparkhall
 Excerpt,  Tchaikovsky: The Nutcracker, Op. 71
3:45
London Symphony Orchestra
Don Jackson
The Nutcracker, Op. 71, Act I Tableau II: Waltz of the snowflakes
3:45
 Excerpt,  Mendelssohn: Kinderstücke (6), Op. 72 'Christmas Pieces'
1:05
6 Kinderstucke, Op. 72, "Christmas Pieces": No. 1. Allegro non troppo
1:05
John Spiers (accordion), Jon Boden (fiddle), Ian Giles (baritone), Giles Lewin (violin)
Tye: While shepherds watched
2:56
Victoria Davies (harp)
Christ Church Cathedral Choir, Oxford
Stephen Darlington
Haydn: Mass No. 5 in E flat major, Hob.XXII:4, "Missa in honorem BVM", "Missa Sancti Josephi", "Grosse Orgelsolomesse"
7:50
Aldo Baldin (tenor), Hildegard Laurich (alto), Richard Anlauf (bass), Krisztina Laki (soprano), Christof Roos (organ)
Württembergisches Kammerorchester Heilbronn, Stuttgart Chamber Choir
Frieder Bernius
Mass No. 5 in E flat major, Hob.XXII:4, "Missa in honorem BVM", Missa Sancti Josephi", "Grosse Orgelsolomesse": Benedictus
7:50
Handel: Messiah, HWV 56 (arr. for string ensemble)
6:34
Amadeus Ensemble
Valentin Radu
Part I: For unto a child is born
3:53
Christ Church Cathedral Choir, Oxford
Stephen Darlington
Smert: Nowell: Dieus wous garde
3:29
Choir of Queens' College Cambridge
Richard Smart
trad.: Lullay, lullow, I saw a swete semly syght
2:13
Choir of Queens' College Cambridge
James Weeks
trad.: Ther is no rose of swych vertu
3:51
Choir of Queens' College Cambridge
James Weeks
anon.: Verbum Supernum Prodiens
1:52
Choir of Queens' College Cambridge
James Weeks
Bach, J S: Christmas Oratorio, BWV 248 (arr. for piano)
10:41
Christmas Oratorio, BWV 248: Cradle Song (arr. for organ)
10:41
Cherwell Singers
Julia Craig-McFreely
Handel: Messiah, HWV 56 (arr. for string ensemble)
3:21
Messiah, HWV 56, Part II: Hallelujah (arr. for string ensemble)
3:21