US Airmail Charges: As a knock-on effect of COVID-19 airfreight prices around the world have soared. Reluctantly, we have had to pass on some of this increase in our standard airmail prices. We'll bring them down again as soon as we can!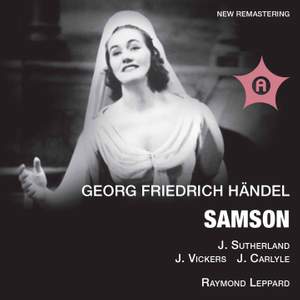 Offer

,

 Handel: Samson
Jon Vickers (Samson), Joan Carlyle (Dalila), Joan Sutherland (Israelite Woman), James Pease (Harapha), Lauris Elms (Micah), Joseph Rouleau (Manoah)
Orchestra and Chorus of the Royal Opera House, Raymond Leppard
It seems incredible that a singer of Heldentenor quality like Vickers could sing so stylishly in Handel, with elaborate divisions perfectly executed. Not only that, his portrayal of Samson is...

— More…
Contents
Jon Vickers (tenor), Joan Carlyle (soprano), Lauris Elms (mezzo-soprano), Joseph Rouleau (bass), James Pease (baritone), Dame Joan Sutherland (soprano)
Covent Garden Chorus, Covent Garden Orchestra
Raymond Leppard
Recorded: 03 January 1959
Recording Venue: Royal Opera House, Covent Garden, London, United Kingdom
Act I Scene 1: Chorus: Awake the trumpet's lofty sound!
1:58
Act I Scene 1: Air: Ye men of Gaza (Israelite Woman, Chorus)
4:21
Act I Scene 1: Recitative: Why by an angel was my birth foretold (Samson)
1:17
Act I Scene 1: Total eclipse! No sun, no moon! (Samson)
5:08
Act I Scene 2: Chorus: O first created beam! (Israelites)
4:13
Act I Scene 3: Recitative: Brethren and men of Dan (Manoah, Micah)
1:07
Act I Scene 3: To sorrows now I tune my song (Manoah)
2:18
Act I Scene 3: Recitative: Justly these evils have befalI'n thy son (Samson)
1:37
Act I Scene 3: Why does the God of lsrael sleep? (Samson)
3:26
Act I Scene 3: Recitative: For thee, my dearest son (Manoah, Samson)
2:15
Act I Scene 3: Recitative: Then long eternity shall greet your bliss (Micah)
1:02
Act I Scene 3: Joys that are pure, sincerely good (Micah)
3:50
Act I Scene 3: Chorus: Then round about the starry throne (Chorus)
3:24
Act II Scene 1: Did love constrain: Return, O God of hosts (Micah)
4:12
Act II Scene 1: Recitative: But who is this, that so bedeck'd and gay (Micah, Samson)
1:47
Act II Scene 1: Air: With plaintive notes and am'rous moan (Chorus)
4:26
Act II Scene 1: Did love constrain thee? (Samson)
0:55
Act II Scene 1: Your charms to ruin led the way (Samson)
3:48
Act II Scene 1: Forgive what's done (Dalila)
0:32
Act II Scene 2: Air: My faith and truth (Dalila, Israelite Woman)
3:59
Act II Scene 2: Let me approach, at least, and touch thy hand (Dalila, Samson)
0:31
Act II Scene 2: Traitor to love! I'll sue no more (Dalila, Samson)
1:39
Act II Scene 3: She's gone! A serpent manifest (Micah, Samson, Harapha)
2:25
Act II Scene 4: Air: Honour and arms scorn such a foe (Harapha)
5:48
Act II Scene 4: Cam'st thou for this, vain boaster? (Samson, Harapha)
0:53
Act II Scene 4: Duet: Go, baffled coward, go (Samson, Harapha)
2:26
Act II Scene 4: Recitative: Here lies the proof (Samson)
1:02
Act II Scene 4: Hear, Jacob's God, Jehovah, hear! (Chorus)
3:48
Act II Scene 4: Recitative: Dagon, arise, attend thy sacred feast! (Harapha)
0:19
Act II Scene 4: Chorus: Fix'd in his everlasting seat (Chorus)
3:03
Act III Scene 1: Recitative: More trouble is behind (Micah, Samson, Harapha)
1:51
Act III Scene 1: Air: Presuming slave, to move their wrath! (Harapha)
2:34
Act III Scene 1: Consider, Samson, matters now are strain'd (Micah, Samson)
1:05
Act III Scene 1: Chorus: With thunder arm'd, great God, arise! (Chorus)
3:05
Act III Scene 1: Recitative: Be of good courage (Samson)
1:15
Act III Scene 1: Air: Thus when the sun from's wat'ry bed (Samson)
4:34
Act III Scene 2: Chorus: Great Dagon has subdu'd our foe (Chorus)
2:05
Act III Scene 2: What noise of joy was that? (Manoah, Micah)
0:58
Act III Scene 2: Air: How willing my paternal love (Manoah)
4:04
Act III Scene 2: Recitative: Your hopes of his deliv'ry (Micah, Manoah, Chorus)
2:10
Act III Scene 3: Air: Ye sons of lsrael (Micah, Chorus)
4:33
Act III Scene 3: Symphony: Dad March
3:41
Act III Scene 3: Glorious hero, may thy grave (Manoah, Chorus)
4:13
Act III Scene 3: Come, come! No time for lamentation now (Manoah)
0:42
Act III Scene 3: Air: Let the bright seraphim in burning row (Israelite Woman)
6:28
Act III Scene 3: Chorus: Let their celestial concerts all unite (Israelites)
3:01