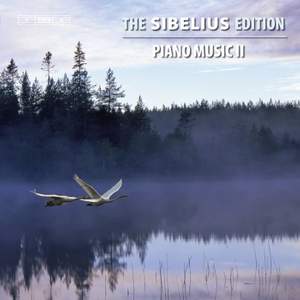 Offer

,

 The Sibelius Edition Volume 10 - Piano Music II
All recordings included are previously unreleased and 14 pieces are world première recordings.
Folke Gräsbeck (piano), with Peter Lönnqvist (piano)
5 CDs
Original price
($46.00)
Reduced price
$34.50
Contents
Sibelius: Pelléas and Mélisande Suite, Op. 46 (Version for Piano)
Folke Gräsbeck (piano)
Recording Venue: Kuusankoski Hall, Finland
No. 1. Prelude to Act I Scene 1, "At the Castle-gate"
No. 2. Prelude to Act I Scene 2, "Melisande"
No. 3. Prelude to Act II Scene 1, "A Spring in the Park"
No. 4. Song in Act III Scene 2, "The 3 Blind Sisters"
No. 5. Melodrama in Act III Scene 4, "Pastorale"
No. 6. Prelude to Act III Scene 1, "Melisande at the Spinning Wheel"
No. 7. Prelude to Act IV Scene 1, "Entr'acte"
No. 8. Prelude to Act V Scene 2, "The Death of Melisande"
Sibelius: Belshazzar's Feast Suite, Op. 51
Folke Gräsbeck (piano)
Recording Venue: Kuusankoski Hall, Finland
Sibelius: Ten Pieces, Op. 58
Folke Gräsbeck (piano)
Recording Venue: Kuusankoski Hall, Finland
Sibelius: Pan and Echo, Op. 53
Folke Gräsbeck (piano)
Recording Venue: Kuusankoski Hall, Finland
Pan and Echo, Op. 53a (version for piano)
Sibelius: Sonatina in F sharp minor, Op. 67 No. 1
Folke Gräsbeck (piano)
Recording Venue: Kuusankoski Hall, Finland
Sibelius: Three Sonatinas, Op. 67: No. 2 in E major
Folke Gräsbeck (piano)
Recording Venue: Kuusankoski Hall, Finland
Sibelius: Piano Sonatina in B flat minor, Op. 67, No. 3
Folke Gräsbeck (piano)
Recording Venue: Kuusankoski Hall, Finland
I. Andante - Allegro moderato
Sibelius: Rondinos, Op. 68
Folke Gräsbeck (piano)
Recording Venue: Kuusankoski Hall, Finland
No. 1. Rondino in G-Sharp Minor
No. 2. Rondino in C-Sharp Minor
Sibelius: Two Songs, Op. 65
Folke Gräsbeck (piano)
Recording Venue: Kuusankoski Hall, Finland
Kellosavel Kallion kirkossa (The Bells of Kallio Church), Op. 65b
Sibelius: Scaramouche, incidental music, Op. 71
Folke Gräsbeck (piano)
Recording Venue: Kuusankoski Hall, Finland
Sibelius: Spagnuolo, JS 181
Folke Gräsbeck (piano)
Recording Venue: Kuusankoski Hall, Finland
Sibelius: Till trånaden JS 202
Folke Gräsbeck (piano)
Recording Venue: Kuusankoski Hall, Finland
Sibelius: Four Lyric Pieces, Op. 74
Folke Gräsbeck (piano)
Recording Venue: Kuusankoski Hall, Finland
No. 2. Sanfter Westwind (Soft West Wind)
No. 3. Auf dem Tanzvergnugen (At the Dance)
No. 4. Im alten Heim (In the Old Home)
Sibelius: Five Pieces, Op. 75 'The Trees'
Folke Gräsbeck (piano)
Recording Venue: Kuusankoski Hall, Finland
No. 1. Nar ronnen blommar (When the Rowan Blossoms)
No. 2. Den ensamma furan (The Lonely Fir)
No. 4. Bjorken (The Birch Tree)
No. 5. Granen (The Spruce)
Sibelius: Syringa, Op. 75, No. 6
Folke Gräsbeck (piano)
Recording Venue: Kuusankoski Hall, Finland
Sibelius: Thirteen Pieces, Op. 76
Folke Gräsbeck (piano)
Recording Venue: Kuusankoski Hall, Finland
Sibelius: Jokamies, Op. 83 (Version for Piano)
Folke Gräsbeck (piano)
Recording Venue: Kuusankoski Hall, Finland
Sibelius: Pieces (5), Op. 85
Folke Gräsbeck (piano)
Recording Venue: Kuusankoski Hall, Finland
Sibelius: Mandolinato JS 123
Folke Gräsbeck (piano)
Recording Venue: Kuusankoski Hall, Finland
Sibelius: 2 Marches, Op. 91 (Version for Piano)
Folke Gräsbeck (piano)
Recording Venue: Kuusankoski Hall, Finland
Jaakarien marssi, Op. 91a (version for piano)
Scout March, Op. 91b (version for piano)
Sibelius: Six Pieces, Op. 94
Folke Gräsbeck (piano)
Recording Venue: Kuusankoski Hall, Finland
No. 4. Berger et bergerette
Sibelius: Till O. Parviainen, JS 201
Folke Gräsbeck (piano)
Recording Venue: Kuusankoski Hall, Finland
Till O. Parviainen (To O. Parviainen), JS 201
Sibelius: Con passione, JS 53
Folke Gräsbeck (piano)
Recording Venue: Kuusankoski Hall, Finland
Sibelius: Three Pieces, Op. 96
Folke Gräsbeck (piano)
Recording Venue: Kuusankoski Hall, Finland
Valse lyrique, Op. 96a (version for piano)
Autrefois (Scene pastorale), Op. 96b (version for piano)
Valse chevaleresque, Op. 96c (version for piano)
Sibelius: Six Bagatelles, Op. 97
Folke Gräsbeck (piano)
Recording Venue: Kuusankoski Hall, Finland
Sibelius: Suite mignonne, Op. 98a
Folke Gräsbeck (piano)
Recording Venue: Kuusankoski Hall, Finland
Sibelius: Suite champêtre, Op. 98b
Folke Gräsbeck (piano)
Recording Venue: Kuusankoski Hall, Finland
Sibelius: Eight Piano Pieces, Op. 99
Folke Gräsbeck (piano)
Recording Venue: Kuusankoski Hall, Finland
No. 1. Piece humoristique
Sibelius: Suite caractéristique, Op. 100
Folke Gräsbeck (piano)
Recording Venue: Kuusankoski Hall, Finland
Sibelius: Five Romantic Pieces, Op. 101
Folke Gräsbeck (piano)
Recording Venue: Kuusankoski Hall, Finland
Sibelius: Five Characteristic Impressions, Op. 103
Folke Gräsbeck (piano)
Recording Venue: Kuusankoski Hall, Finland
No. 1. The Village Church
Sibelius: The Tempest, Op. 109 (Version for Piano)
Folke Gräsbeck (piano)
Recording Venue: Kuusankoski Hall, Finland
Sibelius: Morceau Romantique sur un motif de M. Jacob de Julin
Folke Gräsbeck (piano)
Recording Venue: Kuusankoski Hall, Finland
Sibelius: Ett ensamt skidspår
Folke Gräsbeck (piano), Lasse Pöysti (narrator)
Recorded: April 2005
Recording Venue: Jarvenpaa Hall, Finland
Sibelius: Esquisses (5), Op. 114
Folke Gräsbeck (piano)
Recording Venue: Kuusankoski Hall, Finland
No. 1. Maisema (Landscape)
No. 2. Talvikuva (Winter Scene)
No. 3. Metsalampi (Forest Lake)
No. 4. Metsalaulu (Song in the Forest)
No. 5. Kevatnaky (Spring Vision)
Sibelius: Rakkaalle Ainolle (To My Beloved Aino), JS 161
Folke Gräsbeck (piano), Peter Lönnqvist (piano)
Recorded: January 2007
Recording Venue: Kuusankoski Hall, Finland
Sibelius: Belshazzar's Feast, JS48
Folke Gräsbeck (piano)
Recording Venue: Kuusankoski Hall, Finland
 Excerpt,  Sibelius: Five Pieces, Op. 75 'The Trees'
Folke Gräsbeck (piano)
Recording Venue: Kuusankoski Hall, Finland
No. 5. Granen (The Spruce)
Sibelius: Three Pieces, Op. 96
Folke Gräsbeck (piano)
Recording Venue: Kuusankoski Hall, Finland
Valse lyrique, Op. 96a (preliminary version)
Valse chevaleresque, Op. 96c (preliminary version)
Sibelius: Six Bagatelles, Op. 97
Folke Gräsbeck (piano)
Recording Venue: Kuusankoski Hall, Finland
Sibelius: Five Romantic Pieces, Op. 101
Folke Gräsbeck (piano)
Recording Venue: Kuusankoski Hall, Finland
5 Romantic Pieces, Op. 101 (preliminary version): No. 5. Andante - Allegretto
Sibelius: Five Characteristic Impressions, Op. 103
Folke Gräsbeck (piano)
Recording Venue: Kuusankoski Hall, Finland
5 Characteristic Impressions, Op. 103: No. 5. In Mournful Mood (preliminary version)
 Excerpt,  Sibelius: Esquisses (5), Op. 114
Folke Gräsbeck (piano)
Recording Venue: Kuusankoski Hall, Finland
5 Esquisses, Op. 114: No. 4. Metsalaulu (Song in the Forest) (preliminary version)