UPDATE: Royal Mail have now resumed shipments on their TRACKED, TRACKED & SIGNED and SIGNED services but delays should be expected, please choose these services if available to you or FEDEX if your order is urgent.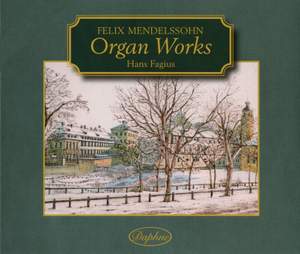 Mendelssohn - Organ Works
Hans Fagius at the Åkerman & Lund Organ in Kokkola Church, Finland
The first great composer after Bach to write a serious body of organ music, Mendelssohn left six Sonatas and other substantial pieces, all performed with majesty and intimacy by Hans Fagius on...

— More…
Contents
Mendelssohn: Three Preludes and Fugues for Organ, Op. 37
No. 1. Prelude in C minor
No. 2. Prelude in G major
No. 3. Prelude in D minor
Mendelssohn: Andante in D major
Mendelssohn: Passacaglia in C minor
Mendelssohn: Chorale-partita on "Wie gross ist des Allmacht gen Gute"
Mendelssohn: Nachspiel in D major
Mendelssohn: Andante con moto in G minor
Mendelssohn: Fughetta in D major
Mendelssohn: Fugue in E minor
Mendelssohn: Fugue in F minor
Mendelssohn: Prelude in C minor
Mendelssohn: Andante and Variations in D major
Mendelssohn: Allegro, Chorale and Fugue in D major
Mendelssohn: Organ Sonata No. 1 in F minor, Op. 65 No. 1
I. Allegro moderato e serioso
Mendelssohn: Organ Sonata No. 2 in C minor, Op. 65 No. 2
II. Allegro maestoso e vivace
III. Fuga: Allegro moderato
Mendelssohn: Organ Sonata No. 3 in A major, Op. 65 No. 3
Mendelssohn: Organ Sonata No. 4 in B flat major, Op. 65 No. 4
IV. Allegro maestoso e vivace
Mendelssohn: Organ Sonata No. 5 in D major, Op. 65 No. 5
Mendelssohn: Organ Sonata No. 6 in D minor, Op. 65 No. 6
I. Choral: Andante sostenuto - Allegro molto
II. Fuga: Sostenuto e legato
 Excerpt,  Mendelssohn: Little Pieces (3)
3 Little Pieces: No. 1. Trio (Andante) in F major
Mendelssohn: 2 pieces without opus numbers
2 Pieces: No. 2. Allegro n B flat major