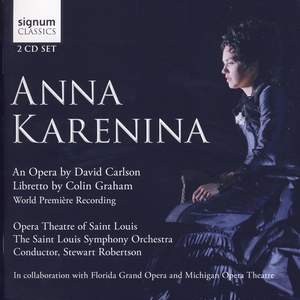 Offer

,

 Carlson, D: Anna Karenina
Kelly Kaduce (Anna), Robert Gierlach (Vronsky), Christian Van Horn (Karenin), Brandon Jovanovich (Levin), Sarah Coburn (Kitty), Christine Abraham (Dolly) & Rosalind Elias (Agafia)
Opera Theatre Saint Louis & Saint Louis Symphony Orchestra, Stewart Robertson
Colourful orchestration, lucid word-setting and dramatic alertness are among its virtues.

—
Contents
Carlson, D: Anna Karenina
2:19:35
Opera Theatre of St Louis
Saint Louis Symphony Orchestra
Stewart Robertson
The Station, Moscow. Winter, 1874
3:32
A sitting room in Stiva's house, That day.
7:52
A ball at Princess Betsy Tverskoya's house
12:15
Karenin's house, St Petersburg. That night.
6:10
Stiva's house. A few days later
1:27
Lenin's house in the country
8:53
Karenin's country house outside St Petersburg. Spring
9:54
A box at the races. Tsarskoe Selo. That afternoon.
10:49
Karenin's study, some days later. Night
11:15
The Admiralty Gardens, St Petersburg. Early Autumn.
7:31
A supper party at the Oblonsky's
6:40
Anna's bedroom, that night.
6:40
Levin's house. Six months later.
2:45
Seriosha's bedroom. Early morning on his birthday.
4:30
Anna's apartments at an hotel. That evening.
18:43
(Epilogue) The garden of Levin's country estate. Months later.
6:47