UPDATE: Royal Mail have now resumed shipments on their TRACKED & SIGNED and SIGNED services but delays should be expected, please choose these services if available to you or FEDEX if your order is urgent.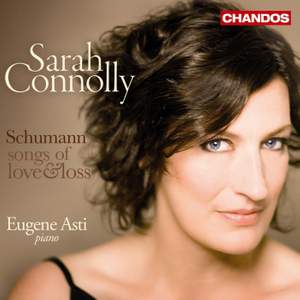 Schumann - Songs of Love and Loss
Sarah Connolly (mezzo-soprano) & Eugene Asti (piano)
By placing the poignant invocation of 'Mein schöner Stern', emblem-like, at the top of this artfully programmed Schumann recital, Sarah Connolly reveals much of the composer's fervent inwardness...

— More…
Contents
Schumann: Minnespiel, Op. 101: IV. Mein schoner Stern!
Dame Sarah Connolly, Eugene Asti
Schumann: Gedichte der Königin Maria Stuart, Op. 135
Dame Sarah Connolly, Eugene Asti
I. Abschied von Frankreich. Ziemlich langsam
II. Nach der Geburt ihres Sohnes. Langsam
III. An die Königin Elisabeth. Leidenschaftlich
IV. Abschied von der Welt. Langsam
Schumann: Requiem, Op. 90 No. 7
Dame Sarah Connolly, Eugene Asti
Schumann: Liederkreis, Op. 39
Dame Sarah Connolly, Eugene Asti
Schumann: Frauenliebe und -leben, Op. 42
Dame Sarah Connolly, Eugene Asti
II. Er, der Herrlichste von allen
III. Ich kann's nicht fassen, nicht glauben
IV. Du Ring an meinem Finger
V. Helft mir, ihr Schwestern
VI. Süßer Freund, du blickest
VII. An meinem Herzen, an meiner Brust
VIII. Nun hast du mir den ersten Schmerz getan