UPDATE: Royal Mail have now resumed shipments on ALL International services but delays should be expected, please choose FEDEX if your order is urgent.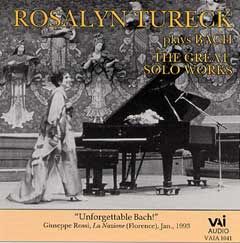 JS Bach: Great Solo Works, Vol.1
supremely musical and technically brilliant

— More…
Contents
Prelude & Fugue In B-Flat Major, BWV 866 -I. Prelude
Aria & TEN Variations In The Italian Style, BWV 989 -I. Aria
Chromatic Fantasia & Fugue, BWV 903 -I. Fantasia
Capriccio On The Departure Of A Beloved Brother, BWV 992 -I. Friends Gather And Try To Dissuade Him...
-II. They Picture The Dangers Which May...
-III. The Friends' Lament
-IV. Since He Cannot Be Dissuaded, They Say...
-V. Aria Of The Postilion
-VI. Fugue In Imitation Of The Postilion's Horn
Fantasia In C Major, BWV 919
Adagio In G Major, BWV 968
Toccata Adagio & Fugue In D Major, BWV 912 -I. Toccata