US deliveries: Unfortunately we are receiving reports that some US orders are taking longer than usual to arrive. Find out more >>
Latest update: Changes to international postage charges. Find out more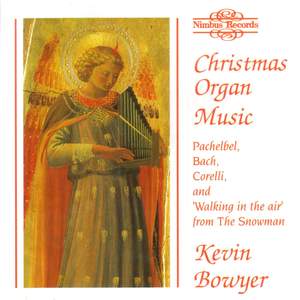 The recording quality is as excellent as the instrument itself.

—
Contents
Liszt: Weihnachtsbaum, S. 185a: No. 3, Die Hirten an der Krippe (In dulci jubilo)
2:42
Bach, J S: Chorale Prelude BWV729 'In dulci jubilo'
1:50
Bach, J S: Christmas Oratorio, BWV 248: No. 10, Sinfonia in G Major
4:47
Daquin: Livre de Noëls: XII. Noël "Suisse"
3:37
Blake, H: Walking in the Air (From "The Snowman")
3:35
Brahms: 11 Chorale Preludes, Op. 122: No. 8, Es ist ein Ros' Entsprungen
2:38
Pachelbel: Vom Himmel hoch da komm ich her
3:28
Guilmant: Livre de Noëls, Op. 60: Offertoire sur deux Noëls
6:59
Bach, J S: Chorale Prelude BWV645 'Wachet auf, ruft uns die Stimme'
4:11
Carter, A: Toccata on "Veni Emmanuel"
3:42
Lloyd Webber, W: Interlude on the Coventry Carol
2:22
Bach, J M I: In dulci jubilo, Emans 113
1:37
Willcocks, D: Postlude on 'Hark, the herald-angels sing'
3:37
Purvis: Prelude on Greensleeves
3:04
Rutter: Prelude on 'God rest you merry, gentlemen'
2:49
Archangelo Corelli: 12 Concerti Grossi, Op. 6: No. 8, Christmas Concerto, Pastorale
3:47
Handel: Messiah, HWV 56: No. 13, Pifa "Pastoral Symphony"
2:37
Sumsion: The Holly and the Ivy: Prelude
3:27
Erik-Jan Van der Hel: Den die Hirten lobeten sehre: Quem pastores
1:40
Handel: Messiah, HWV 56: No. 44, Hallelujah (Chorus)
3:53