UPDATE: Royal Mail have now resumed shipments on their TRACKED, TRACKED & SIGNED and SIGNED services but delays should be expected, please choose these services if available to you or FEDEX if your order is urgent.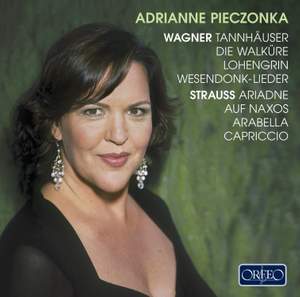 Offer

,

 Adrianne Pieczonka Sings Strauss & Wagner
Adrianne Pieczonka (soprano)
Munich Radio Orchestra, Ulf Schirmer
CD
Original price
($15.50)
Reduced price
$12.50
Contents
 Excerpt,  Wagner: Tannhäuser
Adrianne Pieczonka (soprano)
Munich Radio Orchestra
Ulf Schirmer
Recorded: 18-23 March 2005
Recording Venue: Bavaria Studio, Munchen, Germany
Act II: Dich, teure Halle
Act III: Allmacht'ge Jungfrau! Hor mein Flehen!
 Excerpt,  Wagner: Die Walküre
Adrianne Pieczonka (soprano)
Munich Radio Orchestra
Ulf Schirmer
Die Walkure, Act I: Der Manner Sippe
 Excerpt,  Wagner: Lohengrin
Adrianne Pieczonka (soprano)
Munich Radio Orchestra
Ulf Schirmer
Recorded: 18-23 March 2005
Recording Venue: Bavaria Studio, Munchen, Germany
Act I: Einsam in truben Tagen hab' ich zu Gott gefleht
Act II: Euch Luften, die mein Klagen
Wagner: Wesendonck-Lieder (5)
Adrianne Pieczonka (soprano)
Munich Radio Orchestra
Ulf Schirmer
Recorded: 18-23 March 2005
Recording Venue: Bavaria Studio, Munchen, Germany
No. 1. Der Engel (The Angel)
No. 2. Stehe still (Stand Still)
No. 3. Im Treibhaus (In the Hothouse)
 Excerpt,  Strauss, R: Ariadne auf Naxos
Adrianne Pieczonka (soprano)
Munich Radio Orchestra
Ulf Schirmer
Ariadne auf Naxos, Op. 60, TrV 228a: Es gibt ein Reich, wo alles rein ist
 Excerpt,  Strauss, R: Arabella
Adrianne Pieczonka (soprano)
Munich Radio Orchestra
Ulf Schirmer
Arabella, Op. 79, TrV 263, Act III: Das war sehr gut, Mandryka
 Excerpt,  Strauss, R: Capriccio
Adrianne Pieczonka (soprano)
Munich Radio Orchestra
Ulf Schirmer
Capriccio, Op. 85, TrV 279, Act I: Kein Andres, das mir so im Herzen loht