US Airmail Charges: As a knock-on effect of COVID-19 airfreight prices around the world have soared. Reluctantly, we have had to pass on some of this increase in our standard airmail prices. We'll bring them down again as soon as we can!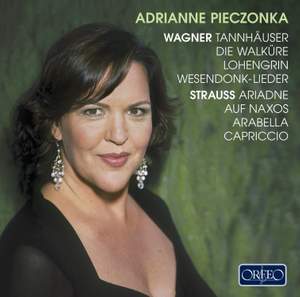 Offer

,

 Adrianne Pieczonka Sings Strauss & Wagner
Adrianne Pieczonka (soprano)
Munich Radio Orchestra, Ulf Schirmer
Contents
 Excerpt,  Wagner: Tannhäuser
8:21
Adrianne Pieczonka (soprano)
Munich Radio Orchestra
Ulf Schirmer
Recorded: 18-23 March 2005
Recording Venue: Bavaria Studio, Munchen, Germany
Act II: Dich, teure Halle
3:25
Act III: Allmacht'ge Jungfrau! Hor mein Flehen!
4:56
 Excerpt,  Wagner: Die Walküre
4:31
Adrianne Pieczonka (soprano)
Munich Radio Orchestra
Ulf Schirmer
Die Walkure, Act I: Der Manner Sippe
4:31
 Excerpt,  Wagner: Lohengrin
9:04
Adrianne Pieczonka (soprano)
Munich Radio Orchestra
Ulf Schirmer
Recorded: 18-23 March 2005
Recording Venue: Bavaria Studio, Munchen, Germany
Act I: Einsam in truben Tagen hab' ich zu Gott gefleht
5:42
Act II: Euch Luften, die mein Klagen
3:22
Wagner: Wesendonck-Lieder (5)
17:29
Adrianne Pieczonka (soprano)
Munich Radio Orchestra
Ulf Schirmer
Recorded: 18-23 March 2005
Recording Venue: Bavaria Studio, Munchen, Germany
No. 1. Der Engel (The Angel)
3:00
No. 2. Stehe still (Stand Still)
3:16
No. 3. Im Treibhaus (In the Hothouse)
5:34
 Excerpt,  Strauss, R: Ariadne auf Naxos
5:37
Adrianne Pieczonka (soprano)
Munich Radio Orchestra
Ulf Schirmer
Ariadne auf Naxos, Op. 60, TrV 228a: Es gibt ein Reich, wo alles rein ist
5:37
 Excerpt,  Strauss, R: Arabella
5:51
Adrianne Pieczonka (soprano)
Munich Radio Orchestra
Ulf Schirmer
Arabella, Op. 79, TrV 263, Act III: Das war sehr gut, Mandryka
5:51
 Excerpt,  Strauss, R: Capriccio
14:25
Adrianne Pieczonka (soprano)
Munich Radio Orchestra
Ulf Schirmer
Capriccio, Op. 85, TrV 279, Act I: Kein Andres, das mir so im Herzen loht
14:25