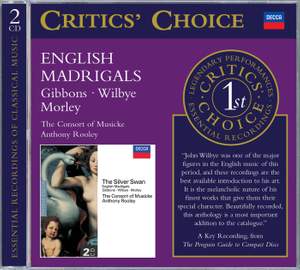 English Madrigals
Works by Gibbons, Wilbye and Morley
Emma Kirkby, Evelyn Tubb & Rogers Covey Crump
Consort of Musicke, Anthony Rooley
Contents
Gibbons, O: Madrigals and motets 1612
Consort of Musicke
Anthony Rooley
Recorded: 1975-02-12
Recording Venue: Decca Studios, West Hampstead, London
2. O that the learned poets
3. I weigh not Fortune's frown
4. I tremble not at noise of war
5. I see Ambition never pleased
6. I feign not friendship
7. How art thou thralled?
10. Fair ladies that to love
11. 'Mongst thousand good
12. Now each flowery bank of May
20. Trust not too much fair youth
Wilbye: First Set of English Madrigals (1598)
Anthony Rooley (director), Andrew King (tenor), Richard Wistreich (bass), John Milne (bass), Evelyn Tubb (mezzo-soprano), Mary Nichols (alto), Francis Steele (bass), Joseph Cornwell (tenor), Jacqueline Fox (mezzo-soprano), Emma Kirkby (soprano), Poppy Holden (soprano), Cathy Cass (alto)
Consort of Musicke
11. Thus saith my Cloris bright
12. Adieu, sweet Amaryllis
18. Lady, your words do spite me
19. Alas! what a wretched life
25. When shall my wretched life?
26. Of joys and pleasing pains
28. Cruel, behold my heavy ending
29. Thou art but young, thou saye'st
Wilbye: Second Set of Madrigals, 1609
Anthony Rooley (director), Emma Kirkby (soprano), Mary Nichols (alto), Jacqueline Fox (mezzo-soprano), Poppy Holden (soprano), Evelyn Tubb (mezzo-soprano), Francis Steele (bass), Andrew King (tenor), Richard Wistreich (bass), Joseph Cornwell (tenor)
Consort of Musicke
17. Sweet honey-sucking bees
25. Ye that do live in pleasures
30. Ah! Cannot sighs nor tears
32. Stay, Corydon, thou swain
33. Softly, O softly drop my eyes
Morley: Ayres & Madrigals
John Milne (bass), Anthony Rooley (lute), Andrew King (tenor), Cathy Cass (alto), Philip Salmon (tenor), Cathy Cass (soprano), Evelyn Tubb (soprano), Emma Kirkby (soprano), Jacqueline Fox (soprano), Mary Nichols (alto), Richard Wistreich (bass), Poppy Holden (soprano), Joseph Cornwell (tenor), Francis Steele (bass)
Consort of Musicke
Anthony Rooley
Recorded: 1982-06-08
Recording Venue: St. Barnabas, North Finchley
Arise, Awake, You Silly Shepherds Sleeping
Anthony Rooley (lute), Emma Kirkby (soprano), Andrew King (tenor)
Consort of Musicke
Anthony Rooley
Recorded: 1982-06-08
Recording Venue: St. Barnabas, North Finchley
Morley: Ayres & Madrigals
Anthony Rooley (lute), Andrew King (tenor), Joseph Cornwell (tenor), Emma Kirkby (soprano), Evelyn Tubb (soprano), Mary Nichols (alto), Poppy Holden (soprano), Jacqueline Fox (soprano), Richard Wistreich (bass), Cathy Cass (alto), Philip Salmon (tenor)
Consort of Musicke
Anthony Rooley
Recorded: 1982-06-08
Recording Venue: St. Barnabas, North Finchley
Stay Heart, Run Not So Fast
Phyllis, I Fain Would Die Now
Hard By A Crystal Fountain
Anthony Rooley (lute), Andrew King (tenor)
Consort of Musicke
Anthony Rooley
Recorded: 1982-06-08
Recording Venue: St. Barnabas, North Finchley
Morley: Ayres & Madrigals
Richard Wistreich (bass), Evelyn Tubb (soprano), Joseph Cornwell (tenor), Anthony Rooley (lute)
Consort of Musicke
Anthony Rooley
Recorded: 1982-06-08
Recording Venue: St. Barnabas, North Finchley
Anthony Rooley (lute), Emma Kirkby (soprano)
Consort of Musicke
Anthony Rooley
Recorded: 1982-06-08
Recording Venue: St. Barnabas, North Finchley
Morley: Ayres & Madrigals
Andrew King (tenor), Anthony Rooley (lute), Jacqueline Fox (soprano), Richard Wistreich (bass), Emma Kirkby (soprano), Evelyn Tubb (soprano)
Consort of Musicke
Anthony Rooley
Recorded: 1982-06-08
Recording Venue: St. Barnabas, North Finchley