US deliveries: Unfortunately we are receiving reports that some US orders are taking longer than usual to arrive. Find out more >>
Latest update: Changes to international postage charges. Find out more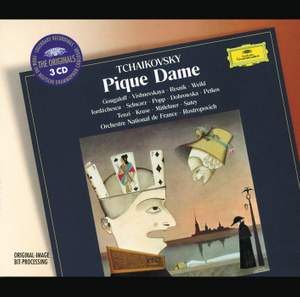 Tchaikovsky: Pique Dame
Peter Gugalov (Hermann), Galina Vishnevskaya (Lisa), Regina Resnik (Countess), Dan Jordachescu (Tomsky), Bernd Weikl (Yeletsky), Hanna Schwarz (Pauline), Eva Dobrowska (Governess), Lucia Popp (Chloe)
Chœur Tchaikovsky
Maîtrise de Radio France
Orchestre National de France, Mstislav...
This DG version is the finest of the opera sets conducted by Mstislav Rostropovich...Vishnevskaya was still at her peak, here providing a strong and vibrant Lisa, not young-sounding but with...

— More…
Contents
Ewa Dobrowska (mezzo-soprano), Choeur Tchaikovsky (child), Heinz Kruse (tenor), Lucia Popp (soprano), Fausto Tenzi (tenor), Galina Gregorieva (concertmaster), Galina Vishnevskaya (soprano), Christine Mitlehner (soprano), Rudolf Alexander Sutey (bass), Bernd Weikl (baritone), Hanna Schwarz (alto), Peter Gougaloff (tenor), Dan Iordachescu (baritone), Dimiter Petkov (bass), Michel Piquemal (chorus master), Regina Resnik (mezzo-soprano), Galina Gregorieva (chorus master)
Orchestre National de France, Tchaikovsky Choir, Choeur Tchaikovsky, R.T.F. Maitrise De Radio France
Mstislav Rostropovich
Recorded: 1976-12-19
Recording Venue: Radio France, Paris
"Chem konchilas vchera igra?"
3:12
"Nakonets-to Bog" - "A ty uveren" - "Schastlivy den" - "Skazhi, na kom ty zhenishsya?"
5:02
"Mne strashno!" - "Grafinya!"
2:40
"Se non è vero" - "Kak bystro groza nastupila" - "Po- luchish smertelny udar ty"
3:33
"Da, vspomnilna... Podrugi milie"
4:10
"Prosti, prelestnoe sozdanye"
2:22
"Radostno, veselo v den sei"
4:02
"Khozyain prosit dorogikh"
1:33
"Posle predstavleniya" - "Ne ty li etot trety"
2:20
"Dance Of The Shepherds And Shepherdesses"
2:33
"Kto pylko i strastno lyubya!" - "Tsaritsa! Yega Veli- chestvo!"
4:17
"Vsyo tak, kakmne ona skazala"
5:48
"Shagi! syuda idut" - "Blagodetelnitsa nasha"
3:11
"Akh, postyl mne etot svet!"
2:34
"Je crains de lui parler la nuit"
4:19
"Ya neveryu chtoby" - "Gospodu molyusya ya" - "Vsyo tezhe dumy" - "Strashno! strashno!"
4:57
"Akh! istomilas ya gorem"
3:53
"O da, minovali stradanya"
5:45
"Budem pit i veselitsya" - "Dana!"
3:11
"Knyaz! knyaz, prosti menya!"
1:36