US deliveries: Unfortunately we are receiving reports that some US orders are taking longer than usual to arrive. Find out more >>
Latest update: Changes to international postage charges. Find out more
Thomas Tallis
(c.1505-85)
Composer
Born into a devout Catholic family and loyal to the Roman Catholic church all his life, Tallis was forced to steer a careful course through the treacherous waters of the religious upheavals of Tudor England. The fact that he did not merely survive but indeed flourished under monarchs both Catholic and Protestant is testament to his musical skill, which even at the height of the sectarian conflict was acknowledged by all parties to transcend the partisan dispute.
Perhaps even more than his contemporary William Byrd, Tallis embraced the stylistic changes that the various monarchs, and their religious beliefs, brought to the musical life of England. His simple, uncomplicated settings of English words found favour with the Protestants, for whom the comprehensibility of the text was paramount - demonstrated by the opening of his elegantly simple If ye love me. Yet paradoxically, his most famous work is the stunning forty-part motet Spem in Alium, an ostentatiously complex and ornate setting of a Latin text in which the words themselves are barely discernible and the musical "special effects" - the cumulative spatial experience of eight choirs, usually arranged in a circle around the listeners - take centre stage.
---
PRESTO RECOMMENDS...
You can view Presto's hand-picked selection of favourite Tallis recordings here.
Further Reading:
Tallis
A Tudor double-whammy - David listens to recordings of William Byrd and Thomas Tallis.
14th December 2009
Graham O'Reilly's Ensemble européen William Byrd explore the Renaissance composer's music for the English Chapel Royal, spanning the reigns of four different monarchs.
Recent Best Sellers:
Tallis
New Releases:
Tallis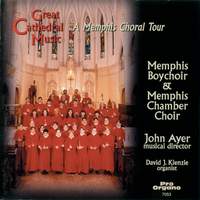 Future Releases:
Tallis