4th August 2008
 Recording of the Week

,

  Chloë Hanslip and the unfamiliar
It used to be the case that for a young musician to become a world star they needed the support of one of the major labels. The high profile that they would then attract, combined with the marketing expertise and money, could (if the player was really good enough) establish them on a worldwide career, during which time the major label would make up all the money they had put in upfront. That is how it used to be anyway. But now the major labels are generally not willing to make such a long-term investment and want a quicker return for their cash. The result is that the majors now concentrate mainly on already proven artists and increasing on so-called crossover artists who are easily marketable but whose actual talent is frequently somewhat limited.
Chloë Hanslip
Interestingly, budget label Naxos, which started out recording major repertoire with virtually unknown artists, now does almost the complete opposite and focuses more on the unfamiliar and uses more and more famous names to do it. Violinist Chloë Hanslip is one such beneficiary of Naxos' new philosophy and I had the chance to hear part of her next release (of virtuoso works by Italian composer Antonio Bazzini) last week. This follows her widely acclaimed recording of the John Adams Violin Concerto (which entered the UK Classical Charts at number 2) and her recent disc of Benjamin Godard's Violin Concertos. None of this is mainstream repertoire and she will follow this next year with a disc of three violin works by Jeno Hubay.
It is great that such an exceptional musician is so keen to pursue the unfamiliar. Let's be honest, we have plenty of outstanding versions of the Beethoven and Brahms Concertos in the catalogue already and, although I'm sure Chloë would make another excellent recording, it is so much more exciting to hear her record the unusual repertoire.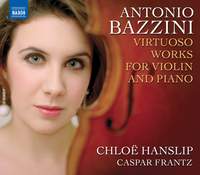 Released September 1st, but you can pre-order a copy now.
Chloë Hanslip (violin) & Caspar Frantz (piano)
Available Formats: CD, MP3, FLAC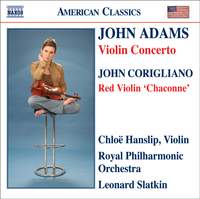 Chloë Hanslip (violin) & arles Owen (piano), Royal Philharmonic Orchestra, Leonard Slatkin
Available Formats: CD, MP3, FLAC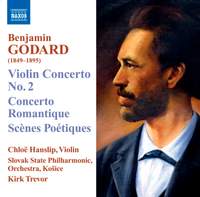 Chloë Hanslip (violin), Slovak State Philharmonic Orchestera, Košice, Kirk Trevor
Available Formats: CD, MP3, FLAC