7th September 2023
Interview

,

John Wilson on Oklahoma!
John Wilson's Proms performance of Rodgers & Hammerstein's Oklahoma! in 2017 turned out to be one of the most exhilarating concerts I've ever attended in my life, and for the past six years I've been fervently hoping that he would release a recording of the piece one day. That day is just around the corner, with a studio recording starring Sierra Boggess, Nathaniel Hackmann, Jamie Parker and Rodney Earl Clarke due to land next Friday; Sinfonia of London play Robert Russell Bennett's original orchestrations, including entr'actes and other 'connective tissue' which has never previously been set down on record.
A couple of days after his incendiary Prom of works by Lili Boulanger, Rachmaninoff and Walton with Sinfonia of London ('I felt like every person on stage was plugged directly into the National Grid!'), John spoke to me about how being booked to play in an amateur performance of Oklahoma! as a teenager in Gateshead changed his life, why he considers the piece to be 'the Marriage of Figaro of the twentieth century', and why 'it's as important to have the right No. 6 first violin as it is to have the right leading lady'...
I gather this is a pretty special recording-project for you...exactly how long has it been in the making?
I've been dreaming of making it for thirty-five years. It's a piece that's been in my blood since I was fourteen; my music-teacher rang me up one day and said 'Can you play the drums for a production of Oklahoma!? I'm not free to do it, and they'll pay you thirty quid!'. I didn't even know what Oklahoma! was, but I was chuffed that he'd asked me and the thirty quid sounded good, so I said yes.
I think I learned more in that week than I have in any other single week of my life: I learned what it was to play with other people, I learned what it was to be part of a wider discipline, I learned there was a whole genre of music that I'd never heard of, and I kind of decided there and then that this was what I was going to do with my life.

Presumably that production didn't use the orchestration we hear on your recording?
It actually was Bennett's orchestration, just with lots of people missing! This version is scored for 29 players and we had 12, with a piano filling in everything else. Looking back it must've been pretty makeshift, but somehow the spirit of the piece still shone through.
Is it fair to say that Oklahoma! marks something of a turning-point in the history of musical theatre?
I have tremendous respect for this piece, because it's the culmination of Rodgers looking for Hammerstein and Hammerstein looking for Rodgers. This new partnership was founded on mutual need: they were both searching for the completely integrated work of art, where songs flow out of scenes seamlessly and develop character and plot, and where the orchestrations really sound like the costumes look.
They found exactly that with Oklahoma!: all of those elements coalesced, and that's why it's a landmark. And as Stephen Sondheim pointed out, the fact that it was a huge hit didn't do it any harm either!
It sounds rather like Mozart and Da Ponte coming together for the first time in Le nozze di Figaro!
Exactly: it's no different. There's a handful of masterpieces – Oklahoma!, Carousel, West Side Story, My Fair Lady – which are the Marriages of Figaro of the twentieth century, no question about it. That's why I made this record: so that people might actually be reminded of what these two creators came up with in every last bit of detail. All the material was preserved, and the late Bruce Pohamac (who was Director of Music at The Rodgers & Hammerstein Organization) spent years meticulously editing and restoring these performing-editions from every available source: different editions of vocal scores, manuscript parts, scores, libretti, everything. He did as thorough an editorial and scholarship job on this piece as Bärenreiter would do on a Mozart piano concerto.
I'd actually never heard this version of the Overture until your Proms performance of Oklahoma! in 2017 - so many productions and recordings use either an abbreviated version or (as in the 1955 film) something else altogether...
That's just the Overture they wrote - and anything other than what's on this record is not what they wrote! It's not that I want to think of this recording as a museum-piece in any way: I think it's teeming with life, but taking the original text as the starting-point is crucial. I remember doing Ruddigore at Opera North in 2011, and at the first meeting somebody asked our brilliant director Jo Davies who she was going to get to rewrite the libretto; she said 'I'd no sooner rewrite the book to Ruddigore than I would The Importance of Being Earnest'. And I feel the same way: I'd no more alter the fabric of a piece like Oklahoma! than I'd take it upon myself to adapt Madam Butterfly or The Marriage of Figaro.
My approach is always to take the piece as it is and make it work – other people have got different approaches, but that's mine. And in the coming years I think there will be a growing movement to take the text of these musicals as they were written and to use that as the foundation, just like there is with earlier repertoire. I just have so much respect for what those creators gave us, and I think my job is to honour that rather than change it in any way.

Are there many more surprises in store on the recording for those of us who grew up on the 1955 film?
Absolutely, because the stage show was obviously reconceived for film: the score was reorchestrated, recast and rechoreographed, and various numbers are repositioned or cut altogether. My personal take is that the film is much less memorable than the stage-show: Oklahoma! is quite a small-scale intimate piece, and I find the film just a wee bit overblown. I think the charming homespun-ness of the original theatre show is the essence of the work, and giving it the massive wide-screen treatment doesn't make it any better. But then again the film does have Gordon MacRae, who was arguably the greatest singer of this repertoire that ever lived, and when I was casting this recording I looked for people who idolise singers like him.
Tell me a little more about your approach to casting the recording...
I cast it absolutely with singers who would do the roles on stage. People often say you've got a wider choice of people if you're not actually putting them on stage, but really the opposite is the truth. You've got to have people who can create those roles and characterise them without the aid of the visuals, so you have to be doubly careful with the casting to make sure that they inhabit those characters in audio only, which is incredibly difficult.
Fortunately I've spent the last decade-and-a-half scouring the globe for people who can do that authentically, and now there's a sort of stable of singers who I work with on a regular basis. There was so much care taken with the casting: not just of the principals, but of the ensemble and the orchestra. The orchestra's the beating emotional heart of this piece: it's as important to have the right No. 6 first violin as it is to have the right leading lady!
The role of Will Parker presents a very specific challenge, in that the character's virtuoso tap-routine is an integral part of the score for his big number 'Kansas City'! For those semi-staged performances at the 2017 Proms you cast the dancer Robert Fairchild, but what was the solution for the recording?
Alistair David (who was the choreographer when we did it at the Proms) just turned up to the session with his tap-shoes and danced the whole thing for us!
Other than using up-to-date sound we didn't use much technical wizardry, because I wanted to record in as pure and as authentic a fashion as possible. The big thing is that it was recorded in a theatre, and I wanted it to sound like it was recorded in a theatre: we raised the orchestra pit up and sat the players there, with the singers on the stage and the chorus in the stalls just behind me and simply recorded what came out! The idea is that the listener is right bang in the middle of it, like you've got a front-row seat on opening night.
What makes Robert Russell Bennett's orchestrations so special in terms of the colours and textures he creates?
This really is an orchestrator working as an extension of the composer: it was a very deep collaboration between Rodgers and Bennett, and nothing was left to chance. It's such clever stuff. One thing you notice when you're conducting this version is that the harp is very rhythmically active: it's like the engine-room of the piece, going like the clappers all the time. (Poor Sally who played on this recording: her fingers must've been red-raw by the time we were done!)
And the fact that the oboist also plays the cor anglais, oboe d'amore and bass oboe creates a very specific set of colours: Bennett uses them in very specific ways for very specific moments [like 'Pore Jud is Daid'], and there's a tenderness to the oboe d'amore writing which is really sophisticated.
The other extraordinary thing is how Bennett manages to get such a big sound out of a small theatre orchestra: just ten violins, two violas, cellos and basses, four woodwinds and five brass. Listen to the colours and volume he draws out of them at the end of the ballet; listen to the agility of the dance-music in 'All er Nuthin''; listen to how much warmth he magics up in the incidental music that follows 'People Will Say We're In Love'. There are so many lovely things in the connective tissue of the piece, things that have never been recorded before.
Do you have plans to record more Rodgers & Hammerstein, and/or to conduct any fully-staged productions?
One day I would like to collaborate with a director and cast who want to present these pieces in the right venue acoustically. I'd really love to do that, but it's an enormous undertaking and of course we don't get any Arts Council funding…In terms of recordings, Carousel is already in the can: again we've included every note of the original score, and it's a revelation just hearing the stuff you've never heard before. And we're going to do another one next year, we just haven't worked out which one yet!

I have to say this is one of the records I'm most proud of. I don't really listen to my own records much, other than making sure everything's alright before the release: I'm always thinking about moving on to the next thing. But this is one that fills me with joy, no question.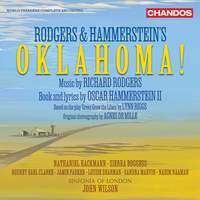 Nathaniel Hackmann (Curly), Sierra Boggess (Laurey), Rodney Earl Clarke (Jud Fry), Jamie Parker (Will Parker), Louise Dearman (Ado Annie), Sandra Marvin (Aunt Eller), Nadim Naaman (Ali Hakim), Leo Roberts (Andrew Carnes)
Sinfonia of London, Oklahoma! Ensemble, John Wilson
Available Formats: 2 SACDs, MP3, FLAC, Hi-Res FLAC