28th June 2023
Interview

,

Elgan Llŷr Thomas on Unveiled (transcript)
Opening with a frank new English translation of Britten's Michelangelo Sonnets (the first major work which he composed for his life-partner Peter Pears) and closing with his own song-cycle SWAN, Welsh tenor Elgan Llŷr Thomas's debut recording on Delphian sketches 'a history of male homosexuality from necessary discretion to the (relatively) liberated present', including music by Michael Tippett, Ruth Gipps and W. Denis Browne along the way.
I spoke to Elgan via video-link last month about the secret histories behind the works on the album, queer representation in opera and song - and why he feels that 'it's about time we started adding other stories into the mix'...
When were the seeds for this project sown?
When I was an ENO Harewood Artist I did an Italian-themed recital at Wigmore Hall; Iain Burnside was playing and curating, and that was how we got to know each other. Everything was sung in translation; the programme included some songs from Wolf's Italienisches Liederbuch, Hahn's Venezia, and four of Britten's Michelangelo Sonnets, which I'd never sung before. Iain suggested that it would be amazing to record the lot in these incredible translations by Jeremy Sams, and when we sat down to plan the album together the first thing I did was to email Jeremy and commission the remaining three translations.
The fourth song in particular is very direct in its references to a passion 'so maligned that it is still forbidden' - do you think that's partly why Britten set the poems in the original Italian rather than risking an English translation?
They're a window into that period in history, and into how Britten and Pears must have felt at the time. Of course I knew that being gay or queer was illegal then, but I don't think I'd ever really stopped to think about how that would've affected the lives of all the people who belonged to that community. There was no mention of that at all in my education: when I was at college and we watched those black-and-white videos of Pears singing 'O waly waly' with Britten at the piano, it all seemed so polite and serious and strait-laced (excuse the pun!).
But actually they were nothing like that – when I started digging into their letters I found that they were full of all these really funny and adorable terms of endearment they had for each other, and I wanted to shine a light on that side of their relationship. Hearing these songs in English (especially No. 4, with lines like 'Why are we wary when we say hello?') lets you into how painful it must have been to be right next to the person that you love but completely unable to acknowledge it in front of anybody else.
Apparently one of the first letters that Pears received after Britten's death was from the Queen, so obviously people knew about their relationship but weren't supposed to say that they knew in public. That's heart-breaking, but at least they did get to live most of their lives together - and although it's a terrible thing to say, you have to wonder if we'd have the music that we do if things hadn't been that way…
Was your own song-cycle SWAN composed specially for the album?
Curating this album was a real balancing-act: the Britten songs are mostly quite cerebral and dark, so I knew I needed some kind of counterpoint to that. Iain knew I dabbled in composition and he asked if I'd ever thought of writing some songs of my own; my response was 'Yes I have, but I would never want to be so presumptuous as to suggest that they were as good as Britten's!'. I knew that any songs I composed would have to stand alongside these other cycles and hold their own, so I contacted an amazing queer poet called Andrew McMillan who's based in Manchester - I'd read quite a bit of his stuff and loved it, so I asked him if he'd written anything that he could imagine being set to music.
He pointed me in the direction of this sequence of eight poems called SWAN, and I ordered the collection and read through them. The notes mention that Andrew wrote them after seeing a performance of Matthew Bourne's Swan Lake, and that set off all kinds of connections: not only is it a queer retelling of that story through contemporary ballet, but of course the music is by Tchaikovsky!
That also let me be cheeky and include some less-than-subtle quotes from the Tchaikovsky in my songs, including one blindingly obvious one - I didn't shoehorn that in, it just happens to work really well with that particular poem! There are also a few parallels with the Britten: I wouldn't say I've quoted him as such, but the end of the first song and the ending of the final song are similar.. That was very deliberate, because these are the two cycles that bookend the album: SWAN is a more contemporary queer story which ends on a note of acceptance, and I do think that balances quite nicely with the Britten.
Like the Michelangelo Sonnets, Tippett's Songs for Achilles were comped before homosexuality was decriminalised - how ambiguous is the portrayal of Achilles's relationship with Patroclus here?
A few years ago I read Madeline Miller's incredible Song of Achilles, which is an adolescent coming-of-age story about Achilles and Patroclus: she treats it as an unambiguously queer love-story, and the way she expresses the voyage of discovery for these two young men is so beautifully written. It was shortly afterwards that Iain Burnside asked me to sing the Tippett songs at the Ludlow English Song Festival, and they were completely new to me. I loved the way Tippett had written it, because in one sense I think they're very explicit: 'Shall we kiss after the war?'
It's rare that you get to sing songs where the music and the text is by a composer, and Tippett really knew what he was doing here: there's nothing cagey about his text, and I think he put a lot of himself into them. Everything I've read indicates that he was someone who clearly struggled a lot with his sexuality and eventually came to terms with it: his 1970 opera The Knot Garden features an openly gay couple, and there weren't many composers around at the time who would've been bold enough to do that.
That said, I still do think that people could listen to the Songs of Achilles and think 'Oh, he's just sad for his friend!' and I thought that by presenting them within the context of this album would just make extra-clear that's not the case. I think I'm brave enough to say that it's not a matter of opinion – we're dealing with a queer cycle for tenor voice and guitar, and it's amazing.
How did Ruth Gipps's Four Songs of Youth come onto your radar?
I was keen to find a composer who was roughly contemporary with Britten and Tippett, but who had been sidelined, overlooked or even deliberately ignored, and I thought that the most likely candidate for that kind of treatment would be a woman: it's sad, but that's the way things were. I just googled something like 'British Women Composers' and up came Ruth Gipps, who was a completely new name to me. I scrolled through the list of works and found these Four Songs of Youth for tenor voice - composed in the same year as the Michelangelo Sonnets and setting poems by Rupert Brooke! I was desperate to find out more, but there were no recordings or publications so I posted a request on Facebook and a friend who's conducted some of her symphonies put me in touch with the right people.
 I received the songs via pdf the same day, all in her own very neat handwriting, and the poems were perfect – the first one begins 'Because God has put his adamantine fate between my sullen heart and its desires', and I mentally gave thanks to Rupert Brooke!
I would have been the first person ever to record her songs, but at the last minute Roddy Williams beat me to it! In all seriousness that's great, because the more people who hear her music the better: Roddy orchestrated her song for the Hallé, and it's a really beautiful thing that he did. I'm so excited for people to hear them, although this isn't quite a world premiere: we found out that there was a BBC broadcast from Birmingham in 1952, with the tenor Ronald Bristol. This broadcast must be in an archive somewhere – if anybody out there sees this and knows where it is then please let me know!
Tell me a little more about the Rupert Brooke connection on the album...
Brooke was part of the reason why I included To Gratiana by W. Denis Browne, which sits as a beautiful standalone piece in the middle of the album. Being the fountain of knowledge that he is, Iain Burnside filled me in on the relationship between them: I had no idea that they were best friends, and I found the whole story very moving. They went to Rugby and Cambridge together, went to the War together, and Browne literally buried Brooke on the Greek island of Skyros before dying himself a few weeks later.
It's believed that there may have been some form of unrequited love there on Browne's part, and from our modern-day perspective it's clear that Brook himself was very bisexual: that might not be the best label, but it's the only one we can use with any certainty. Iain told me that when Browne was at Cambridge he was musical director for some sort of variety-shows, and one of them included Brook dancing to this lovely piece of music. Years later Browne set that same music to a text by Lovelace which is about a beautiful woman entrancing everyone as she dances, but the general consensus is that Browne was actually alluding to Brooke. Even though the reference isn't explicit, I was glad I knew that story before singing the piece.
So much of the core operatic repertoire centres on heterosexual stories and relationships: have you ever had the opportunity to play a queer character on stage?
I've never played an explicitly, open queer character in an opera. I've done five Britten roles now, and of those five I would say the closest I've got is Inkslinger in Paul Bunyan: he's really a kind of cipher for WH Auden, who wrote the libretto, and you don't have to read between the lines too much to think he's probably a queer character. You can play it in a certain way, but I don't think that really counts; the same goes for Peter Quint in The Turn of the Screw, but that's such an eternally complicated character (plus he isn't even actually alive!).
There are also characters like Grimes and Captain Vere (I haven't sung either of those) who can be portrayed as queer, but it's not until we get to Aschenbach in Death in Venice that it becomes explicit: hopefully I'll sing that role one day!
For one of our family days at the Royal Opera House we did a Pride-themed concert, including a new commission called A Letter From Ben where I played Pears and the pianist played Britten. That was the first time I've actually been on stage speaking or singing lines explicitly about another man.
I have no problem with being on stage and acting like a straight man - most operas centre on heterosexual stories and I'm not saying we need to stop telling them, just that it's about time we started adding other stories into the mix. Getting more authentic representation of marginalised or more diverse communities on the operatic stage means writing new operas, which IS starting to happen: Terence Blanchard's Champion at the Metropolitan Opera is a great recent example.
We need to be telling contemporary stories, stories that are already diverse in the first place. It's quite nice to see Colline and Schaunard in La bohème holding hands, but I'm not sure that's enough: it's an insinuation, and my life is not an insinuation! I would love the opportunity to bring more of myself onto a stage than I can in most of my current roles – that's the crux of it, and part of the reason for doing this album was to signal that we can do this!
I'm launching this album at Wigmore Hall on 29th June, and obviously everyone is welcome - if the Wigmore regulars come then great, because hopefully they're going to get something different to what they're used to. But it would be so nice to see other people there from different walks of life, who didn't feel that this was the sort of thing that they could go to and feel comfortable. And I think if you want that to happen then you have to reach out with something that is specifically geared towards certain people, something that will attract listeners who haven't listened to classical art-song before.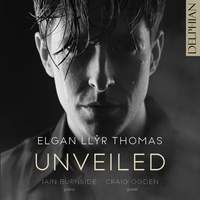 Elgan Llŷr Thomas (tenor), Iain Burnside (piano), Craig Ogden (guitar)
Available Formats: CD, MP3, FLAC, Hi-Res FLAC