20th October 2022
Interview

,

Jan Talich Jr on the art of quartet-playing
Founded in 1964 by Jan Talich Sr (who spent three decades as the group's viola-player after a six-year stint as leader), the Talich Quartet rapidly established itself as one of the foremost Czech chamber ensembles, winning particular acclaim for interpretations of music by their compatriots as well as scooping Diapason d'Or Awards for recordings of Beethoven and Mozart.
Last week saw the release of the quartet's first recording since Talich's death in 2020 - an all-Dvořák programme centring on the 'American' Quartet and also featuring a specially-commissioned set of waltz transcriptions which the quartet premiered this summer in Switzerland. I spoke to Jan Talich Jr (who's currently celebrating his silver anniversary in the First Violin chair) about his earliest memories of the ensemble which his father founded, the impact which changes in recording technology and musicology have had on the quartet over the past fifty years - and why he always tells newcomers to Czech repertoire to stay well clear of the 'American'...
The Talich Quartet was formed three years before you were born – what's your earliest memory of hearing them make music together?
Every August my father's quartet would rent a big villa in the Czech Republic for a couple of weeks and rehearse all their programmes for the upcoming season; all the families went with them, and we kids had such a great time together. Aside from those wonderful summers, though, I actually didn't hear the quartet as much as I would have liked to when I was growing up: they were travelling constantly and didn't play in the Czech Republic very often, although I always tried to hear their concerts in Prague.
A bit later on I enrolled at the Prague Conservatory, where both my parents had studied: all the teachers and even the doormen had known me from being a little baby because my mother used to bring me in a pram!
Did you receive your first lessons within the family?
My father didn't have time to teach, really – he was hardly home! But his mother was a great teacher, as well as a great violinist in her own right: she played with the Czech Philharmonic as a soloist, although very few people outside the Czech Republic knew of her. Unfortunately she died very young, but she was the one who started me off.
Did you overlap with your dad once you joined the quartet yourself?
Yes, we had three years together before he retired; he started as first violinist, then swapped to viola in 1975. The cellist and I joined at the same time, and as newcomers we were so lucky to have him there, even for such a short period of time. The repertoire is vast, and in our first year we had to learn something like thirty quartets - I've never practised so much in my life! But of course it's not only about the notes: it took us time to blend, nurture the sound and generally think as one, and all of that was so much easier with my father there because he was such a great musician and chamber-music player. To this day, we'll be rehearsing and suddenly one of us will remember something he said about a particular passage, or how he played it: it's lovely to have that legacy.
Do you still play from parts with his original markings?
I have some of their old sets which are falling apart now! But for the majority of our repertoire we bought new parts because there've been so many editorial developments during the last twenty years: for a lot of pieces we have the new Urtext, or facsimiles from Bärenreiter or Henle and the rest… Not everyone loves that, but they're still much closer to the first editions than the parts we used to have. But it's nice to hang onto those old sets too, and of course we have the recordings with my father: although interpretation of so many composers has changed enormously over the course of fifty years, we can still learn from all the beautiful things they did with this music.
What are your personal highlights from the quartet's earlier discography?
A stand-out for me is the Debussy and Ravel they did in the 1980s: even by today's standards the sound-quality is fantastic, and the phrasing is so natural and beautiful. I also loved their Janáček recordings and some of the Beethovens - but it's so difficult to choose, because they basically recorded everything! And that meant we had a hard time deciding what to record with the new line-up…with Czech repertoire in particular the comparison with their earlier recordings is always going to be there, so we looked for things which hadn't been recorded so much (or at all, in the case of the Dvořák Waltzes on the new album!).
That said, we were just saying after our concerts in Switzerland this week that maybe there is value in revisiting repertoire which the quartet previously recorded, because so much has changed in terms of the style and sound of recording. I remember my father coming home from doing the complete Bartók quartets after digital recordings were first introduced and being so unhappy, because he said it took away half of the personal sound they had…
When you listen to analogue recordings from forty years ago it's a completely different sound, and if you have a great system at home the quality and presence of sound in the room is so much better than from digital. Even though the process was much more demanding in the analogue era because you couldn't cut so much, we're secretly hoping that it might come back – of course it won't, but it would be great to record something like that again!
You mentioned the Eight Waltzes, which receive their world premiere recording here in this arrangement – how recently did you commission them?
They are very new – not even a year old! We got them at the beginning of this year and recorded them straight away. Dvořák himself transcribed only two out of the eight, and we've played those as encores for many years; when we were deciding what to record alongside the 'American' Quartet, someone suggested asking our friend Jiří Kabát to arrange a couple more, and eventually we thought 'Why not do the lot?'! We played it as a cycle for the first time in Switzerland a couple of days ago, and it works so well: I'm really looking forward to performing it more! And the other work on the album is the single quartet movement in F major – a lovely piece which doesn't get played as often as it should.
Does the 'American' Quartet occupy a special place in your repertoire?
Pretty much every string quartet starts with the 'American' when they want to explore Czech music, and I always tell them 'Don't do that!'. It's very transparent, it's difficult in terms of phrasing, and it's hugely challenging intonation-wise – F major is a killer of a key for string quartets!
This is our second recording, because it's a piece which we're never satisfied with…I'm sure if we record it again in ten years (if I'm still alive!) it'll be very different again, because it's such spontaneous music. I'd love to record it live some day, because it really needs that relaxed atmosphere you have in a concert when you're playing for people rather than for microphones a metre away.
Do you prefer live recordings to studio in general?
I do: in the studio it's hard to keep things fresh, and you have to be careful not to force or scratch or do anything that might be picked up by the mics. During lockdown we recorded whole recitals live and unedited, and they're not bad at all! The music felt sparkling and alive, and somehow any little flaws don't seem to matter so much when you have the video element and the context of an entire concert.
I listen to a lot of great old recordings which aren't 'perfect' at all – but who cares when they're so beautiful?! All those masters like Gitlis, Haendel, Zukerman, Perlman…they released recordings with imperfections and mistakes, and it doesn't make them any less wonderful. I don't know where this recent obsession with absolutely pristine, super-clean recordings came from, but I do think the tide is turning now – possibly as an after-effect of lockdowns.
What qualities do you look for when you're recruiting a new quartet-member?
I'll be honest, our first choice is always going to be a Czech person. Of course there are great players all around the world, but if you recruit someone who isn't based here then you run into all sorts of logistical problems: how and where do you rehearse? Do they have to move to Prague? If they don't, then where do they stay when they're over here? etc etc. We're all at the stage of our lives where we have other professional commitments to juggle - I do conducting and teaching and the other guys have solo careers and students of their own, so it's already a difficult balancing-act without factoring in extra complications.
And then there's the artistic side of things: Czech music is of course at the heart of our repertoire, and without wishing to sound arrogant I think growing up as a Czech person and hearing that folk music all around you is something that can't really be replicated. I spent my entire childhood and youth singing and playing Moravian and Slovakian folk music, and you hear that so much in Dvořák, Janáček, Martinů and Smetana: it's right there in the rhythms, the accents, the phrasing, and that's why recordings of this music by Czech quartets sound so different from recordings by American or even German musicians.
So yes, we felt more comfortable with a Czech person, and because Prague is quite small the field is pretty narrow: all the good chamber-musicians know one another, so we only needed to try out a couple of people! We joke that the Talich is now the distilled essence of Czech quartets: the violist Radim Sedmidubský came to us after twenty years with the Škampa Quartet and several years with the Pavel Haas, and our cellist Michal Kaňka was with the Pražák Quartet until a couple of years ago. We used to be friendly rivals, so it's quite fun that we're all now playing together!
Has taking on more conducting work altered your approach to leading the quartet, or do you keep your parallel careers quite separate?
I would say the experience of rehearsing and working with a quartet helped me a lot when it came to conducting an orchestra: you have to learn how to work effectively with them very quickly, and I was very lucky to have my background leading a quartet to draw on.
In a sense, being a conductor is actually a lot easier, because your job is simply to transmit your own interpretation to the orchestra – discussing things with all the individual players is just impossible! But with a quartet you have four people exchanging ideas about each and every phrase, and coming to a decision which everybody agrees with can be a very long process! Of course there are quartets where one person (usually the founder) has the biggest artistic imprint, almost like a conductor, but we've always preferred to have democratic discussion – and I think we're the happier for that, even if it's often quite a time-consuming way of working.
Everybody thinks their idea is the best, and inevitably you sometimes have to back down from an interpretation you thought you'd defend to the death. As a string-player, how you create your own sound is very personal, and if somebody says 'I don't like this!' it's very difficult not to take it as an insult: that's why there are so many stories about quartets fighting all the time! But we're very lucky that we're all older and wiser now – after thirty-five years I've fought enough and much prefer to sort things out in peace!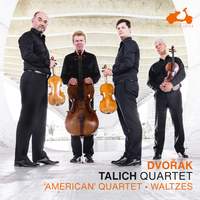 Talich Quartet
Available Formats: CD, MP3, FLAC, Hi-Res FLAC