19th August 2022
 New Release Round-up

,

  New Release Round-Up - 19th August 2022
Today's new releases include three Britten song-cycles from Andrew Staples, the Swedish Radio Symphony Orchestra and Daniel Harding, Schubert's 'Unfinished' and 'Great' symphonies from René Jacobs and B'rock Orchestra, Secret Love Letters (featuring works by Franck, Szymanowski, Chausson and Debussy) from Lisa Batiashvili, the Philadelphia Orchestra and Yannick Nézet-Séguin, and John Cage from Sigvards Kļava and the Latvian Radio Choir.
B'rock Orchestra, René Jacobs
Jacobs and his period-instrument orchestra complete their Pentatone Schubert cycle with the composer's two best-known symphonies; drawing on an enigmatic text which Schubert penned in 1822 (read by Austrian actor Tobias Moretti on the recording), Jacobs contends that the 'Unfinished' was deliberately left incomplete rather than merely abandoned.
Available Formats: CD, MP3, FLAC, Hi-Res FLAC, Hi-Res+ FLAC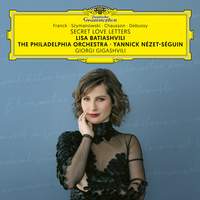 Lisa Batiashvili (violin), Giorgi Gigashvili (piano),Philadelphia Orchestra, Yannick Nézet-Séguin
The centrepiece of Batiashvili's programme is Szymanowski's Violin Concerto No. 1, composed in Ukraine during World War One and described by the Georgian violinist as 'a piece full of love and pain deriving from the restrictions experienced by a man who was in love with another man at a time when this was outlawed'. It's preceded by the Franck Violin Sonata, and followed by Chausson's Poème and the Heifetz arrangement of Debussy's Beau Soir.
Available Formats: CD, MP3, FLAC, Hi-Res FLAC
Zefira Valova (violin), Il Pomo d'Oro
This programme of lesser-known violin concertos from the second half of the eighteenth century includes two world premiere recordings: Joseph Bologne de Saint-Georges's Violin Concerto in D, and Johann Gottlieb Graun's Violin Concerto in C minor. Also features works by Franz Benda (one of Frederick the Great's court musicians) and Venetian virtuoso Maddalena Lombardini Sirmen, plus Mozart's Rondo in C K373.
Available Formats: CD, MP3, FLAC, Hi-Res FLAC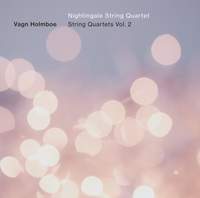 Nightingale String Quartet
The first volume of the Nightingale's survey of the Danish composer's set of string quartets (which Gramophone observed 'remains a match for any other quartet cycle produced in the second half of the twentieth century') was praised by Fanfare as 'extraordinarily well played...fresh and vibrant'; this second instalment is already proving equally impressive, receiving an Editor's Choice in the August edition of Gramophone and hailed in BBC Music Magazine as 'a joy'.
Available Formats: SACD, MP3, FLAC, Hi-Res FLAC, Hi-Res+ FLAC
Andrew Staples (tenor), Christopher Parkes (horn), Swedish Radio Symphony Orchestra, Daniel Harding
Staples (who sang a small role on Harding's Grammy-winning recording of Billy Budd near the beginning of his career) is the soloist in all three works here: Les Illuminations (originally written for the Swiss soprano Sophie Wyss), and the Serenade and Nocturne, both composed for Britten's partner Peter Pears. Harding's previous Britten recordings include The Turn of the Screw in 2003 (which won a Gramophone Award) and the Serenade with Ian Bostridge in 1999.
Available Formats: CD, MP3, FLAC, Hi-Res FLAC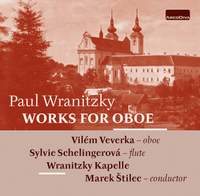 Vilém Veverka (oboe), Filip Dvořák (harpsichord), Sylvie Schelingerová (flute); Wranitzky Kapelle, Marek Štilec
As a side-project to his splendid ongoing survey of Wranitzky's orchestral works with the Czech Chamber Philharmonic Orchestra Pardubice, Štilec directs his Wranitzky Kapelle in the Oboe Concerto in G, two of the Six Divertimenti for Oboe, Horns & Strings, and the Concertante for Flute & Oboe in C - all of which receive their world premiere recordings here.
Available Formats: CD, MP3, FLAC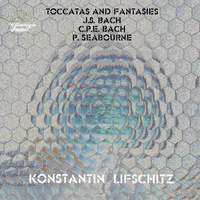 Konstantin Lifschitz (piano)
The Russian pianist interleaves Bach's seven early toccatas with Peter Seabourne's Toccatas and Fantasias (No. 6 of the British composer's Steps cycle, composed as a companion-piece to the Bach), plus CPE Bach's Fantasia in E flat major H348. Lifschitz's performance received five stars in August's BBC Music Magazine, where it was noted that '[his] virtuosic readings comfortably accommodate Seabourne's demands'.
Available Formats: 2 CDs, MP3, FLAC, Hi-Res FLAC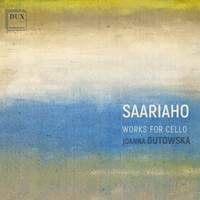 Polish cellist Joanna Gutowska wrote her doctoral thesis on Kaija Saariaho's compositions for her instrument, and this recording (complete with a cover-image painted by Gutowska!) features five of the Finnish composer's works for one or more cellos: Petals (1988), Spins and Spells (1997), Près (1992), Sept Papillons (2000), and Neiges (1998); for the latter work, given here in the version for eight cellos, Gutowska overdubs all of the lines herself.
Available Formats: CD, MP3, FLAC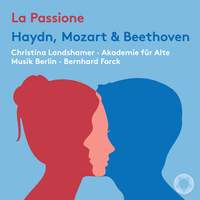 Christina Landshamer (soprano), Akademie für Alte Musik Berlin, Bernhard Forck
Haydn's eponymous symphony is sandwiched between a selection of concert-arias depicting love, longing and loss: Beethoven's No, non turbati and Ah! Perfido!, Haydn's Berenice, che fai? and Solo e pensoso, and Mozart's Non più, tutto ascoltai...Non temer, amato bene. The album was Record of the Week on Radio 3's Record Review earlier this month.
Available Formats: CD, MP3, FLAC, Hi-Res FLAC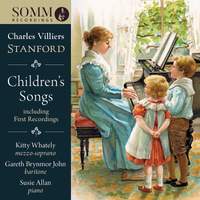 Kitty Whately (mezzo), Gareth Brynmor John (baritone), Susie Allan (piano)
SOMM continues its advocacy of Stanford's music with this collection of songs intended for a young audience, which features world premiere recordings of the early Robert Louis Stevenson settings A Child's Garland of Songs, the mid-period Four Songs Op. 112, and later Six Songs Op. 175. Also includes the first complete recording of Songs from the Elfin Pedlar on texts by Helen Douglas Adam, who was just fourteen when the poems were published.
Available Formats: CD, MP3, FLAC, Hi-Res FLAC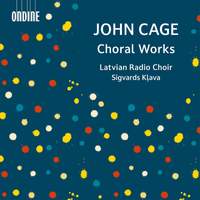 Latvian Radio Choir, Sigvards Kļava
Following their award-nominated recordings of music by Bruckner, Tchaikovsky, Plakidis and Silvestrov, the Latvian choir shift their focus across the Atlantic with a programme featuring the American composer's Hymns & Variations, Four6, Four2 and Five. Reviewing the album in this month's issue, BBC Music Magazine noted that 'you can't but be stunned by the fearless skill of Sigvards Kļava's choir as they navigate the most jagged, fragmented notes and pitches'.
Available Formats: CD, MP3, FLAC, Hi-Res FLAC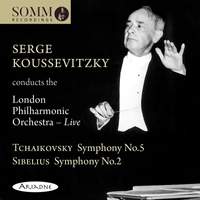 London Philharmonic Orchestra, Serge Koussevitzky
Restored by Lani Spahr, these live performances of Tchaikovsky's Symphony No. 5 and Sibelius's Symphony No. 2 were recorded at the Royal Albert Hall in June 1950 and make their first-ever appearance on discs here. The recordings are supplemented by an hour-long documentary by Jon Tolansky, entitled Serge Koussevitzky - A Memoir and featuring contributions from members of the Boston Symphony and London Philharmonic Orchestras, plus extensive musical excerpts.
Available Formats: 2 CDs, MP3, FLAC, Hi-Res FLAC
Wiener Philharmoniker, Christian Thielemann
Recorded in anticipation of the composer's bicentenary in 2024, the Wiener Philharmoniker's Bruckner 11 project is the orchestra's first complete Bruckner cycle - so-named because it includes the two early symphonies in F minor and D minor as well as the canonical nine symphonies. This instalment features Symphonies Nos. 1 and 7 (recorded at the Musikverein and the Salzburg Festival respectively), supplemented by interviews with Thielemann about both works.
Available Format: 2 DVD Videos