1st July 2022
Recording of the Week

,

Ronald Brautigam performs piano concertos by Johann Wilhelm Wilms
One of the benefits of a composer's anniversary year is that it often leads to renewed interest in their music, whether that be fresh recordings of familiar repertoire or unearthing previously-neglected gems. Buried amongst this year's celebrations for such composers as Scriabin, Xenakis, and Franck is the 250th anniversary of the birth (or, at least, the baptism) of the Dutch-German composer, Johann Wilhelm Wilms.
Perhaps Wilms's greatest claim to fame (relatively speaking) is that in 1815 he provided the music for Wien Neêrlands bloed, the national anthem for the newly-formed Kingdom of the Netherlands, until it was replaced in 1932. Beyond that, only a modest amount of recordings has appeared in recent years, mostly of symphonies and sonatas, and so it is a delight to hear the first of two volumes from fortepianist Ronald Brautigam of all five of the extant keyboard concertos.
Alongside his compositions, Wilms was also an accomplished pianist, giving the Dutch premieres of concertos by Mozart and Beethoven. Although an approximate contemporary of the latter (indeed, he was once described as "the Dutch Beethoven"), Wilms seems to have had his feet planted firmly on the Classical side of things, at least in earlier pieces such as the E major concerto, Op. 3 from 1796, which is very much in the spirit of Mozart (with perhaps a dash of Haydn thrown in for good measure). It's only in the later works where a more Beethovenian flavour is injected, particularly the Op. 12 concerto written in 1807, which with its long orchestral introduction and shared key of C major put me very much in mind of Beethoven's Op. 15 concerto from roughly a decade earlier. By placing them in chronological order on the album, Brautigam allows us to hear this fascinating stylistic development - by the time we reach the D major Op. 26 concerto from 1810 it's clear that Wilms has made a definite move from Mozart towards Beethoven.
The Kölner Akademie under conductor Michael Alexander Willens have been long-standing colleagues of Brautigam, having recorded together dozens of works for keyboard and orchestra by Weber, Mozart, Beethoven, and Mendelssohn, and this well-established affinity reaps considerable rewards here: orchestra and soloist are completely attuned with one another. The balance between them is exemplary - everything from the smallest orchestral details to the liveliest bit of fortepiano business can be heard extremely clearly, combining to provide an overall sound that is a joy to listen to.
With the long orchestral introductions I mentioned to Opp. 12 and 26, the orchestra is given its chance to shine: textures are lean yet always substantial, and despite the relatively small orchestral size, there's a pleasingly robust bass foundation, complemented by delicate flute and oboe moments and boisterous but never vulgar horns. They are immensely characterful throughout, delivering wit and playfulness to the Rondo from Op. 3, and a graceful lilt to some of the lighter moments in the final movement of Op. 12.
As for Brautigam himself, his fortepiano tone is consistently sprightly and nimble, yet capable of poise and beauty in the slower central movements, whether it be the rhapsodic lyricism of Op. 12 or the pathos of Op. 3. Needless to say, his passagework in the faster movements is immaculate, especially in Op. 26, easily the most overtly virtuosic and flashy of the three concertos in this volume. He brings great flair to the many flourishes, with plenty of opportunities for him to dazzle with his deft touch. As an advocate of these neglected works, Brautigam is ideal, and I am hugely looking forward to hearing him work his magic on the remaining two concertos in the future!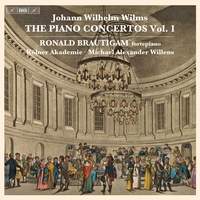 Ronald Brautigam, Kölner Akademie, Michael Alexander Willens
Available Formats: SACD, MP3, FLAC, Hi-Res FLAC