20th June 2022
 Interview

,

  Tom Poster and Elena Urioste on Samuel Coleridge-Taylor's chamber music
Once considered the epitome of a "one-hit wonder" for his popular cantata Hiawatha's Wedding Feast, Samuel Coleridge-Taylor produced a wide range of music in his short life: symphonic works, incidental music for the stage, songs, a variety of works exploring his own African heritage and chamber music.
It is this last aspect of his output that is the focus of a new recording from the Kaleidoscope Ensemble, and the culmination of a long labour of musicological love from Tom Poster and Elena Urioste (who shot to fame in the early stages of the COVID-19 pandemic with their series of daily "jukebox" videos throughout the UK's first and strictest set of restrictions).
I spoke to the duo about this project and about where Coleridge-Taylor fits into the musical landscape of his time.
Like many of his contemporaries, Coleridge-Taylor's musical education was dominated Parry and Stanford at the Royal College of Music, and he later had a fruitful relationship with Elgar. Do you think his style falls into that school of German-influenced English Romanticism?
It's certainly possible to hear echoes of Mendelssohn and Brahms in these teenage works, but even at this stage of his musical development, Coleridge-Taylor's voice is already very much his own. It's a unique voice, but it's also one that feels so welcoming and familiar, like an old friend.
At the same time, he also seems to have seen himself as in some ways analogous to Brahms and Dvořák – drawing on traditional African music as they had done with Hungarian and Bohemian music. Do you think that parallel holds up?
Yes, absolutely - though it wasn't until Coleridge-Taylor travelled to the States (where he was particularly highly celebrated) that he became increasingly interested in his paternal racial heritage, so there's no obvious African influence in these early works. Of course, Dvořák (who was perhaps Coleridge-Taylor's greatest influence) was also hugely inspired by African-American music following his own visits to the USA around the same time - and both composers' music shares a similar generosity of spirit.
The chamber works you're recording here are all very early, dating from Coleridge-Taylor's late teens or early twenties; how much do they differ from his later writing?
There's a wonderful youthful energy to these pieces, a sense of a composer wanting to show the world what he is capable of - it's fantastically life-affirming music. The Nonet is particularly inventive in the way he tries to showcase as many combinations of the nine different instruments as he can - there are so many brilliant colours. On the subject of his later writing, Elena has recently toured and recorded Coleridge-Taylor's Violin Concerto, his last major work - that's a glorious piece, which really deserves to be considered one of the great romantic concertos. It's written in a more mature voice, but still shares the same warm-heartedness with these early chamber works.
Although Coleridge-Taylor certainly fell somewhat out of fashion as choral societies tired of his once-ubiquitous cantata Hiawatha, he was never totally forgotten. So how did these chamber works manage to go an entire century without ever being revived?
In the early part of his career, Coleridge-Taylor realised he was likely to have more publication success with lighter salon works, so these 'serious' chamber pieces were never published during his lifetime. In general, there's a huge amount of great music that sits around gathering dust while other pieces receive performances all over the world, and the reasons for certain works and composers being excluded from the accepted 'canon' are often unjust. Luckily, the RCM retained these early Coleridge-Taylor scores in its archive, and over 100 years after the pieces were written (and thanks to excavation efforts by Tony Burrage, Patrick Meadows and others), they are finally having the chance to be heard.
The editions you're playing from here are your own work, correcting various errors in the previously-available ones. What kinds of problems did you run into, and how did you fix them?
The currently available printed editions of these three pieces (Musica Mundana) are among the worst scores we've ever seen - there are major misprints on every page, and some pages where every single bar contains a misprint. There are literally hundreds of wrong notes in each piece, countless incorrect rhythms, inaccurate dynamics, missing articulations and accidentals, tempo markings in completely the wrong places, entire lines of the score where one of the parts has been left out - quite apart from a comically terrible layout.
My correspondence with Musica Mundana revealed that they'd taken an older edition, scanned it into a computer, and never corrected the resulting errors the computer had made. The managing director also admitted that bringing the editions up to date "needs time" - time which surely should have been spent before putting the editions on sale! When I pointed out that this approach really wasn't doing justice to this wonderful composer, we received no further reply. A subsequent email trying to reestablish correspondence resulted in the firm's UK distributor referring to me as an Arschloch in an email which he (accidentally?) copied me in on. The whole situation made us really sad, because Kaleidoscope feels passionately about expanding the repertoire, but so many editions of lesser-known works are both enormously expensive and shockingly inaccurate, so don't allow musicians to do justice to the works in question. No editor would dare to bring out a Beethoven score with so many mistakes; Coleridge-Taylor (and other composers similarly affected) deserve better!
The crazy thing is that the autograph scores for all three pieces are freely available online, via the RCM library, so we were able to go through the composer's own scores in order to identify and correct the errors in the printed editions. It took many days to accomplish, but it means that we are finally able to present the music as the composer wrote it!
Will your amended editions, too, become commercially available in due course?
We really hope so - it was certainly a labour of love to make all the corrections for this recording. In the meantime, we're always happy to share our errata lists with others who wish to play the pieces - it feels like our responsibility to this wonderful composer who has brought so much joy to our lives.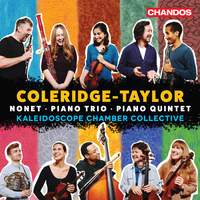 Kaleidoscope Chamber Collective
Available Formats: CD, MP3, FLAC, Hi-Res FLAC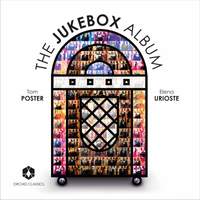 Elena Urioste (violin), Tom Poster (piano)
Available Formats: CD, MP3, FLAC, Hi-Res FLAC