4th February 2022
 Recording of the Week

,

  New choral music from Iceland and England
Today's Recordings of the Week show two very different sides of the world of contemporary choral music-making. Graham Ross and the Choir of Clare College Cambridge take us first to the glaciers and floes of the North Atlantic for a celebration of music from Iceland.
Contemporary Northern European choral music has acquired a reputation for being, in a sense, the Northern Lights set to music – ethereal, shimmering, weightless – but Anna Þorvaldsdóttir's Ad genua is worlds away from such thoughts. Opening with aggressive saltando bowing for the strings, this meditation on the knees of Christ on the Cross (reflecting Buxtehude's set considering the whole body, Membra Jesu Nostri) is anything but straightforward. Soloist Carolyn Sampson is the only clear voice for most of the work's ten-minute duration, lonely and vulnerable among a vocal and string texture mostly consisting of background clusters and glissandi. There's no obvious direction in the music; rather an unhurried meditation returning over and over again to a few fragments of text.
There follows a selection of smaller-scale works in which the choir's flexibility in capturing subtly different moods is plain. Þorkell Sigurbjörnsson's Heyr, himna smiður (Hear, Heaven's maker) is a hymn-like work occupying a similar place in the nation's affections to Sibelius's Finlandia in his own homeland; Þorvaldsdóttir's solemn Heyr þú oss himnum á (Hear us in Heaven) strikes a similar, perhaps slightly richer, note. Jón Ásgeirsson's unashamedly sentimental Hjá lygnri móðu (In the light mist), meanwhile, allows the choir to indulge a little more in Romantic harmonies.
Graham Ross often incorporates his Dmitri Ensemble into his choral albums in some form or another, and indeed one of the most powerful works on this album is for strings alone. Jón Leifs' haunting Hinsta kveðja, written in memory of his mother, is a magnificent addition to the string orchestra canon, with tonal shifts reminiscent of late Vaughan Williams. It leads perfectly into the most substantial work on the album, Sigurður Sævarsson's Requiem.
The music in all seven movements of the Requiem is hypnotic and often ostinato-based, with a sense of meditative stasis akin to parts of Þorvaldsdóttir's Ad genua but more settled. The work is hardly tonally adventurous, yet never dull; indeed it has a disarming simplicity to it. It's no surprise that the Choir chose this quietly uplifting work to live-stream in 2021 as part of a commemoration of the lives lost to Covid-19.
This week's second album returns us to soil that might be more familiar to most readers – that of Anglican England. The opening track, Jonathan Dove's Vast Ocean of Light, perfectly encapsulates the contrast between Clare's young-adult choir and Westminster Abbey's treble-led sound, and indeed Westminster itself is in a way the star of the show; the album showcases works commissioned by or for the Abbey Choir from Dove, Judith Weir and Matthew Martin over the last two decades, in a celebration of the Church of England's role as a patron of new music as well as a bastion of cultural heritage.
Matthew Martin's Westminster Service continues a long tradition of works written for trebles alone – often used at midweek services, when adult singers might have the afternoon off. This is by no means an "off-peak" work in its ambition, though; bold and challenging, it showcases the voices of the Abbey's front row (still open only to boys) in animated settings of the evergreen texts of the Magnificat and Nunc Dimittis. Over the centuries, as countless composers have set the Magnificat, the Virgin Mary has responded to the Annunciation in any number of ways, from ecstatic rapture and awed wonder to uncomplicated no-nonsense enthusiasm. Here she is agitated and uncertain, with the organ part always in lively motion even when the treble line is more tranquil.
Another deep well of inspiration for composers has been the 'O' Antiphons – ancient, poetically rich Advent meditations. In Martin's O Oriens (O morning star) the plainchant line of the antiphon weaves around the well-known melody of the hymn O Come, O come, Emmanuel (itself a reworking of the 'O' Antiphon sequence), building to an exultant climax. Organist Peter Holder is on fine form here as elsewhere – many of these works have highly demanding organ parts, far more than mere accompaniments.
The last item on the album returns us again to the theme of commemoration and thanksgiving for the departed, but no longer subdued or meditative. Behold now, praise the Lord is a blaze of light written in celebration of the life of the organist and choirmaster John Scott, who died suddenly in his late fifties in 2015. It's a fitting encapsulation of what this album is about; this celebration of the Church and its scriptures as inspiration for ongoing artistic creation ends with the church music community giving one of its own a flying send-off.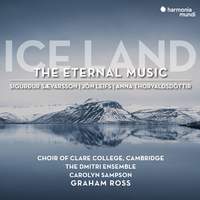 Choir of Clare College, Cambridge, Dmitri Ensemble, Carolyn Sampson, Graham Ross
Available Formats: CD, MP3, FLAC, Hi-Res FLAC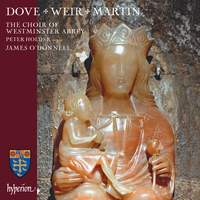 Westminster Abbey Choir, James O'Donnell, Peter Holder (organ)
Available Formats: CD, MP3, FLAC, Hi-Res FLAC