2nd December 2021
 Interview

,

  Daniel Hyde on Carols from King's
Appointed in 2019 as the successor to Stephen Cleobury, Daniel Hyde's first two years in post as Director of Music at King's College Cambridge have been an unenviable baptism of fire. Early in 2020 the COVID-19 pandemic took hold around the world and forced swathes of cultural life to a standstill; age-old rituals and traditions were suspended, including the broadcast of the Service of Nine Lessons and Carols from King's Chapel, which for the first time since 1930 was not broadcast live, instead being pre-recorded without a congregation.
It is against this immensely challenging backdrop that the aptly-subtitled recording of 2020's Carols from King's was made – In the Bleak Midwinter came in the middle of a winter that was, for many people, bleaker than any in recent memory. I spoke to Daniel about this familiar, yet hauntingly different, chapter in the story of King's, about how the Choir weathered the storm, and about what happens now as the musical world begins to pick up the pieces.
This recording reflects the particular context of Christmas 2020 – no congregation, an echoingly empty acoustic and a muted, intimate mood. A sound born of necessity; but musically speaking, do you think there's anything from this time that you'd want to retain as pre-pandemic conditions gradually return?
Every recording is actually made in an empty chapel, but the chapel was even more empty than usual for this one, because we'd cleared out as much of the furniture as possible so that we could use the space during that phase of the pandemic.
I'm not so sure that there's anything I'd want to preserve. I certainly tried to embrace the positives in terms of what it requires people to do if they're standing further away from each other. There has been an aural improvement of the choir – things that we have to start thinking about when we're not standing next to each other – but it was also pretty gruelling to begin with having everybody so spaced out. It had been pretty soul-destroying trying to have chorister rehearsals on Zoom, too. But I took the view that I could either sit and grumble about it or I could try to salvage whatever I could. The challenge was very much worth accepting.
Certain wartime broadcasts – both those that have been preserved and those which we can only read about – represent fascinating snapshots of unique moments, be it besieged Leningrad in 1942 or Berlin in 1945. Do you think this "pandemic Christmas" album will acquire a comparable status as a historical artifact?
There's certainly a sense that it's a snapshot of what we were doing during this time – the chapel has never been shut for such a long period. This is only the second time in about eighty years that the carol service has not been broadcast. I suppose it is a useful archive, but I don't think it has quite the unique status of those other kinds of recordings, simply because a lot of other people were also suddenly producing a lot of content during that period, something we consciously decided not to do; after all, if you want to hear the choir, there are ample recordings available. This is therefore one of the very few recordings of us that exists from that time.
The real difficulty for some places that have been producing large amounts of streamed content is that they've then been judged by people's "recording ears". It's also important to keep things in mind such as the occasional Tuesday evensong early in the year where a boy in Year 6 is doing his first solo in a verse-anthem, which might not be perfect. I don't think it's the right attitude to be webcasting that kind of thing; there has to be a safe space for things to sometimes not go quite right, and the fact that that happens is part of the learning experience.
I couldn't help noticing that the organ registrations on this recording are consistently dark-hued and tend to shun the usual blazes of reed-tinged triumph for final verses. Was this a deliberate decision in view of the times?
By necessity a lot of the big congregational carols were accompanied in a different way to how we would do it with a thousand people there. We actually had to take quite a bit of time to think over how we could do a Nine Lessons and Carols and keep the interest for an hour and a half, without those congregational "pillars" holding it together. Even down to things like people standing and sitting, and the coughing and rustling of pages from the congregation. Certainly we were still going to do O come, all ye faithful and Hark! the herald angels sing and so on, but one of the challenges was to think about how we could do them without doing them full throttle. So we ended up doing some unaccompanied verses, and things like that. I'm pleased that the difference is audible – the King's organ is a famous instrument and has its own sound, but within that there's a lot of variety.
Another thing that was different is that if you're leading a big congregation, you have to play the harmony quite solidly and let it breathe; whereas if it's just the choir, you don't necessarily have to play all the notes. For example, if they're singing a last verse in unison, the organ can be a little bit more creative - while obviously playing all the same harmonies, it can be a little more free-spirited.
Roger Quilter's unfussy yet subtle I sing of a maiden is a work that many listeners might not be familiar with; how did this piece make it into the programme?
It's a piece I've known for years – I used to do it with the choristers at Jesus College when I worked there. It's from one of his song-cycles; not written for trebles specifically, and as with all that kind of English song it could be sung by a tenor or a soprano. It's a single vocal line with a piano part, and we crafted an organ part from that. I hope people will really like it – it isn't well-known, but it's rather beautiful. I always think that Quilter prefigures Finzi, in terms of English song.
There must by now be scores of descants written for O come, all ye faithful. How do you think composers approach the task of writing fresh entries in this already rich catalogue?
Well, I personally don't; O come, all ye faithful on this recording is Christopher Robinson and David Hill, and Hark! the herald angels sing is Philip Ledger, and Once in royal David's city is Stephen Cleobury. While shepherds watched their flocks by night was written by one of my colleagues here, Nicholas Marston, and I wrote the organ part, so we joke about having written the descant together.
More generally, I think it was David Willcocks who said "I pity the person who comes two or three people after me; in a chord of G major I've taken the top G, Philip Ledger might take the D, and Cleobury takes the B, so there's nothing left!" People often send me descants, and they seem to be a big deal for some people; but my view is that as with so many things, less is more. I can't stand some of these descants where the harmony has been messed around with so much that it makes it hard for the congregation to sing. Stephen Cleobury always used to refer to "a few well-chosen chords" – and of course he'd probably have said that in his descants all the chords were well-chosen, just as David Willcocks would have done!
It needs to make sense as a counterpoint and not just be a load of high notes and slushy chords. A chord like that doesn't mean anything if the music that comes before and after doesn't bear any resemblance to it. There's a kind of class to writing them, and in many ways all the notes have been taken. I don't feel any compulsion to write any myself; there are enough good ones that I can mix things up each year.
The two major settings of the eponymous In the Bleak Midwinter by Darke and Holst each have their devotees; you have, perhaps diplomatically, included both on this album (the latter re-clothed in a new arrangement by Mack Wilberg). Do you have a favourite setting of these words yourself?
The Darke won Classic FM's "Nation's Favourite Carol" competition, certainly; Mack Wilberg's arrangement of the Holst was something I came across by chance. Publishers and individuals are always sending me carols, so I always have a massive stack of Christmas music for perusal. Mack Wilberg's stuff has been done at King's before, and this one just caught my eye. Normally at some point during the summer I sit down and work my way through the pile and weed through it, and sometimes things jump out.
It got very mixed reviews; people wrote in either saying that they'd loved it or that they'd loathed it. But I do feel that I have a responsibility not to just programme music that might be to my immediate tastes; there's a huge catchment for our Christmas broadcasts, and putting something down that's arranged by Mack Wilberg is a massive nod to the choral culture in the US, and the Mormon Tabernacle Choir that he runs – the culture that that sort of arrangement comes from. I have a responsibility to push people a little bit, so I'm never surprised when someone writes in and says they hated something; I just have to reply saying "thanks for your opinion, sorry to ruin your Christmas".
Likewise we're continuing to commission new carols – the new one this year has just been announced by the OUP, a setting of There is no rose by Cecilia McDowall [NB: This is expected to be published in mid-April 2022]. We didn't do a commission last year because we didn't know what we'd be able to do, but in normal times we're intending to carry that on. It can sometimes get a bit out of hand, in my opinion; the brief for a carol commission needs to be pretty strict, because I want there to be a chance that other choirs might pick these things up subsequently and start performing them.
Schools and cathedrals have grappled not just with musical hurdles but with issues of wellbeing arising from pupils and staff being physically separated for months on end. How did you, and King's as a whole, handle the mental health challenges of the UK's lockdowns?
We're always very aware of the welfare of both the children and the adults in the choir; this is discussed regularly between me, the school, and the Chaplain and the Dean. When we moved to Zoom initially everyone thought it was great; having been completely shut down, being able to do something over Zoom was a big improvement. But what I noticed was that the children were having all their schooling on the screen, and it has had a huge impact on focus and on the way they respond to things. Some kids are very, very focused on the screen in a way that they find easier than focusing on old-fashioned paper, and vice versa.
The problem for every choir is going to be that they've undeniably missed a huge slab of time. They don't learn things by rote, but there's definitely a sense of osmosis. We teach them to read music and give them singing lessons – all the components – but it's that mix of everything that makes it all work. So I'd think of the mental health challenge in terms of now – it's my job to nurture the choir and the people in it, without them feeling like they're always up against it, having missed so much. I don't want them to feel like they've been left behind, and I don't want them to feel like we're not achieving what we should be; yet at the same time I have to maintain that standard. It's an interesting challenge.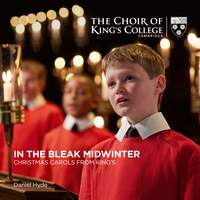 Matthew Martin (organ), Choir of King's College, Cambridge, Daniel Hyde
Available Formats: CD, MP3, FLAC, Hi-Res FLAC, Hi-Res+ FLAC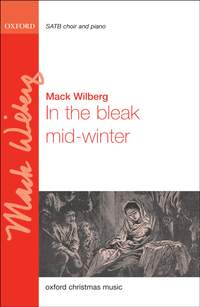 This is a reflective and beautiful arrangement of the classic Christmas carol by Holst. Wilberg underpins the well-loved melody with luscious, romantic harmonies, including moments of exquisite chromaticism
Available Format: Sheet Music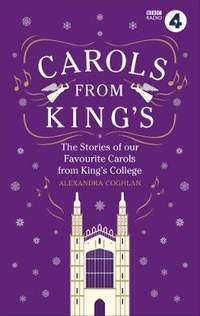 The exquisite sound of a lone chorister singing Once in Royal David's City amid the candlelit chapel of King's College, Cambridge, marks the start of the Christmas festivities for millions of people round the globe. Broadcast at 3pm on Christmas Eve, A Festival of Nine Lessons and Carols provides a precious moment of tranquillity amongst the bustle of the festive season.
Take a journey through the fascinating history of carols, from the very first - sung by the angels to the shepherds at Bethlehem - to anecdotes from contemporary King's choristers. Learn how carols have evolved from pagan songs to become one of our nation's most sacred treasures. Accompanied by lyrics and music and compiled in conjunction with Radio 4 and King's College Chapel, Carols From King's is the official companion for fans of Christmas and carols alike.
Available Format: Book