27th October 2021
 Interview

,

  Della Jones on Opera Rara
With several complete opera recordings and recital-discs on the label to her name, the Welsh mezzo Della Jones was one of the singers who contributed greatly to the early success of Opera Rara and its mission to carry out 'live operatic archaeology' through performances and recordings of operas which had previously been consigned to footnotes in the history-books or remained in the repertoire only in truncated versions.
Ahead of the re-release of a boxed set featuring her recordings of Ugo, conte di Parigi and L'assedio di Calais, we met for tea in London last month to discuss the role which Opera Rara played in her long career, its contribution to the Donizetti revival, the challenges facing the young singers she mentors today, and her one major foray into Wagner in the 1990s...
How did your relationship with Opera Rara start?
I wasn't involved with Opera Rara quite from Day One, but I got on board pretty soon. Ugo Conte di Parigi was the first recording which I did for them, and it was a very exciting time. I'd recorded a few smaller roles by that stage: when I was a student in Geneva Christopher Raeburn [of Decca Records] saw Evelyne Brunner and myself doing Feodor and Xenia in Boris Godunov at the Grand Théâtre, and on the back of that asked if we would sing Mércèdes and Frasquita in a recording of Carmen. But Ugo was my very first major role on a recording.
After my two years in Geneva I decided I wanted to make my base in the UK, and the connection with Opera Rara came about when Patric Schmid [the label's co-founded] told me that he'd seen me in La cenerentola at the Coliseum. I can't remember which one of us made the first move about setting up an audition, but I went along to their headquarters to sing for him and we got along amazingly – he pulled out loads of scores and I happened to be able to sight-read so we had a great time. And so it began!
How much did the company evolve over the years you worked with them?
The company was originally based in Angel, at a little house in Havistock Street: you'd go into the hallway and there'd be boxes and boxes of records (not CDs in those days) that they were sending them out from the house. I suppose it was what you might call a cottage-industry today, but on a grand scale; Patric had founded the label along with Don White, and Robert Roberts (who died a couple of years ago) was the musicologist and copyist. Because none of the scores for these operas were published at that point, Robert copied everything from the manuscripts and had them properly printed and bound, then did all the illustrations and notes for the recordings – everything!
A few years later Opera Rara moved to a splendid big house on Compton Terrace at Highbury Corner, with a proper library for all the scores. Even back then Peter Moores was very involved with the company, and by the time we recorded Ugo he was an official sponsor. All sorts of wonderful people came on board, including Alun Francis and David Parry, and later on Richard Hickox and the fantastic soprano Nuccia Focile who sang on L'assedio di Calais amongst other things.
Were the majority of Donizetti's operas relatively unfamiliar to you (and indeed to UK audiences) at that point in your career?
Very much so – and there were so many of them to explore! Patric would ring me up a couple of days before a recording to tell me we'd have some extra time at the end of the session, and he'd dug out an aria from some opera I'd never heard of: could I learn it in two days, please?! I loved that kind of challenge. Opera Rara really brought Donizetti to the forefront, and continue to do so today: it's wonderful to see some of these works actually being staged now, although that sadly didn't happen for me with any of the roles I recorded. (The closest I got to singing Aurelio in L'assedio di Calais on stage was having my photo taken – whilst very pregnant! – by Rodin's statue of The Burghers of Calais when I visited!).
I loved singing Aurelio, because as with all of these Donizetti roles the voice is stretched to its full potential: you've got to have the top and the bottom (in all tessituras, not just the mezzos) and the flexibility. But Ugo was very special. We recorded it at Henry Wood Hall with the New Philharmonia Orchestra, and just before the end of the evening session Patric called through on the studio phone: 'Darling, we've got ten minutes left, so you need to nail this aria in one take because we can't afford overtime!'. I quite liked that, because I thought: 'OK, we've got to get this right - not only me but everybody'.
You devote a lot of your energy these days to working with young artists – how different does the professional landscape look now compared to when you were starting out?
You hear a lot of nonsense about how 'You Can't Get The Singers These Days', and it's simply not true: there are some fantastic young singers coming through, but there aren't the same opportunities for them that we had in my day. I coach at lot at the National Opera Studio and most of the singers there are absolutely ready to go, but it's such a difficult time for them: things have been totally barren because of the pandemic and even though companies are starting to audition again, many of them are going to use the singers they'd booked before the lockdown so opportunities are still very scarce for young artists. But things were already so much tougher for them even before COVID; for one thing, when I was starting out there were studio opera recordings happening all the time and companies like Decca, Chandos and of course Opera Rara would use young singers for the small roles, but those kind of projects are much thinner on the ground these days.
In the early stages of my career a company called Opera For All were fantastic for young artists: there was a Scottish branch, a Welsh branch and an English one, and you'd tour round the country for long stretches doing operas with piano. I'd won the Kathleen Ferrier Memorial Scholarship in 1969 and was not long back from my two years in Geneva, and they hired me to sing Rosina in The Barber of Seville and to double up as Cherubino and Marcellina in The Marriage of Figaro. (There are some quick changes there, but they were cheap and cheerful productions so I'd just stick on a hat and a veil for Marcellina!).
Goodness, it was wonderful training: you'd tour for eight or nine months with the odd break, but it was basically non-stop. Maybe you'd get three nights in the same hotel, maybe not – but you got a travel allowance and a proper wage (I think twenty pounds per show, which was pretty good going at the time!). Ian Watt-Smith was the producer for Barber, and John Moody was the producer of Figaro; the pianist was the great John Fisher [subsequently Head of Music and Artistic Administrator at La Scala, and General Director of Welsh National Opera], and Bonaventura Bottone was my Count Almaviva in Barber. So there were some extraordinary people on board, but sadly the company folded not long afterwards.
Speaking of extraordinary people, did you have much contact with fellow Donizetti champions Richard Bonynge and Joan Sutherland?
I'm still in touch with Richard through our work at the Wales International Academy of Voice, but the only time we worked together was when I sang Flora on his recording of Traviata which we did at Kingsway Hall in 1979, with Sutherland (who was absolutely lovely) as Violetta and Pavarotti as Alfredo. The other singers I admired enormously (and still do) were Teresa Berganza and Janet Baker; I'd covered Berganza in Cenerentola when I was studying in Geneva, and had to go on for the dress-rehearsal. I was absolutely in awe - as I was with Janet, who's now a friend as well as one of my favourite singers of all time.
Are there any major roles that you regret not having sung?
I've been so lucky with the roles I've done: I made a list of them all recently, and I've clocked up 200! The two roles I would have really loved to sing are Madam Butterfly (which would be impossible), and Boris Godunov (which would be even more impossible)!
I firmly believe that singers should never try to alter the size of their voice to fit particular roles or projects: big voices shouldn't try to scale down, and more lyric voices shouldn't push. Years and years ago I did Farzana in Die Feen for Ted Downes, but the only other Wagner role that came my way was Brangaene, in the 1990s. I remember Matthew Epstein (who was General Director of Welsh National Opera at the time) ringing me up and saying 'Right Della, I've got two bits of news, and for the first one I think you should sit down…I'd like you to do Brangaene in Tristan und Isolde, with Annie Evans as Isolde'. My immediate reaction was 'That's ridiculous!', and Matthew said 'Come on, Della, would I suggest it if it was ridiculous?! Come down to Wales and go through it with a specialist coach, and we'll see if it's the right thing.' Annie was very much a lyric Isolde, and with Jeff Lawton as Tristan and Charles [Mackerras] conducting I thought it might just possibly work for me. (His other bit of news was an offer to sing Ariodante, which was a straightforward 'Yes, thank you very much'!).
Matthew came along to the coachings and assured me that I'd got it in the voice, but I remember asking him what on earth would happen if we got to the sitzprobe and you couldn't hear me over the orchestra…he turned to me and said 'Oh, then you just cancel!'. Anyway, it didn't come to that and it all worked out, but I wasn't asked to do the role again and I wouldn't have wanted to do it again because it depends on so many variables: the conductor, the size of the theatre, the vocal weight of the Isolde. And as a lyric mezzo, where do you go from Brangaene? I'm not a Fricka; I don't have that weight of voice. Berlioz's Didon was another role that stretched me, but that again was with Charles conducting so it worked beautifully.
And did contemporary music also play a significant role in your career?
Yes: I remember buying a new fridge and freezer with the money from doing Brian Ferneyhough's Transit at the Royan Festival years and years ago! I was asked to do quite a lot of new music because I can read well, but I turned much of it down because I didn't want to destroy my voice – when composers started asking for shouting and screaming I decided making those sounds just wasn't for me.
How often do you revisit your own recordings?
Only very rarely, and I've always been like that – I used to listen to the edits after a session, but that's it! I often don't even recognise my own voice on recordings: Marc Minkowski played me one of Arnold Östman's Philips opera recordings a few years ago and I thought 'Blimey, she's good - who's that?'. Marc rolled his eyes and said 'Honestly, Della…it's you!'.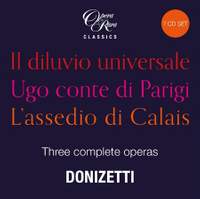 Mirco Palazzi (Noè), Colin Lee (Cadmo), Majella Cullagh (Sela), Manuela Custer (Ada), Roland Wood (Artoo), Geoffrey Mitchell Choir, London Philharmonic Orchestra, Giuliano Carella
Della Jones (Luigi V), Eiddwen Harrhy (Emma), Janet Price (Bianca), Yvonne Kenny (Adelia), Maurice Arthur (Ugo), Christian du Plessis (Folco d'Angiò)
Geoffrey Mitchell Choir, New Philharmonia Orchestra, Alun Francis
Christian du Plessis (Eustachio), Nuccia Focile (Eleonora), Della Jones (Aurelio), John Treleaven (Edmondo), Eiddwen Harrhy (Isabella), Norman Bailey (L'Incognito), Geoffrey Mitchell Choir, Philharmonia Orchestra, David Parry
Available Format: 7 CDs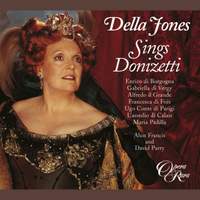 Della Jones (mezzo), Philharmonia Orchestra, David Parry, Royal Philharmonic Orchestra, Geoffrey Mitchell Choir, Alun Francis
Available Formats: MP3, FLAC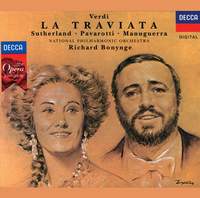 Joan Sutherland (Violetta), Luciano Pavarotti (Alfredo), Matteo Manuguerra (Giorgio Germont), Della Jones (Flora), Marjon Lambriks (Annina), Jonathan Summers (Barone Douphol), John Tomlinson (Marchese d'Obigny)
The London Opera Chorus & The National Philharmonic Orchestra, Richard Bonynge
Available Formats: 2 CDs, MP3, FLAC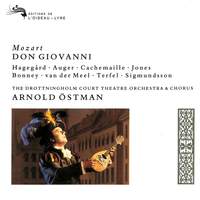 Håkan Hagegård (Don Giovanni), Della Jones (Donna Elvira), Arleen Auger (Donna Anna), Gilles Cachemaille (Leporello), Nico Van Der Meel (Don Ottavio), Barbara Bonney (Zerlina), Bryn Terfel (Masetto), Kristinn Sigmundsson (Commandatore)
The Drottningholm Court Theatre Orchestra & Chorus, Arnold Östman
Available Formats: MP3, FLAC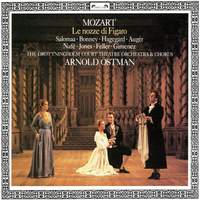 Petteri Salomaa (Figaro), Barbara Bonney (Susanna), Håkan Hagegård (Conte Almaviva), Arleen Augér (Contessa Almaviva), Alicia Nafé (Cherubino), Della Jones (Marcellina), Carlos Feller (Bartolo), Eduardo Giménez (Basilio), Francis Egerton (Curzio), Enzo Florimo (Antonio), Nancy Argenta (Barbarina)
The Drottningholm Court Theatre Orchestra & Chorus, Arnold Östman
Available Formats: MP3, FLAC