14th October 2021
Interview

,

Joséphine Olech on Romantic flute concertos
The quirky and sardonic Nielsen Flute Concerto – embodying its idiosyncratic composer's unconventional style of composition – and the showstoppingly virtuosic Françaix are both frequently-performed staples of the repertoire for the flute. Rather less so are the works of Theodor Verhey, whose Flute Concerto No. 1 complements the Nielsen and Françaix in a new album from Joséphine Olech, principal flute of the Rotterdam Philharmonic Orchestra and 2019 flute champion of the Carl Nielsen International Music Competition.
I spoke to Joséphine about the overlooked genius of Verhey, the concert repertoire for the flute, and the Rotterdam Philharmonic's response to the unprecedented challenges of the COVID-19 pandemic.
The Nielsen concerto is in many ways a strange piece, with the soloist often apparently in a different mood to the orchestra and often in combat with the bass trombone. It seems like a piece in which balance could be a real challenge – did you find this the case in performance?
Surprisingly, I found the balance extremely comfortable! The bass trombone passage you mentioned is maybe the one place where the flautist actually has to "go for it" in order to be properly heard over the orchestra. But this is actually just a few bars in the whole concerto. I think because of these few bars, a myth was born that the Nielsen flute concerto is about having a big sound and lots of power. But in my opinion, it is so much more about love, character, fun, sensitivity and playfulness... And in that sense I completely agree: it is a strange piece with many different moods and the spectrum of emotions is extremely wide, which makes it one of the most fun pieces to perform.
Theodor Verhey is rather less well-known than Nielsen or Françaix – though if his Flute Concerto No. 1 is anything to go by, this neglect is little short of criminal! Why do you think his music fell out of popularity?
I agree, this piece deserves an "official" place in the Romantic flute repertoire. This is especially surprising when considering that the Romantic period was not really the golden age for the flute – or at least not as much as the Baroque period or the 20th century… so I can't imagine why we would neglect such a good Romantic concerto. I imagine it must be because Verhey was mostly a teacher, and he did not compose many other pieces, and therefore did not have a big name as a composer. I discovered the concerto myself very recently, thanks to my friend the wonderful flautist Hélène Boulègue, so I would say, fortunately, it is still rather known within the small sphere of flautists – and especially Dutch flautists.
Verhey, though not a flautist himself, writes a great deal of fast and agile solo passagework in the outer movements of his concerto. How much difference do you find it makes when a piece of flute music is written by someone personally familiar with the instrument?
As a flautist, you get used to playing music that was not composed by a flautist. Ravel and Debussy were not flautists, yet they wrote extremely well for the flute. But of course there is a special interest when playing pieces by flautist-composers, such as Boehm, Gaubert or Taffanel for example: either it is particularly challenging on a technical point of view, and it pushes further the boundaries of your playing, or it is simply so well written that it sounds more spectacular than it is difficult – which is always rewarding.
Verhey's marking "alla zingarese", indicating a finale drawing on Central European gypsy idioms, is unusual for a flute piece; the popular-culture imagery of this style tends to focus much more on the violin. Was it common for composers of this time to write "zingarese"-style music for the flute as well?
I think this was quite fashionable at the time, and we actually do have many examples in the flute repertoire as well, like the Grande Polonaise by Theobald Boehm, the Hungarian Pastoral Fantasy by Franz Doppler, or the finales of the Mercadante concertos, which are marked "Rondo Russo" or "Polacca"... Of course, it is hard to compete with the similar pieces written by bigger composers like Brahms... (oh, how I wish he would have written more for the flute!)
Both in his flute concerto and generally, Françaix seems to have made a point of deliberately avoiding "modernism" and the less accessible avant-garde styles of his time. He recognised the risk of falling by the way-side in doing so, but in hindsight do you think his decision to "be jolly most of the time, even comical" in his compositions has been vindicated?
Jean Françaix wrote light music, which was meant for the audience to have a fun experience, without too much philosophy behind it. In my personal opinion, I find that the avant-garde styles of the 20th century have brought more to the history of music than the music of Jean Françaix. However, he remains a good composer: in his own style, he was extremely efficient and creative, and pushed the limits of virtuoso playing to a point which makes him both loved and hated by wind players. (I think one of the reasons why his flute concerto is almost never played is its technical difficulty!) Even though he is not considered a "serious" composer, he is still unique among 20th-century composers, and I think his flute concerto deserves to be played.
In 2019 you took the first prize for flute at the Carl Nielsen International Music Competition. Most international competitions seem to be for pianists or violinists, and a win or a strong result can boost an early career – so how different is it for flautists or other wind players trying to establish themselves as soloists?
Wind instruments' existing repertoire of concertos and chamber music is not as developed as the piano or the violin repertoire: that is why very few wind players decide to focus only on solo playing and chamber music. Moreover, we have the chance to enjoy the most beautiful pages of music within the symphonic orchestra, so most of us want to enjoy that as well! That is why, contrary to the strings, a wind instrument player's career can be very well mixed between orchestra, chamber music, and solo performances. I am myself very happy with the balance I found: my orchestra life brings me a lot of musical content in terms of repertoire and variety of interpretations, which I can then use as inspiration in my solo playing. And playing as a soloist brings me a lot of musical experiences I can take with me to the orchestra chair as well.
As for the flute repertoire, it is growing very quickly these last years with the composition of many beautiful contemporary concertos (I premiered myself the Thierry Escaich flute concerto last may) – so who knows, maybe there will be a need for more and more flute soloists to play all this new music…
You've been the principal flute of the Rotterdam Philharmonic Orchestra since 2017 – how has the orchestra responded to the challenges of the past year and a half?
I have to say I admire my orchestra for its resilience, creativity and forward thinking during this difficult period. Fun fact: We were the first orchestra to make a lockdown video (our Beethoven 9 now has millions of views on YouTube). We are finally playing for a full hall again and back with a beautiful season, and I am so glad to have an orchestra where my colleagues are so excellent and so motivated. Coming to work puts a smile on face every morning!
This is a very different album to your more modern-leaning debut Reconnect, which featured Takemitsu, Reich and Crumb alongside Debussy and Satie. Can you reveal anything about your future plans in the recording studio?
It was a wish of mine to release two albums with different sound universes, and which reveal different sides of my playing. I can reveal that my next recording project will involve one of the biggest Everests in the flute repertoire… the Mozart flute concerto! That is all I can say for now…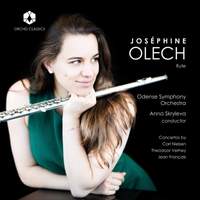 Joséphine Olech (flute), Odense Symphony Orchestra, Anna Skryleva
Available Formats: CD, MP3, FLAC, Hi-Res FLAC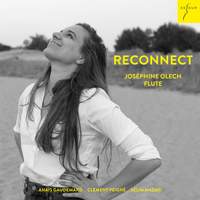 Josephine Olech (flute), Selim Mazari (piano), Anais Gaudemard (harp), Clement Peigne (cello)
Available Formats: CD, MP3, FLAC, Hi-Res FLAC