27th September 2021
 Interview

,

  The Jukebox Album
Here in the UK, as in many countries around the world, much of 2020 was spent under various forms of lockdown in a bid to curtail the spread of Covid-19. Not surprisingly, musicians finding themselves abruptly confined to barracks turned to the internet to connect with music-lovers in similar plight, and an enormous flourishing of virtual performances, both one-offs and series, resulted. There's no doubt that these efforts brought much-needed solace and hope into perhaps the bleakest period of time in recent memory.
One such series was undertaken by the newly-married violin/piano duo of Elena Urioste and Tom Poster, whose honeymoon had been planned for March 2020; expecting lockdown to be a short, sharp shock rather than a long-haul slog, they began taking requests online for pieces to perform, and the project quickly grew in scope, ambition and whimsy. In the end 88 such recitals took place, one for each key of the piano, and the duo have now recorded an album featuring a selection of the pieces they performed. Some are arrangements by Poster from diverse sources, some brand-new commissions by the duo from contemporary composers.
I admit to a slight tendency to over-use the word "eclectic" when writing about recordings, but this one - ranging from Fauré and Chaminade to Jerome Kern and Cole Porter (with a particularly jaunty surprise in the final track) - really does merit the term many times over. I spoke to the #UriPosteJukeBox duo to find out more about this album's bittersweet origins, and what parallels the musical world might draw with the business world's now firmly-established "new normal" of hybrid working.
In addition to this album having been prompted by lockdown musicmaking, several of the pieces on this album were inspired by composers' experiences of quarantine. It may be too early to say, but do you think we're likely to see a broader wave of musical and artistic responses to the unique global experience that began the 2020s?
The pandemic has already shaped - both consciously and subconsciously - so many aspects of music-making and creative endeavour in the past year-and-a-half. Many artists responded to the events in real-time, including the six amazing composers of our 'corona commissions' which appear on the album, but we're certain the echoes of this strange and unsettling period will be heard across the arts for years to come.
A question that I'm often intrigued by with albums of arrangements: Were there any pieces that you wanted to perform as a duo, but which for some reason just didn't quite succeed in this format and had to be dropped?
Yes - lots! Because the Jukebox model was largely request-based, there were many wonderful suggestions from listeners which sadly just didn't translate naturally onto violin and piano. That said, we feel we came up with some pretty creative attempts to rework unidiomatic material during the initial run of #UriPosteJukeBox, as demonstrated by the violin scordatura in I'm Too Sexy, and the use of a kitchen whisk and sieve to evoke Glenn Miller's drummer in Moonlight Serenade.
How did the arrangements you're performing here take shape – did you play around with ideas collaboratively, or did Tom largely just lock himself away with pen and paper to reshape the originals into Jukebox-able form?
We always discussed the choice of music together, but the arrangements themselves essentially became Tom's form of meditation during those strange months of the first lockdown. He would often wake up early and sit at the piano or computer dreaming up ways to best present the musical selections, hoping to allow each composer's music to shine as brightly (or as honestly, or as sillily) as possible.
Some of the arrangements feature more than two musicians via the magic of multi-tracking. Was this always something you intended to feature in your Jukebox videos, or did this increased complexity arise en route?
It definitely arose en route - after all, our initial assumption was that the lockdown would only last a couple of weeks! By the end of the first month, we were looking for ways to expand, and once we'd discovered the Acapella app, things escalated quickly - one moment we were recording Tom's arrangement of Moon River for two violins and piano; the next we were multi-tracking all eight instrumental parts of Bach's Fourth Brandenburg Concerto.
This kind of programme would rarely have made it onto the in-person concert platform before the pandemic, but many musicians besides yourselves have now experimented with online performance. Taking these two things together, do you think that online performance (perhaps by analogy with remote working) is now here to stay and has a permanent role to play in the musical world?
Certainly - the reach of the online Jukebox performances, connecting old and new friends all over the world, was one of the great joys of our lockdown experience. And while nothing will ever replace live performance, a hybrid solution - where many live concerts can also be streamed online - is surely here to stay. It's been wonderful for Elena's grandma in Florida to hear our performances at Wigmore Hall, for example - that's something that never would have happened before the pandemic.
The Toodle-oo that closes the album is a minute and a half of joy, perhaps of particular interest to devotees of BBC Radio 4's I'm Sorry I Haven't A Clue. Might the world one day hear more treasures from the oeuvre of the extremely mysterious Pteromost?
Thank you! Well, Pteromost has been making occasional appearances for many years now. A shadowy figure, rumoured to be part-goblin and to travel only by mooseback, we have no idea when he will next surface - though we suspect it won't be long…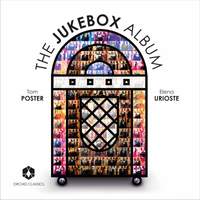 Elena Urioste (violin), Tom Poster (piano)
Available Formats: CD, MP3, FLAC, Hi-Res FLAC