UPDATE: Royal Mail have now resumed shipments on their TRACKED, TRACKED & SIGNED and SIGNED services but delays should be expected, please choose these services if available to you or FEDEX if your order is urgent.
21st September 2021
 Interview

,

  Anna-Liisa Eller on Strings Attached
After Anna-Liisa Eller lent the distinctive and evocative sonority of her kannel to Vox Clamantis's 2020 album The Suspended Harp of Babel, which featured the choral music of the Estonian composer Cyrillus Kreek, a little curiosity among music-lovers as to what exactly this instrument was would be understandable.
Anna-Liisa's new solo album, Strings Attached, answers this question by placing the instrument squarely in the spotlight; she explores far beyond the traditional folk roots that the kannel shares with other Baltic-region zithers, presenting a series of transcriptions of early keyboard music, as well as offering a tantalising glimpse of its contemporary repertoire in the form of Helena Tulve's Silmaja [Beholder]. I spoke to her about how the instrument developed, what sort of music might have been played on it through its long history, and what its future might hold.
You mention the kannel's relationship to the Renaissance psaltery and thus, indirectly, to the harpsichord. Is there any evidence that Baroque music was ever actually performed on the kannel or its other North European relatives?
Yes, as far as I have researched this topic I see a clear constructional parallel between the kannel and the psaltery; it's interesting that in nineteenth-century Estonia "kannel" was a common general word for all plucked string instruments. As yet I don't have any clear historical proof that Baroque music has been played on kannel-type instruments, but the kannel was widely used and existed in almost every home: every player made their own instruments, so there are countless different ones out there. There was a belief that kannel brings luck to your home and family.
The kannel's current chromatic form seems to owe some of its origins to the imposition of Soviet views on how local folk musics should fit into the Soviet folk scene. Do you think the chromatic instrument would even exist if it hadn't been for this heavy handed policy?
There are several fully chromatic kannels with different string arrangements dating from the end of the eighteenth century, which is proof that players and instrument-makers were already exploring the possibility of adding all chromatic scales to the kannel. And the instrument-maker Väino Maala, whose type of kannel I am playing and who was the winner of the National Chromatic Kannel Design Competition, has made many other types of kannels. He himself played a so-called 'harp-kannel', where he had strings on both sides of the instrument and he put this standing to a side like a harp - perhaps the closest historical example would be an arpanetta. I am sure that chromatic kannels do exist, but I think they might not have been commercially produced, or at least not in large numbers in the Estonian Piano Factory.
Once the instrument had assumed its chromatic form (following a design competition in the 1940s), did classical composers of the time take it up and write new works for it, or was it mostly used in Soviet folk-music ensembles?
Yes! Composers fell in love with chromatic kannel since the time it was invented and they keep enthusiastically composing for it today. (This autumn, for example, I will play the world premiere of a concerto for kannel and chamber orchestra by Lauri Jõeleht). I would rather say that the chromatic kannel started to live its own life: it has many more possibilities than the previous types of kannels.
Can you tell us a little about the new work by Helena Tulve that you play on this recording, Silmaja [Beholder]?
Silmaja was originally written for three kannels, and was commissioned for the opening ceremony of KUMU Art Museum in 2006. Helena Tulve says she imagined a walk in an art museum where we could have a look at different art works. The solo kannel version, which I play on the CD, was created in 2007. There is also a version for kannel and harpsichord, and last year a version for kannel and electronics. Helena is a great composer and a friend, and our collaboration is very much ongoing!
To many listeners the kannel's sonority seems to sit exactly halfway between the harpsichord and the harp. You're playing primarily adaptations of keyboard works here; is it practical to play arrangements of harp repertoire as well?
We can indeed make arrangements from different instruments' repertoire - harp repertoire in particular. I would say from my experience that the early music repertoire in general is easier to adapt; the contemporary harp repertoire uses the glissando scales in different tonalities which sometimes are not possible for the kannel to play as glissando, so whether there will be enough time to play these scales digitally depends on the character of the piece. Another difficulty is the big difference in the range between the modern harp and the kannel: the modern harp range is C1 (three octaves below the middle C) to G7 (three and half octaves above), and the kannel range is G2/F2 or in some cases C2 to A3 or C4. I also arrange pieces originally written for the viola da gamba and lute etc. First and foremost it has to be inspiring music, which makes me search for possibilities to arrange it for my instrument.
Despite its extremely long history as part of Estonia's folk tradition, formal tuition on the kannel seems to be relatively new – with it entering the syllabus at the Estonian Academy of Music and Theatre only in 2002. What do you think has prompted this revival of interest?
The first chromatic kannel class was formally founded in 1949, and since then chromatic kannel has been taught in children's music schools. Els Roode, the grand old lady of kannel, has done a magnificent job popularising the instrument, developing teaching methodology, building up the education system and so on. All these decades of lasting work by her and her colleagues led to a kind of "recognition" of the kannel in classical music circles, so that launching a kannel class in our Estonian Music Academy became possible; the class is taught by Kristi Mühling, who also was my teacher there. The kannel as an instrument is still evolving, as is its repertoire: every professional player can find their own unique path, contributing to the kannel's evolution. I hope that my musical work does that too.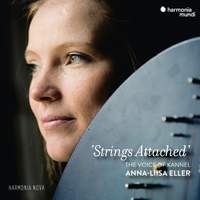 Anna-Liisa Eller (kannels & psaltery)
Available Formats: CD, MP3, FLAC, Hi-Res FLAC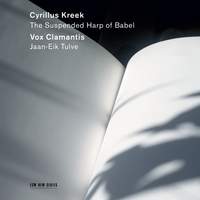 Vox Clamantis
Available Formats: CD, MP3, FLAC, Hi-Res FLAC