23rd July 2021
 Recording of the Week

,

  Korngold's Die tote Stadt from Munich
The old adage that one should never judge a book by its cover is certainly being borne out by the Bayerische Staatsoper's new label, which takes no-frills design to a whole new level – no evocative imagery or glamorous artist-photos for Team Munich, just the starkest of text on the plainest of backgrounds. The richness and detail is all on the inside, as amply demonstrated by a revelatory Mahler Seven from Kirill Petrenko last month, and this DVD/Blu-ray release of Korngold's 1920 opera Die tote Stadt also testifies to the maxim that true beauty comes from within.
Though the opera has enjoyed a huge surge in popularity over the past few decades, it's remained relatively elusive on UK stages - I've never had the pleasure of seeing it live, but can scarcely imagine a better first encounter than Simon Stone's brilliantly cinematic staging, filmed in late 2019. The work centres on the emotional journey of Paul, a young widower living out a shadowy, closeted existence in the 'dead city' of Bruges as he struggles to come to terms with the death of his wife Marie; in a development which strongly prefigures Alfred Hitchcock's Vertigo from nearly four decades later, he embarks upon an ill-advised relationship with a vivacious dancer named Marietta and becomes fixated on refashioning her in his late wife's image.
As the action unfolds, the line between reality and illusion becomes increasingly blurred, and Stone's production has us constantly questioning whether we're viewing Paul's fever-dreams, flashbacks or fantasies as opposed to real-life events – it eventually transpires that the last two acts take place entirely inside the protagonist's head, but Stone peppers them with so much plausible detail that we can never be entirely sure. (Marietta's uproarious post-performance party, complete with bottles of Absolut Vodka and Bombay Sapphire, certainly feels as tangible and earthy as they come, and it's only when the children playing in the various rooms of Paul's pristine, minimalist apartment at the opening of Act Three multiply to nightmarish levels that we suspect something's amiss).
The central roles of Paul and Marie/Marietta are enormously taxing from a vocal, emotional and in this case physical point of view (the sex-scenes are never gratuitous but frequently athletic), and both Jonas Kaufmann and Marlis Petersen are utterly fearless in squaring up to their demands. I've remarked before that Kaufmann is almost more compelling on screen than he is on stage, and Petersen matches him for nuance and drama at every turn, whether as the broken, cancer-ridden Marie (the 'lock of hair' which Paul cherishes is here a wig she was given after chemotherapy) or the uninhibited, sensual Marietta who channels Salome as she attempts to seduce her damaged love-interest with a sort of Dance of the One Veil using Marie's scarf. Hitchcock, one feels, would have loved her. Vocally, too, the pair feel completely inside their roles, riding the large orchestra with ease in the many strenuous passages (Petrenko's ever-sympathetic conducting helps), and heartbreakingly tender in the opera's Big Tune 'Glück, das mir verblieb'.
The third knock-out performance comes from the pit: Petrenko clearly adores this score, and ensures that every detail of Korngold's precociously brilliant orchestration comes across loud and clear. He also plays an absolutely crucial role in the characterisation of Marietta, refusing (like Stone and Petersen) to fall in with Paul's vision of her as the whore to Marie's Madonna by imbuing her music with real heart and warmth, especially in the moments where she's at her most sensual and where others might be tempted to turn up the sleaze-factor. And it's a joy to have the camera trained on him for long stretches during the preludes to Acts Two and Three – is there another conductor today who radiates such sincere, understated love for the music and his musicians in every phrase?
With live performances only just getting back on their feet it may sound like faint praise to say that this Tote Stadt is the best thing I've seen all year, but even in normal times it would be hard to beat. Let's hope for a DVD release of Petrenko's Munich Tristan (also starring Kaufmann in his role-debut), which is being live-streamed next Saturday…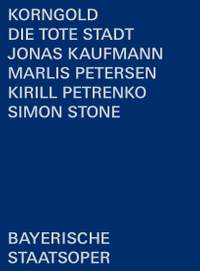 Jonas Kaufmann (Paul), Marlis Petersen (Marietta), Andrzej Filonczyk (Frank/Fritz), Jennifer Johnston (Brigitta), Mirjam Mesak (Juliette), Corinna Scheurle (Lucienne), Manuel Günther (Gaston/Victorin), Dean Power (Graf Albert)
Bayerische Staatsoper, Kirill Petrenko, Simon Stone (director)
Available Format: 2 DVD Videos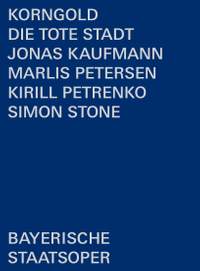 Jonas Kaufmann (Paul), Marlis Petersen (Marietta), Andrzej Filonczyk (Frank/Fritz), Jennifer Johnston (Brigitta), Mirjam Mesak (Juliette), Corinna Scheurle (Lucienne), Manuel Günther (Gaston/Victorin), Dean Power (Graf Albert)
Bayerische Staatsoper, Kirill Petrenko, Simon Stone (director)
Available Format: Blu-ray