24th June 2021
 Interview

,

  Hervé Niquet on La flûte enchantée
Shortly before theatres across the world began closing their doors last year, the French conductor Hervé Niquet presided over a Zauberflöte with a difference at Versailles: performed entirely in French by a predominantly Francophone cast, in a family-friendly new staging by Cécile Roussat et Julien Lubek, the results were described as 'a very Gallic Magic Flute' by this month's BBC Music Magazine, who also praised Le Concert Spirituel's 'clean-limbed musical textures and attention to instrumental detail'.
In the wake of the recording's release on the Château de Versailles's own label last month, I spoke to Hervé about the work's reception-history in France, the joys and challenges of performing it in translation, and whether he thinks that other Mozart operas might benefit from similar treatment...
(This interview was conducted in French over Zoom - huge thanks to Alice O'Reilly for acting as interpreter and for transcribing and translating the conversation, which has been lightly edited here for concision).
Can you tell us a little about the early reception and performance-history of Die Zauberflöte in France?
There have been two arrivals – if we can call them that - of Die Zauberflöte in France. The first was in the eighteenth century: some French producers heard about its success in Austria and so the Imperial Academy of Music created their own version - for example, they didn't have a coloratura soprano in their troupe, so the Queen of the Night was sung by a mezzo. Le Concert Spirituel recorded this version, called Les Mystères d'Isis, in 2015. This version endured until the end of the nineteenth century, when there began to be a demand in France for giving foreign works in French - one, two, maybe even three French translations of Die Zauberflöte were prepared and performed for the French public in the 1890s. The same thing happened in Great Britain with the English National Opera.
When Laurent Brunner, the director of the Royal Opera of Versailles, asked me to do Die Zauberflöte but in French, I told him he was crazy, and that we were going to be murdered by the press! He told me that he didn't care about the press; what he wanted was to have kids and grandmas and grandpas who didn't understand a word of German coming to the opera with no preparation whatsoever. Well, I'll tell you, I was the first one to like it! Obviously, it's a work that I know well: I've conducted it in German, with the spoken texts sometimes in French and sometimes in German, but this time, it was Mozart in French all the way through! I saw members of the audience coming out of the performance so happy to have finally understood Die Zauberflöte and who felt they'd attended a show rather than an opera. The Brits were again right with their ENO!
Do you feel that the time Mozart spent in Paris had any influence on the score?
Objectively, no, I don't think so at all. On the other hand, Mozart appreciated the Parisian public when he came two or three times to Paris; he even composed for Le Concert Spirituel (namely 'my' ensemble!) around 1780, and it is said that he enjoyed being with French people. I found a letter from Mozart to his father, describing his first commission for the Concert Spirituel, which was the biggest orchestra in the world at the time, with sometimes more than 200 people on stage!
There was a tradition at the Concert Spirituel that the first three chords in the concert always had to be very loud, and so his commission was to compose a symphony starting with three loud chords. The letter from Mozart to his father says "I really mocked the French, it was really funny. I was asked for three loud chords, and I gave them eight bars of pianissimo!". During the first eight bars, the Parisians, disappointed, grumbled. But at the ninth bar, there were three loud chords and the Parisians all laughed - they loved it and it was in the bag! This experience was his first contact as a composer with the French audience.
Do you think that Die Zauberflöte had any influence on the subsequent development of opéra-comique in France?
I don't think so, no. The first version the French heard of Die Zauberflöte at the end of the eighteenth century was completely inauthentic. It was made into something quite serious - a kind of opera seria with arias one after the other - and of course it was a little bit esoteric, so it wasn't really a good example. After that it was too late, because the eighteenth-century version had arias taken from all of Mozart's operas: not even half of the music was from Die Zauberflöte, so no-one really knew what it was back then! When Die Zauberflöte was finally given with its true music at the end of the nineteenth century, the period of comic opera had passed - it was the time of operetta. So, no, I don't think it had much influence.
In reality, I think that the tradition of comic opera in France from around 1820 until the first performances of La flûte enchantée (in French and with all its music) at the end of the nineteenth century enabled us to really appreciate it in its entirety. And a hundred years later in Versailles I was aware of the same reaction, when people finally heard Mozart's music in French.
How much did the opéra-comique tradition influence the staging that you did in Versailles?
Julien Lubeck and Cecile Roussat are two little elves! They are dancers, acrobats, tightrope walkers, comedians and, secondarily, producers. Let's remind ourselves of the context of creation of the piece: it was for families, it was to have fun, it was really a kind of musical that was for everyone! Whilst respecting the piece, Cecile and Julien put aside the esoteric, mystical aspect and all that stuff about hidden messages and freemasons - they transformed it into a child's dream, which starts and ends in a bed. It's absolutely magical.
At the end of the show in Versailles I heard a reaction which I liked very much. A father had managed to take his three boys, 7, 12 and 15 years old - 12 and 15 are quite the silliest age for boys - to the opera, even if they didn't want to go to 'the opera'. When he asked them "So how was the opera?" they said "It wasn't an opera!" "You looked quite happy in there!" "Yeah, but it wasn't an opera, we came to see a show and it was really fun!" So there you go, Cecile and Julien created a show for everyone: the old, the young, the more-or-less willing adults, and everyone had fun. They loved Mozart's jokes, they loved the music and you didn't have to think too much because everything was clear and explained, and there were no hidden messages – well, you could see the three 'freemason points' more or less everywhere, but it was just in the background.
The staging was full of imagery, and transforming all the time: a monster appeared all of a sudden, there were very tall ladders, and all sorts of things. I absolutely loved it, as a honorary member of the audience watching from where I was conducting - and I didn't even have to pay!
How did your cast of largely Francophone singers respond to performing the piece in their native language?
It's a very good question because all the singers had already sung it in German, absolutely everyone, so they had to start all over again. It was quite a learning process, because obviously the text has changed: we had to match the French text to Mozart's melody, and in quite a lot of places there were too many or not enough syllables… It doesn't change the melody in general, but it did change the prosody. They essentially had to learn a completely new work, because of the language, the breaths, and the tempi I took: I decided to follow Cecile and Julien's approach, which is mindful of the fact that there is some tenderness in this work but very little which is not energetic. I didn't let the singers perform Mozart thinking "Oh my god, it's the role of my life, I am playing Pamina! I am playing Tamino!" - no, we did a comedy together. They also realised that there were things they didn't quite understand: for example, while they knew the meaning of the texts they were singing themselves, I often noticed they hadn't quite assimilated what the other singers' responses were, so they didn't understand the whole shape of the conversation. They had to rediscover and relearn a work they thought they knew.
Do you think it would be worth doing the other Da Ponte operas in French - or is Die Zauberflöte a special case?
I am certain it's worth doing for all of them! When I was a pianist at the Opéra de Paris, I came to London for three weeks to accompany the ballet at Covent Garden. As I was only working mornings and afternoons, in the evenings I went to a phenomenal number of musicals and operas! And one evening, I saw Carmen at the English National Opera, in English. You cannot imagine the joy I had - I could see people around me who felt it was their music!
There are some editions of the Da Ponte operas in French from the end of the nineteenth century, and I'm sure reviving them will result in something new. Most of all, it will force the producers of today to create a work in French for the French public rather than making some sort of aesthetic or intellectual object. As has been the case with Die Zauberflöte in French, I'm sure it will change a lot for our audiences. In short, I think it would be indispensable - and I'm absolutely up for it!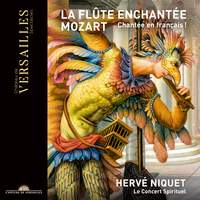 Mathias Vidal (Tamino), Florie Valiquette (Pamina), Marc Scoffoni (Papageno), Lisa Mostin (La Reine de la Nuit), Tomislav Lavoie (Sarastro), Olivier Trommenschlager (Monostatos), Pauline Feracci (Papagena)
Le Concert Spirituel, Hervé Niquet
Available Format: DVD Video + Blu-ray + CD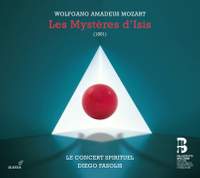 Chantal Santon-Jeffery (Pamina), Marie Lenormand (Mona), Renata Pokupić (Myrrène), Jean Teitgen (Zarastro), Tassis Christoyannis (Bochoris), Sébastien Droy (Isménor), Camille Poul (1ère Dame, 1ère Suivante), Jennifer Borghi (2e Dame, 2e Suivante), Élodie Méchain (3e Dame, 3e Suivante)
Le Concert Spirituel, Flemish Radio Choir, Diego Fasolis
Available Formats: 2 CDs, MP3, FLAC, Hi-Res FLAC