17th June 2021
 Interview

,

  James Ehnes on working from home
As opportunities for live performance and conventional studio recordings shut down last year, many musicians found themselves on a pretty steep learning-curve in terms of mastering the technology and logistics required to stream performances from home in high-quality audio and video - but the Canadian violinist James Ehnes took the challenge one step further by recording a CD of the Ysaÿe sonatas from his living-room in the wee small hours, once traffic-noise and his young family had fallen quiet for the night.
I spoke to James about the pleasures (and potential pitfalls!) of recording from home, how lockdown prompted him to rethink his approach to practising, and the joy of 'bubbling' with the other members of the Ehnes Quartet for their new Beethoven project - the first volume of which is released on Onyx today...
Had you always had an active interest in the technical side of the recording-process before circumstances forced your hand?
I'd like to say that I was a keen observer, but frankly I always treated producers and engineers like magicians – I knew very little about the process, but I made some great friends along the way and that's what allowed all of this to happen. Simon Kiln, who's produced a lot of my albums over the years, has become a very close friend, and I relied on him so much throughout all of this. When things started shutting down last year, various European festivals where I was due to play (Prague Spring, for instance) got in touch to say that whilst all live events were going to be cancelled, they could offer me some money to produce a programme from my home. Naturally my answer was 'Sure, no problem, I can definitely do that!'…then I went to my wife and said 'How on earth is this going to work?!'. I got in touch with Simon and a few other friends in the business and discussed the possibility of investing in some proper equipment – not something that was going to break the bank, because of course there was no income, but something that would allow me to produce recordings that were respectable from a technical standpoint.
In the early days I'd record things for the festivals and send the audio to Simon, who'd suggest trying the mics at different heights, angles and distances; then we got to a point where he said 'You know, your room sounds really good there…you could do some actual CD recordings from your house'. It was a total stroke of luck: we built this house fairly recently, and I'd always had the idea that we could empty out the main room now and again to hold little house-concerts, but it ended up being an even better-sounding room than we could have hoped for. But I made some incredibly embarrassing mistakes with a few of those early things – for instance when I did the Bach G minor sonata for a European festival and 'recorded' the entire thing only to discover I hadn't actually pressed Record…! Then there were all sorts of little domestic things to remember, like making sure I'd gone down to the basement and turned off the refrigerator before I started recording...
How much redecoration was involved in terms of removing soft furnishings etc?
I stripped the room clean! Our living-room/dining-room became what the kids called 'The Disco' - they could play around to their hearts' content, because there were no rugs or furniture. And with two little ones in the house the only time I could really record was at night: we're lucky to live in a very quiet neighbourhood, but as it's by a river there are boats going by during the day, so the recording sessions would take place generally between about midnight and 4AM. That did get a little bit draining, because I could only grab about three hours' sleep before the kids woke up! My wife was a super-hero throughout all of this, taking care of them as well as me!
Had you already planned to record the Ysaÿe sonatas before lockdown, or was it a case of making a virtue of necessity?
It was one of those things that I always figured I should do, and a lot of people had nudged me about it before. I'd played a couple of them a lot, but there were others I'd just never devoted the time to – not because I didn't love them, but simply because I hadn't gotten around to it. When things shut down it was the first time in a long time that I'd been forced to rethink my attitude to practising: I've always admired students and amateur musicians so much, because they practise and learn things without the spectre of a performance looming up. For so long I simply practised what I had to practise: in between learning new concerti that had been commissioned and pieces of chamber music for my festival, there wasn't much opportunity to just sit down with a bunch of solo violin music. So properly coming to terms with all of these Ysaÿe sonatas was my lockdown practice, and it wasn't until I was pretty far into it that I realised it might also be possible to record them…
It was performing Sonata No. 2 for Prague Spring that really got the ball rolling: I remember thinking 'Why not learn the lot? How hard can it be?!'. That whole concept seems foreign to me already now, because even though things still aren't back to normal at that point I had nothing but time and fear of unemployment, and it's amazing what time and fear can do for motivation!
How do the technical challenges compare to those of the Paganini Caprices?
I hate to state the obvious, but all of this music is as hard as you are willing to refine it. I would say that honestly there is nothing harder than the Paganini: I think they're in a different category from anything else in terms of the scope of trying to do, but what they're trying to do is fundamentally different to Ysaÿe. I feel like when you play this music by violinist-composers you get a certain sense of how their hands worked, and then you have to figure out how to do it even though your mechanism might be slightly different. I don't mean to discount the challenges of Ysaÿe, but I get the sense that he was a very great violinist who truly enjoyed playing the violin: sure, there are a lot of things that are hard to do, but they also fit under the hands and once you get past a certain point they become really fun to play around with. With Ysaÿe, I rarely come across things where I think 'Well, he's just put this in to be difficult!', whereas in the Paganini Caprices there are lots of passages where his mindset seems to have been 'I'm going to write this thing that no-one can nail except me!'. The Ysaÿe sonatas are quite joyous pieces: they were designed to be colourful and dramatic, and to celebrate everything that the violin does.
How much of a sense do you get of the six quite different personalities which inspired each of these sonatas?
For my video for the Bach partitas it was really fun pairing each one of the Ysaÿe sonatas with one of the Bach: it make me think about how they were characterised, and I really do enjoy treating them as a series of portraits or tone-poems. Some of the dedicatees were players that I know relatively little about, and that sadly history knows relatively little about – I scoured the internet trying to find a recording of Mathieu Crickboom [the dedicatee of Sonata No. 5], and I got nothing. That Fifth Sonata – what an incredible evocative unique piece that is. And the Fourth Sonata, for Kreisler: much of that piece sounds like it could've been written by Kreisler himself!
Then there are of course the connections with Jacques Thibaud and Joseph Szigeti, and the way that that first Ysaÿe sonata is such an incredible tribute to the first Bach sonata: same length, same number of movements, even the same keys! Another thing which the lockdown brought was time to call people up and talk about things, and I had some fascinating conversations with people in America about Josef Gingold – he actually studied with Ysaÿe, and so much of the American violin world was influenced so strongly by him. I met myself when I was young, but chatting to friends who knew him really brought him to life: they were full of stories of how he approached this or that passage, straight from the source. I don't go as far down those paths as some people, who take his bowings and fingerings as gospel, but it did make the music feel very alive and new. I enjoyed that part a lot.
Moving onto the Beethoven project with your quartet, at what stage did you realise a conventional recording set-up wasn't going to be possible?
We were holding off as long as we could, and I guess it was in late June that we realised that there was no way that we were going to be able to go ahead as planned in August. We'd been booked to travel to the UK and record at the Wyastone concert hall (which is my favourite recording-venue), but as the summer progressed it was clear that that wasn't going to happen! The other violinist in our quartet, Amy Schwartz Moretti, is the head of the Robert McDuffie Center for Strings, and they have a very beautiful concert-hall where we'd performed as a group a lot; her husband Steve is a recording-engineer as well as a percussionist, so we started thinking about the possibility of recording closer to home. Amy investigated and found that the hall could be available for the time that we'd all set aside for the project, and we figured out a schedule that would allow Simon Kiln to produce the recording remotely from the UK despite the different time-zones. We'd tried this arrangement before with my solo recordings and had a few technical glitches, but this time it was like he was right there with us: we had his face on Skype and his voice over the talkback as he was monitoring the hi-res stream in real time, and amazingly it came out without a hitch!
And there were advantages: not having to fly over to the UK and settle and fly back left us with three or maybe even four more days in the schedule than we'd initially bargained for. The Beethoven quartets were really part of the reason that we formed the quartet, and we've done several live cycles, including a couple during lockdown. Two weeks before we met up to record we hadn't settled on which ones we were going to do…then when we gained this extra time we basically decided to start near the end and see how far we could work our way back! Our initial plan was to record two CDs, and we ended up recording four; we have everything from Op. 74 through to Op. 131, and they'll be appearing over the course of the year on Onyx.
And how did things work in terms of social distancing: did you still need to quarantine together before going into the studio?
Last summer it felt like we were practically living together: we were very much a bubble. I love the way our quartet plays and what we're able to do musically, but what I also really love about it is how close we are personally. Some of the really great quartets have worked out a separation where their personal lives and their professional lives don't overlap, but we aren't like that: we're a big, lovey-dovey family! So it wasn't at all a burden for us to live as a unit with our immediate families included, which was fortunately permitted by the regulations in place in our state at the time – in fact that was special too, because it added just a little bit of normalcy during what was a very abnormal time.
You can watch James's house-recitals of Bach and Ysaÿe via his website .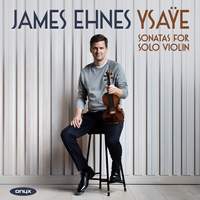 James Ehnes (violin)
Available Formats: CD, MP3, FLAC, Hi-Res FLAC
Ehnes Quartet
Available Formats: CD, MP3, FLAC, Hi-Res FLAC