26th May 2021
 Interview

,

  Ian Page on Arne's Artaxerxes
Back at the beginning of 2011, my colleague Chris was blown away by a new recording of Thomas Arne's Artaxerxes from conductor Ian Page, following a spectacular production of the opera at Covent Garden's Linbury Theatre which marked the tercentenary of the composer's birth. Setting a hugely popular libretto by Metastasio, Artaxerxes was written for some of the most celebrated singers of the day, including the scandal-stricken soprano castrato Giusto Fernando Tenducci - and though complete performances of the opera are comparatively rare, the arias 'The Soldier Tir'd of War's Alarms' and 'O, Too Lovely, Too Unkind' became favourites of Dame Joan Sutherland and Marilyn Horne respectively.
In the wake of the re-release of the recording on Signum earlier this month, I spoke to Ian about the fascination which Metastasio's libretto exerted over eighteen-century composers, Artaxerxes's near-unique status as an English-language opera seria, the fire which destroyed Arne's original manuscript, and the reconstructive work which was necessary to bring it to the stage (and studio) for Arne's 300th birthday...
Metastasio's libretto for Artaserse/Artaxerxes proved enormously popular in the eighteenth century, receiving almost a hundred complete settings as well as providing material for numerous concert-arias. Why do you think composers found this text so inspiring, and is there any evidence that Arne knew any of the existing settings when he began work on his own opera?
Metastasio was the go-to librettist of the mid-eighteenth century, and Artaserse was one of several of his librettos that was set well over fifty times before the end of the century. Because his style eventually became outdated (for musical more than for literary reasons) he doesn't nowadays get the credit he deserves, but his librettos feature such searingly intense and psychologically insightful scenarios that they must have seemed like a gift to the composers of his day.
I'm not aware of any complete versions of the libretto for Artaserse that were composed for London before Arne's English-language setting, but the plot would have been familiar to Arne, and he may well have seen 'pasticcio' operas cobbled together around the story-line. Handel, for example, incorporated twenty arias from Vinci's Artaserse when constructing the London pasticcio Arbace in 1734 (when Arne was 20). Any such creations were commonplace, however, and unlikely to have exerted a significant influence on Arne's work. More telling are the dramatic set-piece arias that Metastasio's text affords.
To what extent was Arne's writing influenced by the special qualities (or demands!) of the star singers who were engaged for the premiere?
The three main roles (Mandane, Arbaces and Artabanes) were clearly influenced by the talents of the three singers for whom they were written. Charlotte Brent (Mandane), Arne's former pupil and allegedly his mistress, is given arias of dizzying virtuosity, while the Italian castrato Tenducci was provided with numerous exquisite opportunities to demonstrate his mellifluous 'cantabile' style. John Beard (Artabanes) had created many of Handel's leading tenor roles earlier in his career, including the title roles in Samson, Judas Maccabaeus and Jephtha, and he was now the manager of the Theatre Royal Covent Garden (where Artaxerxes was premiered) so it was in Arne's interests to keep him happy!
Was there any precedent at all for opera seria in English before Artaxerxes, and is there any evidence that inspired other British-born (or domiciled) composers to try their hand at the genre?
No, curiously Artaxerxes seems to have been a complete one-off. Handel had turned away from Italian 'opera seria' twenty years previously and decided oratorios in the English language were the way to go, but as far as I know Artaxerxes was the only attempt to recreate the style of Italian 'opera seria' in English. Even then, whether by accident or design, it incorporated several of the characteristics that were evolving in mainland Europe, with hardly any full 'da capo' arias. Indeed, many of the arias are only two or three minutes in duration, enabling the plot to sweep forward far more swiftly. Even with twenty-eight numbers (twenty-six arias, two duets and a finale) the full running time is less than 140 minutes.
How much of the score was destroyed in the fire at the Theatre Royal in the early 1800s, and how did you go about reconstructing the lost passages?
The whole score was destroyed, along with a large amount of other music. Luckily though, Artaxerxes had already been published in full score, so most of the music survives – the twenty-six arias, the two duets and the overture. As was common at the time, the published score omitted all the recitatives and the ensemble finale (it was assumed that no one would want to perform these in their own home), but crucially the libretto (Arne's own translation of Metastasio) has survived. For our 2009 production, therefore, I composed new recitatives (the libretto specifies when recitatives were accompanied by continuo only and when by the orchestra), and Duncan Druce – who sadly passed away in 2015 – composed a new finale (again, the libretto stipulates when the cast sing in pairs and when in full ensemble). In both cases the aim was to match invisibly the style of Arne's music.
With the exception of a couple of arias which continued to be championed by star singers in recital, the opera rather lost its foothold in the repertoire during the late nineteenth and twentieth centuries – why do you think this happened, and what set you on its trail in the early 2000s?
I think this was almost entirely down to the fact that the opera hadn't survived fully intact (plus the fact that England wasn't exactly renowned for its operas during this period so it wasn't an obvious hunting-ground!). It's ironic that the arias only survive because in the eighteenth century there was a market for performing individual arias out of context, but because Artaxerxes was scarcely performed at all during the twentieth century a lot of singers (and audiences) are still unaware of the quality and beauty of many of its arias. Even as early as 1791, when he first came to London, Haydn was reportedly astonished that we had such a good opera in the English language.
I came across the opera about twenty years ago when I was programming a 'Mozart in London' concert at Wigmore Hall – Mozart would almost certainly have heard Artaxerxes during his childhood visit to London, and it's interesting that the three Italian concert arias that he wrote during the course of his return journey to Salzburg are all settings of texts from Metastasio's Artaserse.
Since the recording was first issued in 2011, there's been a quite extraordinary rise in high-lying countertenors who are capable of singing soprano castrato roles as written…If you were to put on a performance today, would you consider casting a male singer in the demanding role of Arbaces?
I would certainly consider it, but if I'm honest I would be surprised if I ended up choosing a countertenor over a mezzo-soprano for this role. It's become a rather uneven playing field in recent years, and while I hope there will always be wonderful exceptions to such trends I generally find that mezzos have a more secure technique and a greater warmth to the sound, which to me feels crucial for a role of such emotional depth.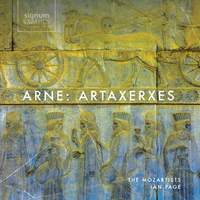 Christopher Ainslie (Artaxerxes), Elizabeth Watts (Mandane), Caitlin Hulcup (Arbace), Rebecca Bottone (Semira), Andrew Staples (Artabano), Daniel Norman (Rimenes)
The Mozartists, Ian Page
Available Formats: 2 CDs, MP3, FLAC, Hi-Res FLAC, Hi-Res+ FLAC