19th May 2021
 Interview

,

  William Towers on Handelian Pyrotechnics
Despite an extensive opera and oratorio career and appearances on numerous albums, particularly of Bach, countertenor William Towers' name might not be immediately familiar to aficionados of recorded music; an evident perfectionist reluctant to record repertoire that he isn't fully happy with, he has made us wait almost a quarter of a century for his solo debut.
Now, under the baton of Christopher Monks at the helm of Armonico Consort, Towers treats us to a feast of Handelian artistry, with arias ranging from the languid and well-loved (for instance the immortal Ombra mai fu from Serse) to the dazzling titular pyrotechnics. I spoke to him about the journey he's been on with Handel's music through the course of his career to date.
The term "countertenor" has meant many things across the centuries – even within living memory it has sometimes referred to a modal voice, sometimes a head voice. What was the state of the countertenor voice when Handel was writing his Italian operas?
We know that countertenors existed in Handel's day and that he wrote parts for them, but only in English language oratorios not in Italian opera. This may have been a question of convention and fashion more than any particular musical choice - the public wanted to see the big Italian stars in opera seria rather than the parochial talent, and in particular they wanted to hear the castrati who were the big superstars of the day. It is a point of regular debate whether the modern countertenor voice is comparable to a castrato. One anecdotal snippet that suggests the two are not so far apart - the singer Tenducci passed as a 'castrato' for many years, and seems to have fathered some children too! which suggests he was in fact a countertenor.
You've performed extensively with Armonico and indeed many other groups in the past, with a number of appearances on John Eliot Gardiner's Bach Pilgrimage recordings, but this is your first solo album. What led you to choose this all-Handel programme?
I had a conversation many years ago with the conductor Nicholas McGegan about a solo album he had recorded with a celebrated mezzo-soprano. He described it as one of the most personal experiences of his musical life. I realised then that if a chance ever came to do the same it would have to be repertoire that I had a deep personal connection with - music that I had lived with. I grew up singing Handel with my family. I knew it would feel like I had my feet on safe ground.
Perhaps inevitably, many of these pyrotechnical arias represent moments of extreme emotion – rage, despair, and just occasionally hope too. Is there anything that you would say sets Handel's particular approach to this kind of "mad scene" apart from those of other composers?
From having sung so many of these roles and arias I can tell you that Handel was a singer's friend. He seems to know his voices, either through collaboration with so many accomplished singers or perhaps it was instinctive. I feel this from things like tessitura and phrase-length - the arias are constructed so that they are scaleable heights, not horrendous vocal obstacle courses. I have encountered far too many works by other composers that make it clear they have never got to grips with this concept. I also get the impression that Handel was led by the heart more than the head. From a musicological standpoint his music is simple and straightforward in tonality and structure; he was clearly more interested in the affect rather than in executing something terribly complex and clever that would astonish posterity.
Your notes mention Handel using particular keys – in this case E major – to convey certain emotions. How much association was there between keys and certain feelings in music of this time?
Tough question! This is a huge can of worms! It would take someone far more educated in these matters than I to do justice to this topic. The starting point for this is temperament. Equal Temperament, where all the keys are playable on one instrument with one set tuning, is a comparatively modern concept. Consequently I think we have lost this association between keys and particular moods as we have made all keys sound more or less the same. In the Baroque era many tuning systems existed and were being invented - Handel invented his own (I think!) which is called Neidthardt. This gives you wonderfully resonant fifths in certain keys and lends a bright shining feeling to E major making it 'heroic', and it also gives you 'wolf' fifths in other keys - a slight dissonance that a skilful composer could use for added piquancy in a particularly angst-ridden aria. Using different keys to characterise mood and feeling was a key component of the musical rhetoric of the Baroque: a composer needed to find the appropriate key to provoke a response in the soul of the listeners. In general more sharps in the key meant more brightness, more flats increased the sense of sombreness or sadness. F major seems to be a calm key, often associated with sleep arias, whereas G minor with its 2 flats is a common lamenting key.
You refer to having declined an earlier Handel recording opportunity due to not feeling artistically ready to do justice to the music – are there other arias of which this is still true for you, that might make it onto a future second volume?
We'll have to see how well this one is received! In terms of artistic development I still don't feel I've peaked which is both daunting and exciting. There is a Purcell aria that I started practising in my 2nd year of university (over 25 years ago) and which I sang last week in Budapest. It was the first time that I have sung it and sat down afterwards with a smile on my face and thought 'that is pretty close to where I want it to be'. There is still a lot of repertoire like that where I feel a sense of unfinished business.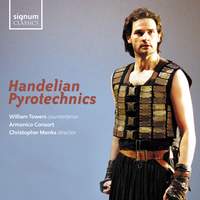 William Towers (counter-tenor), Armonico Consort, Christopher Monks
Available Formats: CD, MP3, FLAC, Hi-Res FLAC