5th May 2021
 Interview

,

  Miloš Karadaglić on The Moon and the Forest
When I spoke to Miloš Karadaglić eighteen months ago about his return to the concert-platform following a devastating hand-injury, he described the prospect of performing new concertos by Joby Talbot and Howard Shore as 'the biggest incentive for me to recover'; next Friday sees the release of the world premiere recordings of the two works, Ink Dark Moon and The Forest, on Decca. I caught up with Miloš over Zoom last month to find out more about the genesis of the two commissions, his passion for expanding the repertoire for guitar and orchestra, and the connections between his homeland and the epic soundscapes of Shore's Lord of the Rings scores...
How did these two commissions originate?
For many years it's been my great wish to inspire composers to write new concertos for guitar. I went around the world playing the Rodrigo concerto following the recording with Yannick [Nézet-Séguin] and the LPO, and it's been incredibly satisfying to have a chance to perform it with the greatest orchestras on all the continents - but I think that's where it stops for most people, because when they think of guitar concertos they think of Rodrigo and not really much else. There's a reason for that: the Rodrigo is absolutely mesmerising and iconic, but that shouldn't stop us creating new repertoire. Writing for the guitar is very difficult, so a lot of new pieces are written by guitarist-composers; they get performances in guitar societies and festivals, but they don't reach the mainstream.
When I started recording ten years ago I was pretty much the only guitarist in the classical mainstream, and suddenly there was a lot of responsibility because I was the one chosen to carry the flag for the instrument: it was something that I took very seriously, and it came at a huge cost to me personally. But that also brought incredible opportunities in terms of being able to make connections with composers and talk them into doing something constructive that's going to help you and generations after you. (Two of my heroes, Julian Bream and John Williams, did that throughout their careers). You can't force these things, but with Joby and Howard we clicked immediately and ideas started being thrown back and forth the very next day!
I remember going to see Joby's ballet Alice in Wonderland in London and thinking it sounded so unique: abstract and magical, but never losing the sense of beauty. After I heard that piece I knew he was going to write something spectacular, and I think I wasn't wrong: it's a complete spectrum of colour, emotion and feeling, capturing all the facets of my own personality and exploring the full range of possibilities for guitar and orchestra.
Both of these works are scored for a larger orchestra than we often hear in guitar concertos – was that something you specifically requested from the composers?
One of the first things I said to Joby and Howard was that I didn't want a piece that compromises because it's written for guitar and orchestra. Composers get scared about this genre by default because they have this preconception of the guitar being unable to cut through orchestral textures, but I think that's a problem that we can overcome so easily if we use technology to reinforce the guitar's sound and keep that idea in mind during the compositional process. I think modern composers understand that much better than was the case fifty or a hundred years ago, when that wasn't really used: the Rodrigo was written without amplification, but that's also the reason why half the orchestra goes away on a coffee-break! It's such a huge waste when you're playing with one of the best orchestras in the world and the moment your piece comes onto the programme half the players disappear. With that in mind, I begged Joby to write me something with full orchestra, where the soloist is supported by the orchestral sound rather than swamped by it - that's the whole point of a concerto, and if we have to use a few speakers discreetly positioned inside the orchestra so that the texture comes from within then I don't see a problem with that. It's my responsibility to make sure that my sound on stage feels as close as possible to the guitar's natural sound even if it's slightly amplified.
There are some intriguing percussive effects in the Talbot concerto – are these the result of extended techniques for the soloist, or do they emanate from the orchestra?
It's a bit of both: there are moments where the guitar uses techniques that sound more like they're coming from the orchestra and vice versa, so a lot of the musical ideas come from the guitar and get absorbed into the orchestra like a sort of resonating-board or echo. I think that magical conversation that's sustained throughout the piece is incredible, and I'm so excited about sharing it on this recording and eventually in live performances again.
You mentioned the anxiety which non-guitarists often experience when writing for the instrument: how much technical 'troubleshooting' did you do with these two composers during the working process?
With Joby there was a lot of back and forth – we were on two continents while the piece was being written, but we were constantly exchanging ideas. Joby has a guitarist friend in Oregon where he lives who gave some on-the-spot advice, and I tried to help from here as well, but really we were always on the same page. I think composers mustn't start by being scared: they must write a piece that they have inside them. It's my job to make it work for the guitar, and if something's totally impossible I'll tell you! The only thing I say to them is to focus on the open strings – the resonance of the guitar is E and if I need to tune to D that's fine, but don't write me a piece in F sharp major!
In both pieces it was so wonderful to have the opportunity to show what I can do as a soloist and have a platform to really express myself. In most concertos I often feel that when I finish I've not explored all the elements that I have inside me: people often say 'We loved you in the concerto but it's so short - we much prefer hearing you play recitals!'. I always wondered why they said that and then I realised that in a recital you're able to show this huge range of energy, colour and texture whereas in a concerto you're always on high alert, pushing and projecting. It's really exciting, but after all of that you always need an encore to bring the guitar 'back home' and create some delicacy. But what Joby did was to create a piece which allows me to be fully who I am, and he achieved that without even trying: I had a sixth sense about that from the first conversation I had with him.
Because Howard's a film composer I was really imagining an epic score, with lots of visual images and textures and colours: my way of thinking about music is very pictorial, so working with a film composer was very exciting. I fed him some ideas about Montenegro and its music and landscapes: I wanted to give him a clear picture of what the country is like, with the dark forests and the mountains and the sea. Montenegro is like the distilled landscape of all of Europe because it really has everything: there are only half a million people living there, and with all of those rocks and mountains it very much belongs in the world of Howard's Lord of the Rings scores. Hobbits and orcs would be right at home there!
I wasn't involved with the composition process beyond hearing the main idea for the second movement, then nine months later he presented me with the complete concerto. I didn't know what to expect, but even hearing it on a characterless midi file I was so moved because I could hear so many colours and little echoes of songs from back home. It's a very different piece from Joby's in that it treats the guitar in a conservative, classical way, but it also allows for a lot of imagination.
Given the restrictions of the past year, did you have the opportunity to perform these pieces as much as you'd like before taking them into the studio?
I've played the Talbot a couple of times and we premiered the Shore in October 2019, so I felt that when I went into the studio I wasn't going in cold. The recording process for these pieces is very different to a live premiere because in the studio you have an opportunity to record a version that's exactly how you and the composer hear it, without any limitations about the balance and the sound in the hall. The Shore was done in Canada at the National Arts Centre, which is an amazing acoustic, and the Talbot was recorded at Abbey Road – it somehow all felt very right, and there was nothing I'd have done differently even if circumstances were normal!
Last time we spoke you'd just returned from an extended sabbatical due to a hand-injury – did that experience prepare you for this year's lockdown in any way, or did it merely intensify the frustration?
A bit of both, really. On one hand I was well prepared, because I'd faced my demons a couple of years earlier, and I think the frustration with the latest enforced sabbatical came a little bit later because I was working very hard (and travelling a lot) for about two years after my injury. Just before I came back to London last March, I'd spent two months in North America performing almost every second day - it was a very intense time, and when I came home and everything started shutting down it felt weird but at the same time I really needed the rest. I'm a very careful person at the best of times, so I was very lucky to preserve my health and change my focus to things that I never had time for: reading, cooking, long walks, just being. Those first couple of weeks - even months – gave me the space I needed to reset, but like many people I never imagined this period was going to last this long.
The past year has certainly felt very different to the sabbatical after my hand-injury, because then I was under such pressure to recover rather than just reconnect with myself. It's allowed me to become a better musician, but it's also made me ask a lot of questions about our future and what our industry is going to look like at the end of all this – have we as a society done enough to preserve what we've been building for hundred of years? What is waiting for us out there? It breaks my heart when I hear about colleagues who've left the music world, when I see the West End in darkness and think about all the self-employed actors and musicians who've been without income for so long. But I'm so proud of Britain for achieving so much in the last couple months: I've lived here for 21 years, I've assimilated and become part of this amazing place, and we need to celebrate that.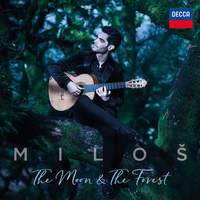 Guitar concertos by Joby Talbot and Howard Shore
Miloš Karadaglić (guitar), BBC Symphony Orchestra, Ben Gernon (Talbot), National Arts Centre Orchestra, Alexander Shelley (Shore)
Available Formats: CD, MP3, FLAC, Hi-Res FLAC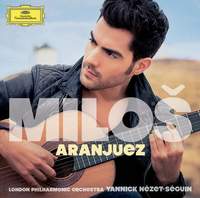 Miloš Karadaglić (guitar), London Philharmonic Orchestra, Yannick Nézet-Séguin
Available Formats: CD, MP3, FLAC, Hi-Res FLAC