1st April 2021
 Interview

,

  Ksenija Sidorova on Piazzólla's legacy
It's no surprise that Latvian accordionist Ksenija Sidorova has a close relationship with the music of Astor Piazzólla; the great Argentine composer arguably did more than anyone else to bring the instrument into the concert-hall. Her latest album, though, takes Piazzolla's music not simply as its focus but rather as a jumping-off point, with his Aconagua concerto juxtaposed with other works drawing their inspiration from him. Works by Sergy Voitenko, Pietro Roffi and Franck Angelis are interspersed with other Piazzólla favourites such as a movement from the Histoire du Tango and the ever-popular Libertango.
I spoke to Ksenija about how the accordion's place in the classical world changed through Piazzólla's efforts, and about the current state of the repertoire for an instrument that's often been rather neglected by composers.
Piazzólla's own main instrument was the bandoneon (with buttons), rather than the accordion (with keys) that you play; how readily can repertoire be shared between these two instruments? Is a lot of arrangement/adaptation necessary to make a bandoneon piece work on the accordion?
The difference between the two instruments is not only the keyboard/buttons, but also the timbre, the size, the attack and even the button system (the way they are arranged). However, no arrangement is necessary as it is all ready to be played on the accordion as well.
Piazzolla's music implies an element of improvisation which is up to the artist who is working with the score. Very often he would write a simple melody that one could freely play with, being a soloist. Such is the case with his chamber works on the album or the concerto.
I have a few 'prepared' improvisation versions usually for some parts. And once you know the piece very well you can let go and enjoy 'the ride in the moment' , especially playing with wonderful musicians such as my friends on the recording.
The Histoire du Tango suite is one of his most-recorded works, but the concept – four snapshots of the development of tango over time – is in some ways rather an unusual one. What do you think prompted Piazzólla to write this pastiche-style suite?
It is known that when Piazzólla came to study with Nadia Boulanger in Paris he brought lots of 'classical' scores which she famously looked at them and said 'she could not find Astor Piazzólla in them'.
I suppose because of his exposure to classical music from an early age and his studies with Ginastera and Boulanger the influence can be heard in his tango nuevo style, inevitably.
Two Keys to One Poem by J Brodsky is a work that you yourself commissioned from Sergey Akhunov. How do you find composers respond to the challenge of writing for an instrument that many of them may be unfamiliar with?
There is a significant interest from composers in our instrument these days. Its fresh, yet familiar sound appeals to many and the advanced technical abilities challenge new composers.
I came across Sergey Akhunov's name at the concert of my friend, violist Maxim Rysanov in London's Wigmore Hall. I loved his music instantly and asked Max after the concert if he would put us in touch. We met on Facebook and a few weeks later he had written this beautiful piece for accordion and string quartet- arguably my favourite chamber music combination!
Sergey had worked with accordionists in Russia before so he had full knowledge of the capabilities of the instrument, so this was a very easy collaboration. Sometimes a composer needs a long time or even to write several works first in order to familiarise themselves with the accordion and see what really works and what doesn't.
The centrepiece of this album is Piazzólla's concerto Aconcagua – what is the concerto repertoire like for the accordion?
There are a lot of concertos written for the accordion nowadays. From Gubaidulina to Tüür to Penderecki and Toshio Hosokawa.
I love the fact that Piazzólla's bandoneon concerto Aconcagua can also be heard very often on the accordion since this music is so beautiful and this 'adaptation' doesn't make the piece lose anything- for me this is the key to any arrangement. In fact when I play it I never think of imitating a bandoneon, but much rather to 'accordionize' it and give something special to it from our instrument.
You mention having recorded this album during a period of lockdown, which must have been a huge challenge; what were the logistics like, in terms of getting yourself into the same place as the other orchestras and ensembles without compromising safety?
The Aconcagua concerto is a recording from a concert with Thomas Hengelbrock and the NDR Orchestra from the Elbphilharmonie, recorded live in June 2018. The rest of the programme is either solo or chamber music which was recorded in beautiful Schloss Elmau, who generously offered their unique and stunning facilities to us in September 2020. This was a period when lockdowns eased slightly so we used the first opportunity to meet up together in Germany to make the record. It wasn't an easy task to get everyone in the same room, juggle with timings of PCR tests and lack of flights and trains, but we managed. And once we got together and were able to make music again after a long period of silence- all of the above mentioned obstacles were quickly forgotten! We were so happy!!!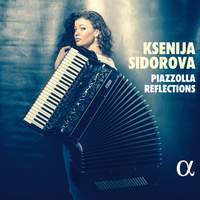 Ksenija Sidorova (accordion)
Available Formats: CD, MP3, FLAC, Hi-Res FLAC