5th April 2021
 Interview

,

  Martin Suckling on This Departing Landscape
Hailed as 'probably the most important figure in Scotland's music since James MacMillan' (Michael Tumelty, The Herald), Martin Suckling's debut recording showcases his writing for orchestra, both with and without a concerto soloist. His sources of inspiration are eclectic, including the art of potter and writer Edmund de Waal, the poetry of Niall Campbell and his own previous musical friendships. I spoke to Martin about what makes these works tick, and what influences have forged him into the composer he is today.
The flute concerto The White Road that opens this album was written for your former NYO colleague, flautist Katherine Bryan. How much impact has that early experience in the NYO had on you as a musician in the ensuing years?
I think if I had any idea at the time what kind of impact it was going to have I would have been paralysed with fear! As it was, though I knew I was lucky to be there, we were just teenagers having a good time doing the things we loved doing. There's the personal connections of course, with people like Katherine, or conductor Robin Ticciati, friends with whom you used to spend your holidays becoming colleagues you build a career alongside.
But also the incredible education of being part of this extraordinary music-making machine. The sound it made! There's nothing quite like being inside a 150-strong orchestra playing full pelt. It's just such an amazing instrument. And without being aware of it, I was learning how to compose for it, how to hear music orchestrally. In fact the one of the starting points for the title piece of this disc, This Departing Landscape was an attempt to recapture the experience of the weight, the sheer mass of sound I remember encountering in my first NYO rehearsal. So it's fair to say that early experience has stayed with me!
The White Road is also a nod to the creations and writings of potter Edmund de Waal, author of a book of the same name and someone you've collaborated with before. On the face of it, pottery and music might seem to have virtually nothing in common – how did his ceramic artworks inspire your composition?
I knew nothing about ceramic art before I first collaborated with Edmund de Waal, who I was introduced to by my friends in the Aurora Orchestra. I was pretty sure ceramics were just something you ate from. And similarly, I wasn't instantly aware of any parallels with music. But talking to Edmund and experiencing his work, opening myself to a new way of encountering objects – this changed all that. Music and ceramic art are (to take one commonality) both ways of inviting us to experience physical space anew. Sound fills space, we hear the size and shape of the room by way of the resonances that take place – and sound also has, in a way, weight, mass, body of its own, that morphs and transforms over time. Ceramic art, too, is an intervention in space: you place an object in a room or in a cabinet, or on a shelf and we experience that space in relation to that object; at the same time a ceramic vessel encloses a certain volume, contains space within it.
The way de Waal presents his installations, with collections of often quite similar pots in irregular spacings, creates a kind of rhythm – we're invited to experience time flowing through these static objects. And of course composing and performing music is fundamentally an art of persuading people to experience time in a certain way. So both artforms are a way of inviting contemplations of time and space, of time in space and space in time. I think they resonate with each other.
But, oops, I've not actually answered your question! Well, in The White Road I think it's quite audible on the surface, an idea of creating complete little units and placing them next to each other and exploring the relationships that these placings create.
You refer tantalisingly to having 'considered' titling your piano concerto after Niall Campbell's poem And this was how it started. In the end, it seems you didn't – did the work ultimately evolve too far from the initial inspiration of the poem's text?
Well the conceit of this poem is the sung creation of the entire world, so in a way it's impossible to escape the text's embrace! So it's more a question of emphasis, and the jumping off point I'm offering people when they encounter my music. That's another connection with Edmund de Waal, actually: the magic of the title is something he often talks about, and how the title is an inseparable component of the artwork. Niall Campbell's poem was the catalyst that 'allowed' me to write the piece, it lay open on my table throughout the whole eighteen-month process, and I probably read it at least every day.
But the piece isn't 'about' the poem in a direct way like that. In fact, the piece is more 'about' piano concertos, what it means to be a concerto, what sorts of things we expect and demand from our concertos and how these can be reimagined and renewed; what it means to write for soloist and eighteenth-century chamber orchestra in the twenty-first century. Ultimately I felt that people would have a richer experience of the piece if they were set up with expectations of 'concerto-ness' rather than expectations of a pictorial response to an evocative text. But of course I hedge my bets and describe the poem in the programme note anyway!
The title of This Departing Landscape comes from an observation by Morton Feldman on the nature of music. Feldman himself often seems rather overlooked – perhaps his vast, virtually static sonic canvasses are just too intimidating. How much influence do you think his music has had on our own generation of composers?
Ooh gosh, overlooked, do you think? Maybe that shows how out of touch I am! To me he's ubiquitous, his sensitivity to sonority and his approach to time passing are such a fundamental part of a composer's education. Or I think it should be, I guess! Perhaps his music is intimidating, in that the listening strategies we're used to from Mozart and Beethoven and so on don't apply, but if you put these to one side and perhaps hear more and listen less, then there's a hugely touching intimacy in spite of the scale, I think.
And he was such a wonderful writer and talker on music. There's a set of conversations between Feldman and Cage that were recorded in the 60s for US radio and they're floating around YouTube and they're just priceless, so full of wisdom and generosity and wit. But there's no denying the late works are long! I was once told a story of how he had brought a new recording of his second quartet to listen to with a friend, and after Feldman had quietly snored his way through it the friend gently pointed out that he had been fast asleep. "No, no. I was meditating." was the response.
As well as drawing inspiration from potters and poets, you've also studied with Robin Holloway, George Benjamin and other eminent composers. Who would you say were the main influences on your music?
This is both a very easy and very difficult question to answer! Trivially: everything. Everything I hear or play: if I like it, I want to steal it; if I don't like it I know more clearly what I'm aiming for. Certainly I've been really fortunate with the people I've had the opportunity to study with. Influence in that sense is I think more to do with a way of thinking about music rather than a specific sound. And it doesn't only flow in one direction – I've the great privilege of working with young composers through the University of York where I teach, and it's the conversations with them, and the effort to place myself in their ears, as it were, which I think is so important when 'teaching' composition (as far as one can do such a thing) that is perhaps the biggest influence on my composition. Certainly it's what challenges me and keeps imagination alive!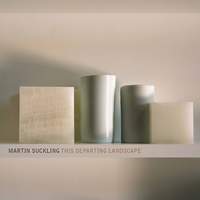 Tamara Stefanovich (piano), Katherine Bryan (flute), BBC Scottish Symphony Orchestra, BBC Philharmonic, Ilan Volkov
Available Formats: CD, MP3, FLAC