8th February 2021
 Interview

,

  Simone Menezes on Ensemble K
One of my personal favourites from last month's crop of recordings was Accents, the debut recording from Ensemble K (founded in 2019 by Brazilian conductor Simone Menezes), which features fresh, invigorating chamber performances of works including Copland's Appalachian Spring, Debussy's Prélude à l'après-midi d'un faune, and Borodin's Polovtsian Dances. I spoke to Simone over Zoom last month about the ensemble's genesis and mission-statement, how she and her players went about bringing out the various contrasting 'accents' on their eclectic programme, and K's plans for the immediate future...
Photo credit: Fabiana Capelo
Could you tell me a little about Ensemble K's philosophy, and how you came to found the group?
Classical and contemporary music have always been strongly interconnected for me: I grew up in Brazil and later on had the good fortune to spend a lot of time in Paris, and in both places different genres of music seem to co-exist very naturally. At one point fairly early on in my studies I met with a succession of people from British orchestras who came to Brazil as part of a programme to discuss the leaders of tomorrow, and what that might mean for the future of classical music - that was a real epiphany for me because all the ideas they brought to the table echoed my own vision. I think classical music is one of the real glories of humanity, but I also believe that we should approach it with respect for tradition rather than traditionalism: it's not a case of disregarding tradition altogether, but of seeing how we can adapt it for today.
Ensemble K basically was the culmination of these ideas: first of all it's very important for us to have a cosmopolitan vision of the world, because insularity in the classical music industry is something that does bother me at times. I remember once I went to a very traditional country (I won't name it!) and suggested we programmed some Villa-Lobos for a project and the response was 'Oh, well perhaps that could be interesting for the summer…'! That really brought it home to me that each country has its own ideas that aren't universal, so recruiting musicians from diverse backgrounds who have the ability to think outside the box was important. I was also very keen to find musicians who are able to connect with people in different ways: I wanted strong personalities who are comfortable giving masterclasses and doing outreach and educational projects, and are invested in chamber music as well as orchestral work.
I remember having such an inspiring conversation about this with the Concertgebouw's director Jan Raes, and he pointed out that it's all too easy for orchestral musicians to spend our entire professional lives having essentially the same kind of interactions with our audiences, even if our repertoire and programming is adventurous; they invested a lot of energy into exploring richer, more diverse experiences with the orchestra, including some projects in Africa, and that philosophy is something I'm trying hard to carry over into my work with K.
Do you hold 'blind' auditions for the ensemble?
It's a very difficult issue. I completely understand that 'blind' auditions play an important role in tackling racial and gender-based discrimination, but putting together a chamber ensemble is like organising a soccer team: you must have personalities that fit well together and have a very good balance going on. (My starting-point was two very vibrant personalities I'd known for years, the pianist Mara Dobresco and the wonderful violinist Manon Galy). I was keen for K to have a pretty wide age-range, from brilliant young players in their early twenties to people well into their careers, and we tweaked the line-up a little bit over time but I'm very happy with the ensemble we have now. At the end of the day, it was all more or less my choice: I guess that's a little different from the mindsets of most orchestras, but it does mean we've ended up with a very strong identity of our own.
I sense that your rehearsal-process is quite democratic…?
Yes, absolutely: actually, sometimes the discussion begins well before we get into the rehearsal-room! Right now I need to think of a project for next year, so yesterday we had a Zoom with all the team (with wine, of course!) and we came up with a storm of ideas for possible repertoire. Realistically, I do find that once you've got an ensemble of more than ten musicians it's almost impossible to listen to everyone's input - but you can still try to foster a culture of openness and make sure that everyone's comfortable with the artistic decisions you take. Our rehearsal-process is more or less the same: if I'm working with an ensemble that includes a pianist I generally like to talk to them first, then we'll usually have a string sectional where we discuss things in a masterclass-type format before we go into general rehearsal with everyone.
Do many of your musicians have parallel careers in non-classical music?
My double-bass player has a bit of background in popular music alongside his classical work – the others don't, but they're all very open-minded. For instance, our violinist Manon Galy recently performed a concerto by Camargo Guarneri (a Brazilian composer who uses a lot of folk music) with me and the Orchestre du Conservatoire de Paris, and she played it even better than some Brazilians! She spent a lot of time listening to Brazilian folk songs and trying to understand the idiom, so I guess it's a question of mindset – we must have musicians with real curiosity to make this kind of thing work.
Can you point to two or three specific musical decisions you took in order to emphasis the different 'accents' of the various works on the album?
In Appalachian Spring there's a moment that's basically a party in the country where everybody drinks a lot, and we spent half an hour trying to decide what kind of bow the strings should use for that - in the end we went for the sort of thing that Irish fiddlers play with. That kind of discussion's always interesting, but even more so when you have musicians who are genuinely curious and interested.
I think Appalachian Spring might actually be my favourite work on the recording: I loved trying to conjure up this landscape and build a story that takes in so many phases of American life...you have the marriage itself, the party afterwards, the children playing, and then the prayers at the end of the day. Today I read a review in Le Monde which was very complimentary about the Debussy, but said that the Copland felt a little bit less natural – that struck me as odd, because that was the piece that felt most natural to me! But it's also worth bearing in mind that when Copland wrote the piece he was sitting in a studio simply imagining all these landscapes, so maybe there's something not completely natural about the viewpoint anyway!
I loved doing L'après-midi too, especially because we did such detailed work with the woodwinds on the Debussy tradition: there are a few moments where I wanted the flute to take on an oboe-like sound, and when I listened back to the recording I punched the air because the colour-change was so well done! With the Borodin, the beauty was that it was a collective creation: the composer and arranger Vincent Paulet set up a kind of 'orchestration laboratory' with his students and asked them to take on one dance each, the challenge being to make a chamber ensemble sound like an orchestra.
You mentioned a Zoom discussion about future programmes…can you reveal any details on that at this stage?
Right now we're looking at a project for the Duomo di Milano, and my theme is métanoïa, a Greek word that translates roughly as 'change of mind': in the Bible it has connotations of repentance, but it can simply mean altering one's perspective or direction. Two pieces we are considering for this are Arvo Pärt's In spe and Puccini's Messa di Gloria, which make for an interesting contrast because in some respects they're polar opposites: Pärt is someone who composes in general for God, whereas Puccini came from a religious family but decided to compose almost exclusively for the theatre (in fact the Messa di Gloria is the only piece he wrote for the church). By putting these two pieces alongside one another we want to pose the question of what is really 'sacred' and what is 'profane'.
You were mentored by Paavo Järvi in the early days of your career: what lessons did you learn from him?
So many things! I think Paavo was my strongest influence: in musical terms, one of the most significant things he taught me was to conduct by phrases and not by measures, rather like thinking in sentences rather than words. That approach makes all the difference to the way you choose tempi. Another thing was the importance of breathing with the musicians, and knowing when to let them play and when to really give direction – finding that balance was really important. And from a non-technical viewpoint, something I respect enormously about Paavo (and which I try to reproduce in K) is his ability to create a safe environment to make art: even though we strive for excellence, we don't want to achieve that in a space where everybody's afraid to speak out.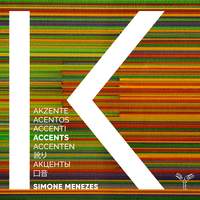 Simone Menezes, Ensemble K
Available Formats: CD, MP3, FLAC, Hi-Res FLAC