Latest update: COVID-19 Shipping Delays. Presto is committed to the health and well-being of our staff. Our warehouse team are currently working hard to ensure your order is despatched as quickly as possible. Unfortunately you may experience slight delays as some deliveries are taking longer than usual. Thank you
28th December 2020
 Obituary

,

  Ivry Gitlis (1922-2020)
The mercurial virtuoso Ivry Gitlis, who became the first Israeli violinist to perform in the Soviet Union in the 1960s and collaborated with musicians ranging from Jascha Heifetz to The Rolling Stones, has died aged 98.
Born to Russian Jewish parents in Haifa on 25th August 1922, Gitlis began playing the violin aged six and relocated to France with his mother in 1933, graduating from the Conservatoire du Paris two years later; his teachers and mentors included Bronisław Huberman, Jacques Thibaud, George Enescu, Alice Pashkus, and Carl Flesch. He spent much of World War Two in London, initially working in a munitions factory before being transferred to the artists branch of the British Army, and went on to form long-lasting relationships with several major British orchestras in the immediate aftermath of the war.
In 1951 Gitlis was placed fifth in the Long-Thibaud Competition, making his professional Paris debut later that year, and three years later his debut recording of Berg's Violin Concerto with William Strickland and the Vienna Symphony Orchestra was awarded the Grand Prix du Disque. Though Gitlis spent relatively little time in the studio for a musician of his stature, his discography includes fine recordings of the Mendelssohn, Tchaikovsky, Stravinsky, Sibelius and Hindemith concertos as well as most of Paganini's concertante and solo works, and showpieces by Wieniawski, Saint-Saëns and Kreisler.
Chamber music also played a significant role in his career - regular partners included Jascha Heifetz, Isaac Stern, Gregor Piatigorsky and Martha Argerich, with whom he recorded the Franck and Debussy sonatas in the 1970s. (Argerich performed alongside him in one of his last major concert appearances, a 2018 recital in Tel Aviv in which the 96-year-old Gitlis played several Kreisler favourites from his wheelchair, interspersed with his trademark badinage with the audience).
Gitlis's repertoire and musical tastes were eclectic, and throughout his career he dedicated much time and energy to bringing classical music to new audiences and breaking down boundaries between genres. As well as collaborating with contemporary composers including Bruno Maderna, René Leibowitz, Iannis Xenakis and Roman Haubenstock-Ramati, he worked with artists such as Yoko Ono, Marianne Faithfull, The Rolling Stones and Stéphane Grappelli, and in 1972 founded the Festival de Vence in southern France, where early guests included Dizzy Gillespie, Leopold Stokowski, Marcel Marceau, and Zubin Mehta. Informality was the festival's byword (in 1976 The New York Times described it as 'a kind of mini-Woodstock'), with Gitlis chatting to the audience between pieces, and performers tailoring their programmes to audience reactions long before such practices had become mainstream in concert-halls; a natural raconteur, Gitlis carried this spontaneous quality over into his masterclasses and media appearances elsewhere, frequently regaling interviewers and audiences with quirky anecdotes, quips and puns aplenty.
Gitlis became a UNESCO Goodwill Ambassador in 1988, and remained extremely active both as a performer and campaigner well into old age; he gave numerous benefit concerts in Japan in the wake of the tsunami and earthquake of 2011, playing an instrument made from wooden debris left by the tsunami. The following year saw the release of Tony Palmer's documentary Ivry Gitlis and the Great Tradition (filmed in 2004); Gitlis was no stranger to the camera by this point, having previously appeared in François Truffaut's L'histoire d'Adèle H (1975),The Rolling Stones Rock and Roll Circus (1996), Bruno Monsaingeon's The Art of Violin (2001), and even an episode of Inspector Maigret in the early 1980s.
Gitlis died in Paris (his home since the 1960s) on 24th December. In a statement later that day, French culture minister Roselyne Bachelot-Narquin described him as 'a magnificent performer, a generous musician, and an inspirational figure for all young musicians…who dedicated his entire life to the service of all kinds of music'.
Ivry Gitlis - a selected discography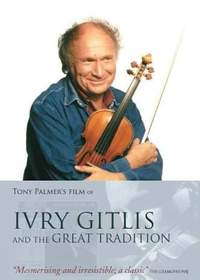 'Watching Ivry Gitlis is a virtual masterclass in how to play the violin...Gitlis has enjoyed a richly varied and rewarding life and Tony Palmer's captivating filmed portrait captures his unquenchable spirit.' (BBC Music Magazine)
Available Format: DVD Video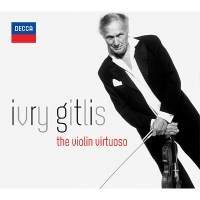 Ivry Gitlis (violin), Tasso Janopoulo (piano) Warsaw National Philharmonic Orchestra, Orchestre National de l'Opera de Monte Carlo, Stanislaw Wislocki, Edouard van Remoortel, Jean Claude Casadesus
Includes the complete Paganini Caprices and works by Wieniawski and Saint-Saëns
Available Format: 4 CDs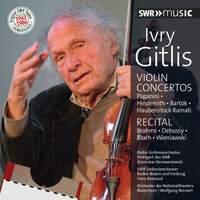 Ivry Gitlis (violin), Daria Hovora (piano), Radio-Sinfonieorchester Stuttgart des SWR, Hans Rosbaud, Stanislaw Skrowaczewski et al
Concertos by Paganini, Hindemith, Bartók, and Haubenstock-Ramati
Recital of works by Brahms, Debussy, Wieniawski, Bloch, and Saint-Saëns
Available Formats: 2 CDs, MP3, FLAC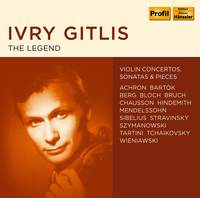 Works by Hindemith, Bloch, Mendelssohn, Tchaikovsky, Achron, Szymanowski, Bartók, Sibelius, Bruch and others
Available Format: 4 CDs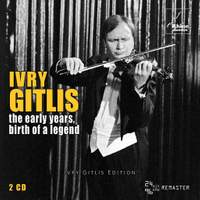 Recordings made between 1949-1963
Available Format: 2 CDs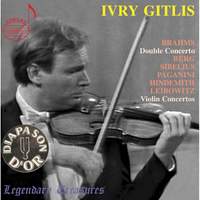 Ivry Gitlis (violin), Maurice Gendron (cello); New York Philharmonic, Orchestre national de France, Radio-Sinfonieorchester Stuttgart des SWR, Bamberger Symphoniker, NDR Radiophilharmonie, George Szell, Stanisław Skrowaczewski, René Leibowitz et al
Brahms Double Concerto and violin concertos by Hindemith, Leibowitz, Paganini, and Sibelius
Available Formats: 2 CDs, MP3, FLAC