8th October 2020
 Interview

,

  Simon Trpčeski on Makedonissimo
Described by one commentator as a "detour from Beethoven and Brahms", Simon Trpčeski's new album Makedonissimo might be better termed a return home - revisiting the traditional music that he grew up with, and which he has continued to study in parallel with mastering the classical piano repertoire.
An evident labour of love, the album sees Trpčeski and four fellow musicians from the Macedonian region perform colourful and at times jazzy new arrangements of Macedonian folk pieces. All are arranged by Trpčeski's long-time friend and collaborator, the composer Pande Shahov.
I spoke to Simon about how this album came about, and what makes the traditional music of Macedonia so unique.
This is obviously a project that's close to your heart – bringing the traditional music of Macedonia to a wider audience. How did the idea first come to you, and how did you go about making it a reality?
My first love was the accordion – an instrument closely linked to folk music in this area. This was the first instrument I played and it's still one I deeply love. At the time, at the music school in Skopje where I was learning the piano, there was no course available to study the accordion; but I was also attending the Children's Cultural Centre alongside the music school, so I started accordion lessons there. It was mostly geared towards folk music; there were a few classical pieces, but even these were based largely on folk themes.
Macedonia has a deep folk heritage; it forms an important part of our social life. We fall into this category of what's been called "southern" mentalities within Europe – the Balkan mindset is not too different in some ways from the Italians, the Spanish, all those sunny countries, and the Hispanic world in the Americas. I grew up with this kind of music, and took part in these wonderful family gatherings that we had – and at most of these I would be playing the accordion for a couple of hours, even as a small child! It's was imprinted onto my character and personality from that age, and it's only built up more over the years.
Of course I did also learn the classical piano when I entered the music school, but I carried on playing the accordion and it was always part of my personality. With the passing of the years, as I got more and more into the classical music world, and appreciated more and more how important folk music is within this world, I developed the idea of doing something based on Macedonian folk music, but taking a strictly professional approach.
The other musicians have a similar background to me in this respect – three other Macedonians and the cellist is Bulgarian – all have been friends for a long time and are classically-trained musicians. Our clarinettist Hidan Mamudov studied with the former principal clarinettists of the Vienna Philharmonic and La Scala in Milan; violinist Aleksandar Krapovski plays at the opera in Barcelona and is guest leader of several orchestras in Spain; Alexander Somov our cellist is principal cello of the Strasbourg Philharmonic, studied at the Guildhall in London and guests with the LSO and the LPO in the UK; percussionist Vlatko Nushev teaches at the Faculty of Music in Skopje and also plays in the opera orchestra there.
We've always had a huge respect for, and knowledge of, this folk music, but to hear classically-trained musicians who can play folk music authentically is very rare. I feel very lucky that I've found these people who can produce such a fantastic atmosphere through their teamwork. You can really feel it on the stage – audiences have loved it wherever we've played. To have a classically-trained composer as well, like Pande Shahov, who lives in the UK and teaches at the Royal College of Music, was even better. It's an important project not just for Macedonia, but also in terms of the intersection between classical, world and jazz music.
From the point of view of a listener who might not know much about the music of the Balkan region, what are the uniquely Macedonian elements they should listen for, that set this music apart from other Balkan traditions?
I think they'll first and foremost by captured by the intricate rhythms, and the variety of these rhythms that will put them a little off-balance. It's not the usual simple, mathematical structure, other than one section of the album that's in a straightforward four-beat metre. This a natural part of our music; its almost always in uneven metres.
Within the Balkan region there are of course a lot of similarities between the countries' national music; but the Macedonian language also has its own unique rhythm. The stress normally falls on the third syllable from the end, which in many words then gives a sense of a downbeat and often leads to a downbeat occurring in musical settings too. Over the years and centuries, despite the similarity to other regions (particularly Bulgaria and Albania, and to a lesser extent Greece and also Turkey), Macedonia has developed a particular haunting, soft sound in the more melancholic pieces.
Fundamentally, the impression the audience will get is of something very different. Not exotic as such – there's nothing in our music that is actually new to their ears – but when they hear how we perform it, which is a very different approach to the concerts that one of the national folk ensembles might give, which often include choreography, they might find the music's beauty itself challenging in a sense.
All the performers on this album, including yourself, double as vocalists at one point or another; you mention also that the rhythms of the Macedonian language itself seem to have had a key influence on its music. So is it common within this tradition for instrumentalists to also be singers, and vice versa?
Actually, no. We did this because we wanted to have more variety; in the track where we all sing together, the Čučuk, we felt this was suitable. The national folk ensembles' performances will also incorporate singing for dances and songs, so from that point of view it works with the music. It's very closely connected to the lifestyle of the people. In that original context the answer would definitely be 'no'; there will be a band, and the singers are separate. This is what the national ensembles do too for dances and songs. What we've done on this album is much more specific and doesn't happen very often, unless you happen to be lucky enough to have a talented person who is capable of doing both.
On the track Pomniš li libe, Todoro (Do you remember, my beloved, Todora), the three of us sing in three parts, which is something I'd like to highlight – this is representative of a style of multi-voice singing we have. It's usually sung by women, but in this case it was interesting to transfer this to three male voices. The way Pande creates the intimate atmosphere of this song, which is often played or sung much faster than our version, is really astonishing.
Of course, I'm very happy that I'm able to show off a little bit by both playing and singing, but it's all in the service of the music. I have seen that people enjoy this kind of intimate atmosphere, particularly for pieces that are based on a song telling a story. The music should always reflect the words, there's no doubt about that, but what's so fascinating is the way Pande transformed the atmosphere of the original melody into his own version – connected closely to our own time but never losing sight of the meaning of the original story.
The second "plait" of songs prominently features the kaval flute, an instrument that is also widely played in Turkey and the Caucasus. Have the musical traditions of those areas had an influence on Macedonia's own folk music?
Of course. There are different types of kaval, though – with different numbers of holes, for instance. There are also different approaches to interpretation and expression. I'm certainly not an expert in the kaval; Hidan would know more. In fact he learned to play the kaval especially for this project! But yes, there are sub-types of kaval and different schools of playing – in Armenia, in Bulgaria, in Turkey.
Macedonia was ruled by the Turkish Ottoman Empire for five hundred years – so certainly there were influences acquired in that time. But over all those years, the people of this region managed to develop and maintain a kind of pure sound that was unique to this part of the world and retains that close connection to the spoken language.
The experts in folk music are very aware of the different ways we play – not just with the kaval. In Bulgaria they have a related instrument called the duduk, which is a kind of end-blown flute and shares its name with the Armenian reed instrument, and here in Macedonia we also have the šupelka, which is a shorter variant of the kaval and is made from a few different types of wood. It's very diverse – similar, but at the same time different.
The arrangements you're performing here are by Pande Shahov, with whom you've been working for over a decade; they have a rather jazzy and spontaneous feel in places. How much of the music was composed in advance, and how much was improvised in the moment?
It was quite an interesting process of development – I presented Pande with the various material I'd chosen, from the Marko Cepenkov Institute of Folklore. Although this project originates with me, I also consulted with the Institute, as well as the Tanec National Ensemble for Dances and Songs (named for the Macedonian word for 'dance').
I'm aware that folk music is a huge responsibility. Whenever you touch this music, you have to respect it; this is precisely why I wanted to show the world the importance and the meaning of our folk music, and its potential when treated professionally. So, knowing Pande Shahov and his abilities, I entrusted him with the responsibility of playing around with our enormous range of material.
One of the key things contributing to the project's success was what I might call "healthy ego". In many different professions, particularly ours, ego can be a big enemy. So it's great that Pande has been so collaborative and so positive – listening to the experiences of all the members of the quintet.
He was very careful about the way he scored everything – almost everything is written out apart from a few specific points which, by the nature of the music, needed a space to be left for solo improvisation. In the second set of songs where the kaval appears and where I'm singing, the atmosphere that's set by the strings is very carefully planned by Pande, despite sounding improvisatory! This kind of mutual understanding and collaboration is what makes it possible for the listener to feelbl that the music is spontaneous and improvised. So I'm glad you asked!
Are there any composers from, or connected with, Macedonia that you'd particularly recommend people listen to if they're inspired to explore more about its music?
If people aren't very familiar with the uneven rhythms that characterise our music, they'll certainly find some pieces of Bartók, Kodály and Shostakovich very interesting – Stravinsky, even. There are also some Serbian composers such as Marko Tajčević or the Bulgarian Pancho Vladigerov. Composers like Bartók and Kodály definitely made great use of these uneven rhythms; so too did Prokofiev, in his Piano Sonata No. 7. The third movement of this sonata uses this kind of rhythm, and it's always a challenge for most pianists – not just because of its technical demands but because of the rhythm itself. But for us, people from this region, it's a piece of cake!
There's no doubt that people can find the connections with these composers, if they want to dig a little deeper into this type of music. But I should of course mention some composers from Macedonia itself – Tomislav Zografski, Vlastimir Nikolovski, Tome Mančev, Dimitrije Bužarovski, Zivojin Glišić, Blagoj Canev and others.
Fundamentally, it's wonderful that we can show to the world how and why so many composers have used folk music – Piazzolla, Ravel, Villa-Lobos, Albeniz, Tchaikovsky, Chopin, Brahms, Liszt, Enescu… They put it on this level of classical music, presenting it in the language of that world. What we've done – which was my wish from the beginning, which Pande understood very well – is to give the musical world a product that can stand proudly alongside those other composers. It's our contribution.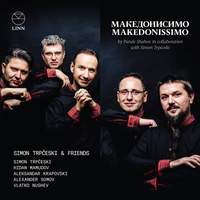 by Pande Shahov in collaboration with Simon Trpčeski
Available Formats: CD, MP3, FLAC, Hi-Res FLAC