24th July 2020
 Recording of the Week

,

  Beethoven songs and folksongs from Ian Bostridge and Antonio Pappano
It's a well-documented phenomenon that these distracted times have seen many people returning to the things which brought them comfort in childhood and youth, and over the past few months I've frequently found myself seeking solace in the recordings which made the teenage me fall in love with particular pieces and genres for the first time. It was Ian Bostridge's first disc of Schubert lieder which kickstarted my life-long passion for art-song back in the 1990s (courtesy of the late-lamented Britannia Music Club), and over the course of lockdown I must have got through the English tenor's entire discography several times over. What a treat, then, to augment my playlist with today's new Beethoven album, which sees him joining forces once again with Antonio Pappano and (for the folk-songs which make up the latter part of the programme) violinist Vilde Frang and cellist Nicolas Altstaedt.
Bostridge has worked with numerous distinguished pianists over the course of his recording career, but I've always thought that there's a special alchemy at work in his partnership with Pappano, and the opening account of An die ferne Geliebte is a fine example of how these two very different artistic temperaments complement one another: there's an almost Italianate legato and warmth to Bostridge's singing here, which even won over one of my colleagues who's positively allergic to him in more astringent mode. His approach to word-painting, too, seems far more instinctive and less mannered than usual, suiting the action to the word as he declares 'Was mir aus der vollen Brust / Ohne Kunstgepräng erklungen' ('I sang from a full heart / With no display of art') in the final song.
As he demonstrated in one of his wonderful Saturday-morning House Music broadcasts a month or two ago when he traced the parallels between the opening of the 'Moonlight' Sonata and a passage in Bellini's Norma, Pappano is acutely aware of the affinity between Beethoven and bel canto, and here he supplies much of the word-painting from the keyboard, leaving his singer relatively free to focus on line and beauty of tone. It's a canny move, and one which reminded me of the great Alfred Brendel's remark that 'you should never hear your singer thinking in lieder'.
The central portion of the programme also contains many beauties, not least the four contrasting settings of Goethe's Nur wer die Sehnsucht kennt, each lasting little more than a minute but imbued with real tenderness and longing, and an exquisitely-coloured Adelaide in which singer and pianist alike conjure a whole palette of violets and indigos for the 'Purpurblättchen' ('purple petals') of the final stanza. Bostridge is back on spiky, Expressionist form for the biting satire of the 'Flohlied' - in which an eccentric king promotes a flea to the position of courtier with predictably irritating results - and for a startlingly bitter 'In questa tomba oscura', the final word spat out like Sprechgesang.
The final stretch of the album is given over to selections from the Irish and Scottish folksongs which Beethoven arranged from melodies supplied by the Scotsman George Thomson, with optional parts for violin and cello. Frang and Altstaedt fiddle up a storm in the ebullient 'The Pulse of an Irishman' and 'Come draw we round a cheerful ring', with plenty of grit and pitch-bending ('portamento' sounds rather too manicured as a description here!) banishing any hint of the polite ambience of the concert-hall – as Pappano points out, these are primarily songs for domestic music-making, and there's a lovely sense of informality to the performances which bears that out. There's darkness and drama too, though, with the bleak landscapes of Walter Scott's 'The Return to Ulster' and 'Sunset' looking forward to Schubert's Winterreise some fifteen years later.
It's rather fitting, then, that the very last song, Marmotte, depicts a hurdy-gurdy man on the move – these itinerant musicians often travelled with monkeys or marmots which would dance and perform tricks to the instrument's accompaniment, a detail which Schubert perhaps wisely omitted from the bleak final song of his own cycle. Beethoven's 'Leiermann', however, is a far jauntier figure, and his tricksy exuberance brings this lovely album to a rollicking close.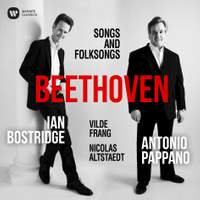 Ian Bostridge (tenor), Antonio Pappano (piano), Vilde Frang (violin), Nicolas Altstaedt (cello)
Available Formats: CD, MP3, FLAC, Hi-Res FLAC