Latest update: Due to disruptions after a recent warehouse move by the UK's largest music distributor, the supply of various labels including Decca, DG, Sony, and Harmonia Mundi are subject to significant delays. Please continue to order products from these labels, as the situation should be back to normal within the next few weeks. This is affecting all UK music retailers at the present time. If you have any questions please do contact us.
10th January 2020
Recording of the Week

,

Vaughan Williams Symphonies from Martyn Brabbins and the BBC Symphony Orchestra
Regular readers may know me to be keener than most to leap to arms in zealous defence of Vaughan Williams against the hackneyed accusation of "cow looking over a gate"-ness in his music. His Pastoral Symphony is an ideal battleground for this; from its very title to its broad sweeps of diatonic parallel chords, the casual ear could easily hear in this work merely a symphonic-scale treatment of the Lark Ascending's rural themes. Dip beneath the surface, though, and there's so much more – all of which is brought out by Martyn Brabbins's expert direction in his new recording of the Pastoral alongside the acerbic Fourth with the BBC Symphony Orchestra.
There's an innovative use of open harmonics by trumpet and horn, prefiguring Britten's Serenade by decades and producing a hauntingly alien tuning; harmonically the legacy of study under Ravel is audible, with glimpses of the Jardin féerique in the final movement; and the modal touches adopted from Vaughan Williams's lifelong fascination with early music are present, with Phrygian-inflected sighing motifs in the second movement inspiring Brabbins to impassioned heights. There's even flirtation with bitonality here and there, as well as hints of motivic and textural ideas that would later flower in the fifth and seventh symphonies.
A comment popularly ascribed to the composer has him self-deprecatingly describe this symphony as comprising four slow movements. The third movement is probably the least slow, functioning as a kind of scherzo; Brabbins nevertheless gives it a sense of sarabande-like spaciousness, ensuring that it doesn't leap out as jarringly vivace compared to the rest of the work.
Soprano Elizabeth Watts's vocalises book-ending the final movement are especially worthy of note. Like Rowan Pierce in the Antartica with Andrew Manze last year, she's not afraid to descend from the ethereal plane to a more earthly one, with vibrato and warmth. After all, we're not in icebound polar realms here, but rather reliving a kind of spiritual recovery from the Great War; a touch of Gerontius's comforting angel isn't inappropriate as part of that process, beginning in some small way to offer glimmers of solace for four years of unimaginable human suffering. The radiant solemnity of the final three minutes or so, as a kind of quiet peace is achieved in the orchestra and Watts ascends out of the texture, is encapsulated to perfection.
The Fourth Symphony could hardly be more contrasting; the performance lives up to the work's reputation as a ferocious, dissonant one driven by semitones and fourths, often seeming to evoke Walton, Shostakovich and above all Hindemith. The compositional process itself seems different, too – more fugal and contrapuntal, contrasting with the Pastoral's organic development. Brabbins tailors his approach accordingly, with the complexity of Vaughan Williams's textures calling forth a much-needed clarity of sound that allows the ear to pick out each motif.
The final track on this album is a new discovery – Brabbins's own realisation of an unfinished saraband for tenor, chorus and orchestra dating from 1913, setting a passage from Marlowe's stage adaptation of the Faust legend and entitled simply Helen. Vaughan Williams evokes the cursed magician calling up the ghost of Helen of Troy and being instantly transfixed by her beauty. An imposing orchestral introduction fades away to reveal first a hushed chorus wondering "was this the face that launched a thousand ships?" and then the tenor soloist himself, a suitably ecstatic David Butt Philip whose tone is an apt blend of sweetness and passion. There are heavy hints here of 1938's Serenade to Music, though as befits the tragic fate ultimately awaiting Faust, there's a more melancholy and yearning undertone than in the latter, relatively untroubled-sounding work.
It's fair to say that the two symphonies on this work might function as a bridge for those who've only ever heard the "favourites" of Vaughan Williams's output, and a route into experiencing the full glory of his other works; the Pastoral represents a more profound, less programmatic response to the inspiration found in the natural world, while the Fourth shows a composer willing to try radically different approaches. The additional opportunity to enjoy a new work, in the form of the freshly-realised Saraband, makes an already remarkable album a must-have.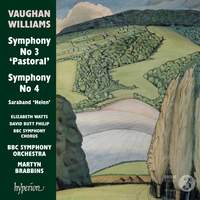 Elizabeth Watts (soprano), David Butt Philip (tenor), BBC Symphony Orchestra, Martyn Brabbins
Available Formats: CD, MP3, FLAC, Hi-Res FLAC
Other recordings in this series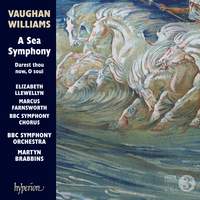 Marcus Farnsworth (baritone), Elizabeth Llewellyn (soprano), BBC Symphony Orchestra & BBC Symphony Chorus, Martyn Brabbins
Available Formats: CD, MP3, FLAC, Hi-Res FLAC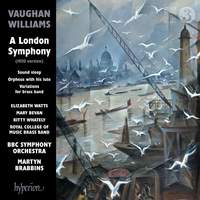 Elizabeth Watts (soprano), Mary Bevan (soprano), Kitty Whately (mezzo-soprano), BBC Symphony Orchestra, Royal College of Music Brass Band, Martyn Brabbins
Available Formats: CD, MP3, FLAC, Hi-Res FLAC